Exxon Partners With Russia's Rosneft to Develop Arctic, Black Sea
SOCHI, Russia, August 31, 2011 (ENS) – Russian state-owned oil company Rosneft and U.S. oil giant ExxonMobil have agreed to jointly undertake a US$3.2 billion oil and gas exploration program in the Black Sea and in the Kara Sea on the Arctic Ocean.
The agreement signed Tuesday extends to joint exploration and development of hydrocarbon resources in Russia, the United States and other countries throughout the world, as well as the sharing of technology and expertise.
In the course of these projects, executives of both companies said they will use "global best practices to develop state-of-the-art safety and environmental protection systems."
The agreement was signed by Rosneft President Eduard Khudainatov and ExxonMobil Development Company President Neil Duffin in the presence of Russian Prime Minister Vladimir Putin in Sochi, the city on the Black Sea that is hosting Russia's Olympic Games in 2014.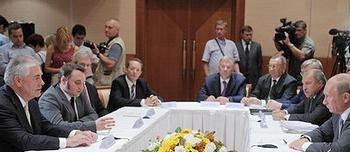 ExxonMobil chief Rex Tillerson, left, meets with Russian Prime Minister Vladimir Putin, right and Rosneft President Eduard Khudainatov, 2nd from right, in Sochi, Russia, August 30, 2011 (Photo courtesy Rosneft)
"This project promises to be highly interesting and ambitious," said Prime Minister Putin. "Today's event is sure to receive a positive reaction from the world energy markets; Exxon's exploration of Russia's strategic continental and deep water shelf will open new horizons."
Putin said, "The scope of investment in this project is very large. In all, direct investments will amount to 200-300 billion. Including funding for development, infrastructure and new construction, the amount of investment could reach 500 billion."
Rex Tillerson, ExxonMobil chairman and chief executive officer, who attended the ceremony, said ExxonMobil will benefit Russian energy development by working closely with Rosneft.
"This alliance today marks an important event that I know will have a profound effect on Rosneft in the long term, it will have a profound effect on ExxonMobil in the long-term," Tillerson said. "And importantly, it represents the beginning to evaluate and develop the significant hydrocarbon potentials of the Russian continental shelf, so that those can be delivered for the value of the Russian people."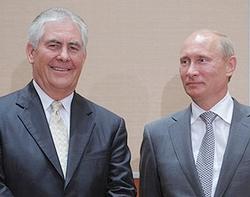 ExxonMobil Chairman and CEO Rex Tillerson, left, and Russian Prime Minister Vladimir Putin at the signing ceremony in Sochi, August 30, 2011 (Photo courtesy Rosneft)
I appreciate very much the strong expression of support from the Russian Federation government for Rosneft to enter into this alliance agreement with ExxonMobil," said Tillerson. "And I also appreciate the recognition on the part of the Russian government of necessary revisions and improvements to the tax structure to allow both Russian investments and foreign investments to be made in the challenging environments of the Russian offshore continental shelf."
The initial $3.2 billion specified in the agreement is to be spent funding exploration of East Prinovozemelskiy Blocks 1, 2 and 3 in the Kara Sea and the Tuapse License Block in the Black Sea.
The companies say these areas are among the most promising and least explored offshore areas globally, with high potential for liquids and gas.
The Kara Sea license blocks have a total area of 126,000 square kilometers (30 million acres) in water ranging between 50 and 150 meters (165 feet and 500 feet) deep. Sea ice in the area is disappearing as a result of climate change, making exploration and drilling easier.
Tuapse Block in the Black Sea is smaller in area and the resource occurs in deeper water, ranging from 1,000 to 2,000 meters (3,300 feet and 6,500 feet) below the surface.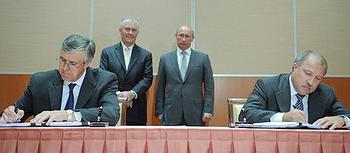 The joint exploration agreement is signed by ExxonMobil Development Company President Neil Duffin, left, and Rosneft President Eduard Khudainatov, August 30, 2011 (Photo courtesy Rosneft)
"This large-scale partnership represents a significant strategic step by both companies," said Tillerson. "This agreement takes our relationship to a new level and will create substantial value for both companies."
Rosneft equity interest in both joint ventures will be 66.7 percent, while ExxonMobil will hold 33.3 percent.
The agreement provides Rosneft with an opportunity to gain equity interest in ExxonMobil exploration opportunities in North America, including deep-water Gulf of Mexico and tight oil fields in Texas, as well as additional opportunities in other countries.
The companies have also agreed to conduct a joint study of developing tight oil resources in Western Siberia.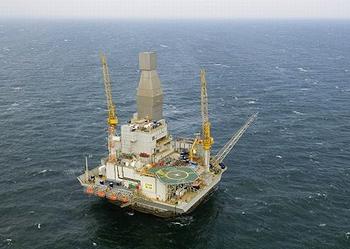 Rosneft oil platform off Sakhalin Island in Russia' Far East (Photo courtesy Rosneft)
Tight oil reservoirs are oil pools where hydraulic fracturing, or fracking, and horizontal wells are required to extract the resources. Fracking involves drilling into tight rock, setting off explosives to crack the rock, then injecting water and chemicals to release natural gas and oil. Environmentalists are concerned because the process pollutes air and groundwater.
Under the agreement, the two companies will create an Arctic Research and Design Center for Offshore Developments in St. Petersburg, which will be staffed by Rosneft and ExxonMobil employees.
The St. Petersburg center will use proprietary ExxonMobil and Rosneft technology and also will develop new technology to support the joint Arctic projects, including drilling, production and ice-class drilling platforms.
Following the signing ceremony, Rosneft President Khudainatov said, "The partnership between Rosneft with its unique resource base, and the largest and one of the most highly capitalized companies in the world, reflects our commitment to increasing capitalization of our business through application of best-in-class technology, innovative approach to business management, and enhancement of our staff potential."
"This venture comes as a result of many years of cooperation with ExxonMobil and brings Rosneft into large scale world-class projects, turning the company into a global energy leader," he said.
ExxonMobil Development Company President Neil Duffin said, "Today's agreement with Rosneft builds on our 15-year successful relationship in the Sakhalin-1 project. Our technology, innovation and project execution capabilities will complement Rosneft's strengths and experience, especially in the area of understanding the future of Russian shelf development."
Copyright Environment News Service (ENS) 2011. All rights reserved.