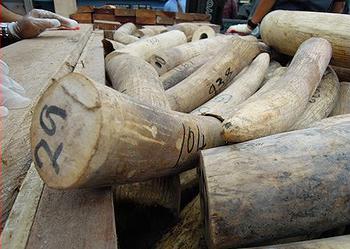 STRASBOURG, France, January 16, 2014 (ENS) – The European Parliament took action against elephant, rhino and tiger poaching Wednesday by passing a resolution on wildlife trafficking that calls for moratoria on ivory trade and other measures against wildlife crime across the European Union.
An overwhelming 647 MEPs voted in favor of the Resolution on Wildlife Crime, while 14 voted against.
The resolution expresses the Parliament's view that wildlife trafficking is a serious economic, national security, and environmental threat.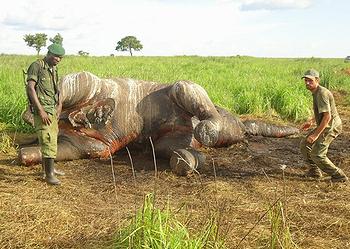 To stop the ongoing crisis of species loss, the resolution calls on the 28 EU Member States to introduce their own moratoria on all commercial imports, exports and domestic sales and purchases of tusks and ivory products until wild elephant populations are no longer threatened by illegal killing.
The resolution calls for the European Commission to establish an EU-wide action plan against the black market trade in wild animals and their parts. The resolution recommends better prosecution of perpetrators of wildlife crime and on-the-ground protection for elephants, rhinos, tigers and other species.
The measure refers to the statement of 11 African elephant range states at the September meeting of the Clinton Global Initiative in New York, which urged countries to declare national moratoria on any trade in ivory because of the crisis.
The resolution was piloted through parliament by Dutch MEP Gerban-Jan Gerbrandy of the Group of the Alliance of Liberals and Democrats for Europe. The measure passed parliament's Committee on the Environment, Public Health and Food Safety in November 2013.
"I am very glad the European Parliament fully supports me in this important challenge," said Gerbrandy. "I want poaching to be seen as organized crime. That involves higher penalties, higher priority and specialist investigators. We must avoid the extinction of the most iconic animals that roam on Earth."
"Europe cannot lag behind anymore. We have to stand up against illegal poaching," he said.
Environmental groups were pleased with the parliamentary action.
"This landmark resolution passed by the European Parliament shows the rising amount of global concern for the toll that the ivory trade is taking on wild populations of elephants," said John Calvelli, executive vice president of public affairs with the New York-based Wildlife Conservation Society, which operates the city's zoos and aquaria.
"Without a moratorium on all ivory sales, there will always be a way for traffickers to continue this illicit trade," said Calvelli. "In order to protect elephants on the ground, we must take steps to cut off the market for these products. It is time to close domestic ivory markets."
"We would also like to see this resolution serve as impetus for similar action in the United States Congress," Calvelli said.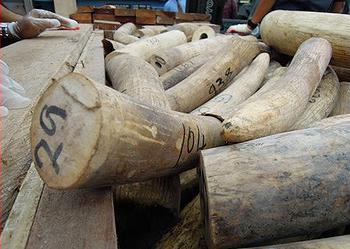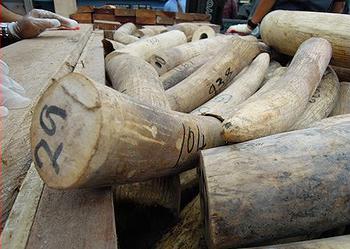 Will Travers, CEO of the international wildlife charity the Born Free Foundation, said, "I am delighted at this development and now hope that the EU will use its considerable power, influence and resources to play a leading role in ending the slaughter and exploitation of the world's wildlife heritage. Clearly many developing countries do not have the resources to tackle the issue but with funding and technical assistance I know they are willing to take effective action."
Travers said, "I am pleased that key forms of wildlife exploitation were included such as the impact of trophy hunting and the live trade in exotic animals as 'pets.'"
"Right now my top priority is to see significant resources flow to support the African Elephant Action Plan, a unique blueprint for the survival of Africa's elephants developed and agreed by all the 38 African countries where the species lives. The European Parliament has demonstrated its strength of feeling on this issue but now there is an urgent need for action."
African elephants are being lost at an unprecedented rate and the demand for ivory shows no decline.
About 35,000 elephants were killed by poachers last year, amounting to some 96 elephants every day of the year.
The global conservation organization WWF and its wildlife trafficking monitoring branch TRAFFIC strongly support parliament's decision to adopt the resolution on illegal wildlife crime.
Tony Long, director at the WWF European Policy Office said,  "The Parliament has laid down a very strong position to stop illegal wildlife products coming into Europe and now Member States cannot ignore the fact that every year tonnes of wildlife plants and animals illegally cross their borders."
"Every time a rhino is killed in Africa, its horn could be transiting Europe to reach Vietnam inside 48 hours," said Long. "European, African and Asian countries must act together to stop such illegal activity."
The next step towards that goal will come in February when British Prime Minister David Cameron hosts a London summit on illegal wildlife trade that is expected to attract wildlife experts and heads of state from around the world.
The European Commission is expected soon to release a new Communication on illegal trade in wildlife, timber and fisheries, and to present it at an EU Conference in April in Brussels.
Copyright Environment News Service (ENS) 2014. All rights reserved.