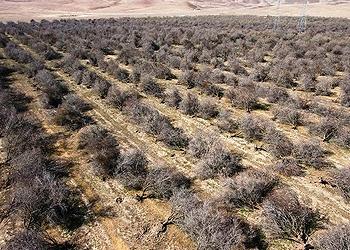 SAN FRANCISCO, California, January 17, 2014 (ENS) – With California facing water shortfalls in the driest year in recorded state history, and drinking water supplies at risk in many California communities, Governor Jerry Brown today proclaimed a State of Emergency and directed state officials to prepare for these drought conditions.
"Extremely dry conditions have persisted since 2012 and may continue beyond this year and more regularly into the future, based on scientific projections regarding the impact of climate change on California's snowpack," the governor said in his proclamation.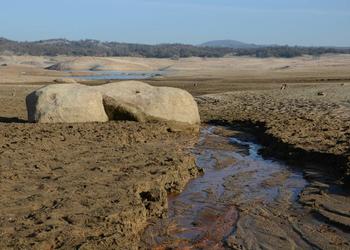 State water officials say California's rivers and reservoirs are below their record lows. Manual and electronic readings record the snowpack's statewide water content at about 20 percent of normal average for this time of year.
"We can't make it rain, but we can be much better prepared for the terrible consequences that California's drought now threatens, including dramatically less water for our farms and communities and increased fires in both urban and rural areas," said Governor Brown. "I've declared this emergency, and I'm calling all Californians to conserve water in every way possible."
California water officials are asking residents for an immediate 20 percent reduction in water use.
The drought is having devastating effects on California agriculture. "Fewer crops can be cultivated and farmers' long-term investments are put at risk," declared Governor Brown. "Low-income communities heavily dependent on agricultural employment will suffer heightened unemployment and economic hardship."
In the declaration, Governor Brown directed state officials to assist farmers and communities that are economically impacted by dry conditions and to ensure the state can respond if Californians face drinking water shortages.
The California Department of Food and Agriculture will launch a one-stop website: www.cdfa.ca.gov/drought, that provides timely updates on the drought and connects farmers to state and federal programs that they can access during the drought.
"Animals and plants that rely on California's rivers, including many species in danger of extinction, will be threatened," declared the governor, "and the risk of wildfires across the state is greatly increased."
The governor directed state agencies to use less water and hire more firefighters and initiated a greatly expanded water conservation public awareness campaign. See the details at: www.saveourh2o.org.
In addition, the proclamation gives state water officials more flexibility to manage supply throughout California under drought conditions.
The state's water supplies have dipped to what Governor Brown declared to be "alarming levels."
Snowpack in California's mountains is approximately 20 percent of the normal average for this date. California's largest water reservoirs have very low water levels for this time of year. California's major river systems, including the Sacramento and San Joaquin rivers, have reduced surface water flows, and groundwater levels throughout the state have dropped significantly, the governor says in his declaration.
Dry conditions and lack of precipitation present urgent problems; the governor says drinking water supplies are at risk in many California communities.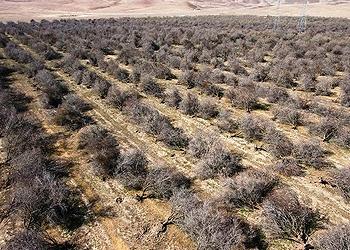 Secretary for Natural Resources John Laird sounded the alarm on January 3, saying, "California has just ended one of the driest years in recorded history in many areas. Today's snowpack measurement was an abysmal 20 percent of normal. This is a clear call for all of us to cut back on the amount of water we use watering lawns and landscaping. We have to keep our showers short, and run our washing machines and dishwashers only when we have a full load."
"Because we rely on just a few big winter storms in December, January, and February to build our snowpack and refill our reservoirs and groundwater basins, there is still some potential for relief," said Laird.
The governor's drought State of Emergency follows a series of actions the administration has taken to ensure that California is prepared for record dry conditions. In May 2013, Governor Brown issued an Executive Order to direct state water officials to expedite the review and processing of voluntary transfers of water and water rights.
In December, the governor formed a Drought Task Force to review expected water allocations, California's preparedness for water scarcity and whether conditions merit a drought declaration.
Earlier this week, the governor toured the Central Valley and spoke with growers and others impacted by California's record dry conditions.
The Central Valley is one of the world's most productive agricultural regions, with more than 230 types of crops grown there. The Central Valley is the primary source in the United States for tomatoes, almonds, grapes, cotton, apricots, and asparagus.
On less than one percent of the country's total farmland, the Central Valley produces eight percent of the nation's agricultural output by value.
The Central Valley's agricultural productivity relies on irrigation from both surface water diversions and groundwater pumping from wells. About one-sixth of the irrigated land in the United States is in the Central Valley, according to the U.S. Geological Survey.
In his declaration, Governor Brown directed the state's Drought Task Force to immediately develop a plan that can be executed as needed to provide emergency food supplies, financial assistance, and unemployment services in communities that suffer high levels of unemployment from the drought.
He directed the California Water Board to immediately consider petitions requesting consolidation of the places of use of the State Water Project and Federal Central Valley Project, which would streamline water transfers and exchanges between water users within the areas of these two major water projects.
The Department of Water Resources and the Water Board will accelerate funding for water supply enhancement projects that can break ground this year and will explore if any existing unspent funds can be repurposed to enable near-term water conservation projects.
Copyright Environment News Service (ENS) 2014. All rights reserved.