EU Public Asked How to Shield Forests From Climate Change
BRUSSELS, Belgium, March 1, 2010 (ENS) – Wildfires, storms, droughts and heat waves – European forests are beset with threats from a warming planet. Today, the European Commission opened a wide-ranging public discussion on how best to safeguard EU forests from the impacts of climate change.
The request for public input is contained in a Green Paper that the commission adopted today focused on the ways that climate change is modifying forest management and protection in Europe and how policy should evolve at the EU level to enhance the forest protection activities of the 27 EU member states.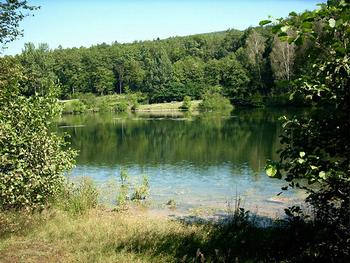 Pond in the Spessart forest, Germany (Photo by Alex-D)
The Green Paper raises a series of questions exploring the development of future policy options such as, "To what extent are EU forests and the forest sector ready to address the nature and magnitude of the challenges posed by climate change?"
Responses to the Green Paper from the public, member states, EU institutions and other stakeholders will guide the commission on what additional actions may be needed at EU level.
European Environment Commissioner Janez Potocnik said, "Europe's forests are a precious resource that must be protected against the harmful impacts of climate change and biodiversity loss. Their wide range of social, economic and environmental functions means that the stakes are high."
"We need to explore what value European action can add to national efforts to safeguard forests and maintain reliable, coherent and up-to-date information about them," said Potocnik, the new environment commissioner from Slovenia, who assumed the post on February 10 when the new Barroso Commission took office.
For the first time, climate change is an independent portfolio in the new commission line-up. The new Commissioner for Climate Action is Connie Hedegaard, former Danish Minister for Climate and Energy, who hosted the United Nations climate summit in Copenhagen in December 2009.
"As huge stores of carbon, forests will play a critical role in efforts to keep global warming below 2 degrees Celsius, ensuring that Europe's forests can continue to perform all their functions is essential to the EU's climate strategy," Hedegaard said.
"I very much welcome the timely launch of this debate," she said. "The inputs we receive will help us to design effective EU policies related to climate and forests."
"Forests serve multiple and inter-related social, economic and environmental functions," the Green Paper states. "They provide jobs, income and raw materials for industry and for renewable energy. They protect soil, human settlements and infrastructure, regulate freshwater supplies and conserve biodiversity."
The Green Paper sets out the main challenges facing Europe's forests, which cover more than 42 percent of the European Union's land area.
EU forests have continuously expanded over 60 years and today account for five percent of the world's forest area. Most EU forests have grown in terms of their wood volume and carbon stock, removing more and more of the greenhouse gas carbon dioxide, CO2, from the atmosphere, according to the Green Paper.
Forests regulate local and regional weather. In climate terms, forests act as sinks that absorb carbon dioxide when they are growing but become sources of CO2 when they are cut, burned or damaged by storms and pests.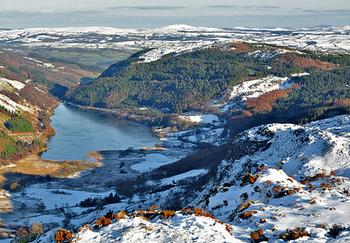 The Gwydir Forest on the shore of Llyn Crafnant in Snowdonia, northern Wales (Photo by Erwlas)
The average temperature in Europe has risen by almost one degree Celsius during the past century and the most optimistic projection sees an increase of two degrees C by 2100.
"This rapid rate of man-made climate change is overwhelming the natural ability of ecosystems to adapt," the Green Paper warns, adding, "It will alter the suitability of whole regions for certain forest types, forcing a shift in the natural distribution of tree species and leading to changes in the growth of existing forest stands."
Extreme events such as storms, forest fires, droughts and heat waves are expected to become much more common and/or severe, adding to pressure on forests.
A public consultation on the Green Paper will run from March 1 through July 31, 2010 on the Your Voice in Europe website: http://ec.europa.eu/yourvoice.
As part of the consultation the Commission will organize a workshop and stakeholder meeting in Brussels as part of Green Week on June 3. The Green Paper will also be discussed at a forest protection conference being organized by the Spanish presidency in Valsain, Spain, on April 6-7.
The Commission will publish the contributions to the debate on the Europa website and provide its own feedback on the main outcomes of the consultation.
Click here to view the Green Paper, "On Forest Protection and Information in the EU: Preparing forests for climate change."
Copyright Environment News Service (ENS) 2010. All rights reserved.
Environment News Service (ENS) © 2010 – 2012 All Rights Reserved.