Afghanistan Protects World's Least Known Bird, Rare Mammals
KABUL, Afghanistan, March 1, 2010 (ENS) – The first breeding population of one of the world's least known birds, the large-billed reed-warbler, Acrocephalus orinus, has just been discovered in the remote, rugged Wakhan Corridor of the Pamir Mountains in northeastern Afghanistan.
On Sunday, Afghanistan's National Environment Protection Agency announced that it will expand its Protected Species List by adding the large-billed reed-warbler and an additional 14 species to the list. There are now a total of 48 protected species in Afghanistan.
"By formally protecting the large-billed reed warbler as well as other wildlife, Afghanistan's National Environment Protection Agency has shown a strong commitment to conserving its natural heritage – even during these challenging times," said Peter Zahler, Wildlife Conservation Society deputy director for Asia programs.
Based at the Bronx Zoo in New York City, the Wildlife Conservation Society has been working since 2006 to help Afghanistan conserve its wildlife and natural resources.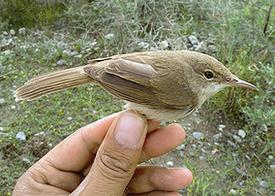 Large-billed Reed Warbler, Acrocephalus orinus, Afghanistan (Photo courtesy WCS Afghanistan)
The first large-billed reed-warbler was discovered in India in 1867, but more than a century passed before a second discovery. In 2006, a single bird in Thailand was reported by BirdLife International.
In 2008, researcher Rob Timmins from the Wildlife Conservation Society was surveying bird communities along the Wakhan and Pamir Rivers on a USAID-funded project when he heard a distinctive song coming from a small, olive-brown bird with a long bill. Timmins taped the bird's song.
After studying the ornithological collection at the UK's Natural History Museum at Tring, among the largest and most comprehensive in the world, Timmins realized that the bird he had observed was a species not on file with the museum.
In summer 2009, WCS researchers returned to the site of Timmins' first survey, this time with mist nets used to catch birds for examination. The research team broadcast the recording of the bird's song, which attracted large-billed reed-warblers from all directions. Researchers caught 20 of them for examination and to collect feathers for DNA. Later lab work comparing museum specimens with measurements, field images, and DNA confirmed that Timmins had found the first known breeding population of large-billed reed-warblers.
"This is great news from a little-known species from a remote part of the world and suggests that there may be more discoveries to be made here," said Mike Evans, BirdLife's International's compiler of the Important Bird Areas of the Middle East.
Afghanistan's National Environment Protection Agency took immediate steps to protect the large-billed reed warbler, because by law, newly discovered species receive automatic legal protection in Afghanistan.
Threats to the large-billed reed warbler in Afghanistan include habitat loss and degradation from fuel wood collection and agricultural practices.
"Wildlife Conservation Society believes that with 80 percent of Afghans directly dependent on their natural resources for survival, the country's reconstruction and stability depends on sustainable resource management," said Zahler.
In addition to the large-billed reed warbler, Afghanistan listed 14 other species for protection – seven mammals, six birds, and one tree – including two eagle species, a cat species, and the striped hyena.
The newly protected mammals are:
Indian Gazelle, Gazella bennettii, Critically Endangered
Goitered Gazelle, Gazella subgutturosa, Endangered
Bactrian Deer, Cervus elaphus bactrianus, Endangered
Eastern Barbastelle, Barbastella leucomelas, a bat, Vulnerable
Mehely's Horseshoe Bat, Rhinolophus mehelyi, classed as Data Deficient
Stone marten, Martes foina, Data Deficient
Blanford's fox, Vulpes cana, Data Deficient
The newly protected birds are:
Large-billed Reed Warbler, Acrocephalus orinus, Newly Discovered
White-Rumped Vulture, Gyps bengalensis, Critically Endangered
Sociable Lapwing, Vanellus gregarius, Critically Endangered
Eastern Imperial Eagle, Aquila heliaca, Endangered
Marbled Teal, Marmaronetta angustirostris, Endangered
Pallas' Fish Eagle, Haliaeetus leucoryphus, Vulnerable
Dalmation Pelican, Pelecanus crispus, Vulnerable
The newly protect plant is:
East Himalayan fir, Abies spectabilis, Vulnerable
The newly protected species were evaluated by the Afghanistan Wildlife Executive Committee, created in 2008 to recommend species for Afghanistan's Protected List.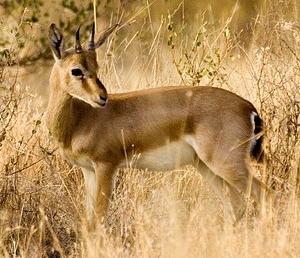 Critically endangered Indian gazelle, Gazella bennettii. (Photo by S. Shankar)
The committee is composed of representatives from Afghanistan's National Environment Protection Agency, the Ministry of Agriculture, Irrigation and Livestock, and Kabul University. It includes advisors from the Wildlife Conservation Society and the USAID Biodiversity Support Program, Ecodit.
The Afghanistan Wildlife Executive Committee began its first evaluations in the autumn of 2008 and listed such important species as the snow leopard, the Asiatic cheetah, and the Marco Polo sheep. In 2009, it continued its work to list those species in Afghanistan where information was less available.
To make status determinations, AWEC and Wildlife Conservation Society worked with wildlife experts to obtain the most recent and accurate information available for Afghanistan and the region, and then evaluated those data using scientific criteria established by the global authority on species listing – the IUCN Red List of Threatened Species.
The National Environment Protection Agency, NEPA, also has worked collaboratively with students at the University of Richmond in Virginia to complete the listing process.
In the autumn semester of 2009, students conducted research on Afghan species for the Afghanistan Wildlife Executive Committee and participated electronically in an evaluation session to answer questions for the committee. Twenty of the species assessed by Richmond students are now listed as protected in Afghanistan.
NEPA will be responsible for managing Afghanistan's protected species, which requires writing recovery plans for species designated as threatened. Species will be re-evaluated every five years to determine whether populations have recovered to the extent that they may be removed from the protected list.
Copyright Environment News Service (ENS) 2010. All rights reserved.