EU Offers Cash Awards for Sustainable Urban Mobility
BRUSSELS, Belgium, July 6, 2012 (ENS) – The European Commission has launched a three-year campaign to encourage and support sustainable urban mobility across the European Economic Area.
The campaign is in effect in 31 countries – the 27 EU countries plus Iceland, Liechtenstein, Norway and Croatia. EU officials said the central goal of the new campaign is to promote the advantages of combining different modes of transportation to fight congestion and pollution.
"We want to encourage people to vary the way they move around the city – so our slogan invites people to "Do the Right Mix," said Commission Vice-President Siim Kallas, who is responsible for transport.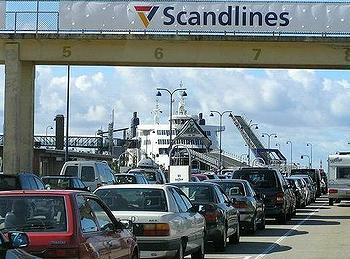 Car ferry connecting Denmark and Germany (Photo by jerome86)
"This campaign will give a boost to the local, regional, and national awareness-raising actions that play a crucial role in creating and promoting this 21st century culture of urban mobility," Kallas said. "It is vital to promote diversity in our daily mobility choices."
An award fund of 500,000 euros (US$615,000)will support actions demonstrating networking and multiplication effects at the local, regional and/or national levels, or even at the European Union level.
By participating in the campaign, individuals, non-commercial entities such as schools, NGOs and public administrations, as well as commercial entities become eligible to apply for up to 7,000 euros in financial support from the European Commission.
Activities began Tuesday with the opening of a registration system to support outstanding actions for fostering positive change in attitudes and behavior.
Applicants may register their actions promoting sustainable urban mobility at: http://www.dotherightmix.eu
The campaign also offers an award for European cities based on their sustainable urban mobility plans.
The European Commission says it "acknowledges the important role of sustainable urban mobility plans," or SUMPs. These plans define "a set of interrelated measures designed to satisfy the mobility needs of people and businesses today and tomorrow," the commission explains.
To reward the efforts of cities and towns the commission is offering the annual SUMP Award – the first European award scheme to recognize the efforts of cities and towns towards sustainable urban mobility planning.
The annual SUMP Award will be presented to cities and regions that show excellence in developing and implementing their sustainable urban mobility plans.
The award will focus on a different thematic aspect of sustainable urban mobility planning each year. In 2012, the thematic focus will be "stakeholder and citizen participation."
In 2013 the theme will be "integration of economic, social and environmental policy criteria;" and in 2014 the theme will be "monitoring implementation to improve SUMPs."
Deadline for submitting applications for this year's SUMP Award is November 30, 2012.
The winning local authority will be selected by an expert jury on the basis of the Award's evaluation and eligibility criteria, and will be rewarded with 10,000 euros to support local awareness-raising activities on sustainable urban mobility.
The European Commission's Sustainable Urban Mobility campaign is linked to the European Mobility Week, which runs from September 16 to 22 every year and culminates in the "In Town Without My Car!" day.
The campaign is managed by the Directorate-General for Mobility and Transport and funded through the Intelligent Energy Europe Programme, which supports non-technological actions in the field of energy efficiency and renewable energy sources.
Copyright Environment News Service (ENS) 2012. All rights reserved.