EPA Proposes Veto of West Virgina's Largest Mountaintop Removal Mine
WASHINGTON, DC, March 26, 2010 (ENS) – The U.S. Environmental Protection Agency announced today that it is taking the next steps to veto a permit granted by the U.S. Army Corps of Engineers for the Spruce No. 1 coal mine in West Virginia, one of the largest mountaintop removal mines ever authorized in Appalachia.
The project was permitted in 2007 and then delayed by litigation. The EPA has used its Clean Water Act veto authority in just 12 situations since the law was enacted in 1972 and never for a previously permitted project.
In its determination, the EPA said the Spruce No. 1 project, in conjunction with numerous other mining operations either under construction or proposed for the Coal River basin, will contribute to the cumulative loss of water quality, aquatic systems, and forest resources.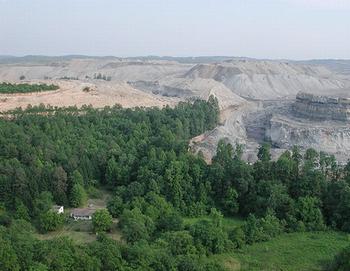 Arch Coal's Hobet 21 mountaintop removal mine overshadows a house on the Mud River in Lincoln County, West Virginia. (Photo by Vivian Stockman courtesy Ohio Valley Environmental Coalition)
Mountaintop removal mining operations use explosives to blast off the tops of mountains to reach the coal seams beneath. Millions of tons of waste rock, dirt, and vegetation are pushed into surrounding valleys, burying miles of streams.
Arch Coal Inc.'s Spruce No. 1 mine would bury over seven miles of headwater streams, directly impact 2,278 acres of forestland and degrade water quality in streams adjacent to the mine, the EPA said today. Arch Coal is the second largest U.S. coal producer.
EPA Regional Administrator for the Mid-Atlantic Shawn Garvin said the proposed determination comes after extended discussions with the company failed to produce an agreement that would lead to a significant decrease of the environmental and health impacts of the Spruce No. 1 mine.
"Coal, and coal mining, is part of our nation's energy future, and for that reason EPA has made repeated efforts to foster dialogue and find a responsible path forward," said Garvin. "But we must prevent the significant and irreversible damage that comes from mining pollution and the damage from this project would be irreversible."
"This recommendation is consistent with our broader Clean Water Act efforts in Central Appalachia," said Garvin. "EPA has a duty under the law to protect water quality and safeguard the people who rely on these waters for drinking, fishing and swimming."
Arch Coal said in a statement today, that the Spruce permit is the most scrutinized and fully considered permit in West Virginia's history.
"The 13-year permitting process included the preparation of a full environmental impact statement, the only permit in the eastern coal fields to ever undergo such review," the company said. "We are evaluating all possible options for relief from the government's actions and intend to vigorously defend the Spruce permit by all legal means. Further, we intend to oppose the government's efforts to extend the stay in Judge Chambers' court with respect to our pending motion for summary judgment.
The proposed determination, signed today by Regional Administrator Garvin, identifies numerous potential adverse impacts associated with the Spruce No. 1 project
The agency says the Spruce No. 1 mine occurs in the Coal River basin, which is already heavily mined and substantially impaired. Many streams have been impacted by previous mining activities and the mine would contribute to the cumulative loss of water quality, aquatic systems, and forest resources.
"Landscape and site specific assessments reveal that past and current mountaintop mining has caused substantial, irreplaceable loss of resources and an irreversible effect on these resources within the Coal River basin," the EPA's determination states.
The mine will cause adverse impacts to drinking water, native aquatic and water-dependent communities in the Spruce Fork watershed, the EPA says.
High levels of total dissolved solids and selenium in the mine drainage would cause "birth defects in fish and other aquatic life and can also result in toxic effects to embryos, resulting in abnormal development or death for those organisms."
Ecosystem functions performed by headwaters and downstream aquatic ecosystems are lost when the headwater stream is buried or removed, the agency says.
"The project's mitigation plan inadequately evaluates the nature and extent of mining related aquatic impacts and therefore fails to replace streams' lost ecological services," the EPA determined.
Natural stream channels buried by mining will be replaced, in part, by ditches being built to drain stormwater off of the mine, not to compensate for natural stream losses, the agency said, adding, "These ditches will also drain water contaminated by mining into streams adjacent to the mine."
The proposed determination is being published in the Federal Register and EPA is taking public comment for 60 days. EPA is also scheduling a public hearing in West Virginia to provide opportunity for public input.
Attorney Joan Mulhern with the public interest law firm Earthjustice, said, "We are encouraged to see the EPA take this critical step in the Clean Water Act's veto process, taking the health of Appalachian communities and their environment seriously."
"Mountaintop removal mining must be recognized as what it is," said Mulhern, "a reckless and barbaric form of mining that rips apart mountains, buries streams and waterways with hazardous waste, contaminates drinking water supplies, and poisons people and wildlife."
"In Appalachia especially, it is ravaging ecosystems, wreaking havoc on wildlife, sickening people, and devastating whole communities," she said. "We hope the EPA begins to reverse policies put in place by the Bush administration that allow waste dumping from mountaintop removal mining to permanently destroy this nation's waterways."
Copyright Environment News Service (ENS) 2010. All rights reserved.