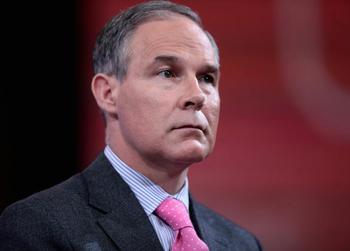 WASHINGTON, DC, December 8, 2016 (ENS) – Oklahoma Attorney General and climate denier E. Scott Pruitt is President-elect Donald Trump's choice to head the U.S. Environmental Protection Agency, EPA. The announcement of Pruitt's nomination on Wednesday has drawn responses ranging from outrage to grim, tight-lipped determination to get along with the incoming administration.
Attorney General of Oklahoma since November 2010, Pruitt describes himself as "a leading advocate against the EPA's activist agenda."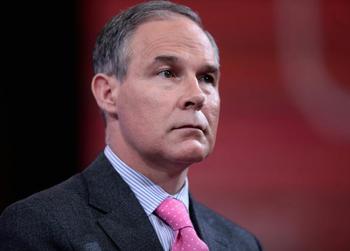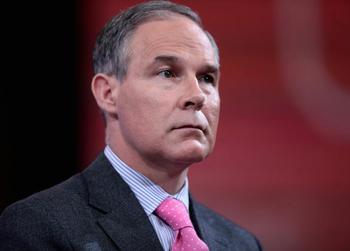 He established what he calls "Oklahoma's first federalism unit to combat unwarranted regulation and overreach by the federal government."
When the EPA in 2014 proposed new rules to cut emissions of the greenhouse gas carbon dioxide (CO2) by 30 percent, Pruitt slammed the plan as another example of federal overreach in the Obama Administration's war on fossil fuels.
"You know, this is coerced conservation, in effect," Pruitt said at the time. "This is the administration saying 'we're going to penalize fossil fuels. We're going to emphasize renewables, cause energy costs to skyrocket.'"
Pruitt has questioned "the degree and extent of global warming and its connection to the actions of mankind." He claims, falsely, that the climate "debate is far from settled."
Bill Becker, executive director of the National Association of Clean Air Agencies, which represents state agencies, is determined to get along with Trump's choice, however difficult that may be. "We look forward to working with Attorney General Pruitt to preserve and build upon governmental agencies' achievements under the Clean Air Act in protecting the public's health and welfare," Becker said Wednesday
Environmental attorneys on the conservation side are already preparing for future legal battles. Erik Schlenker-Goodrich, executive director of the Western Environmental Law Center, said, "In the American West, the continued exploitation of fossil fuels will wreak havoc on our climate, our communities, and our land, air, and water. A functioning Environmental Protection Agency should provide a critical bulwark against that exploitation, such as in the San Juan Basin, a region treated as a sacrifice zone for fossil fuels."
"Make no mistake: an EPA led by this man will not provide that bulwark," said Schlenker-Goodrich. "We will wield the full power of the law to stand between Pruitt, a servant to the fossil fuel industry, and the weakening of core public health and environmental protections in the West."
Wenonah Hauter, executive director of the nonprofit Food & Water Watch, said, "It's no secret that Trump wants to abolish environmental protections. Pruitt, who has already fought the EPA on fracking standards on behalf of the fossil fuel industry and has consistently stood for deregulating agricultural pollution in the state, will lead this agenda. And we will be fighting it tooth and nail."
"Pruitt was part of an effort to combat the 17 state attorneys general standing up to Exxon's climate deception. He famously submitted a letter drafted by Devon Energy to the EPA questioning federal estimates of the amount of air pollution from gas drilling in the state, and he decried the agency's attempts to regulate fracking's impact on drinking water as politically motivated," said Hauter.
"Pruitt's appointment signals that the EPA will take an even more hands off approach to environmental pollution, and the effect will be more fracking, which is exactly what we don't need.
"He's also championed the interests of industrial agriculture in his state, supporting a dubious, deregulatory 'right to farm' initiative that residents rightly rejected at the ballot box this year. He's also sued the EPA over the Waters of the US rule that effectively strengthens the Clean Water Act," Hauter said.
"He's shown over and over again he'll carry water for industry. But there won't be much clean water left if the EPA doesn't start standing up for communities instead."
Rhea Suh, president of the Natural Resources Defense Council, wrote, "The mission of the EPA and its administrator requires an absolute commitment to safeguard public health and protect our air, land, water and planet. That's the litmus test. By naming Pruitt, President-elect Trump has flunked."
"The American people did not vote to return to the country to the dirty old days or to turn a blind eye on dangerous climate change," she blogged. "If confirmed, Pruitt seems destined for the environmental hall of shame…"
As Oklahoma's top prosecutor Pruitt has sued the EPA in a series of attempts to deny Americans the benefits of reducing mercury, arsenic, and other toxins in the air, cutting smog, and protecting wetlands and streams.
"Pruitt sent the EPA a 2014 letter asserting that the agency was overestimating the air pollution from drilling for natural gas in Oklahoma," wrote Suh. "It turned out the letter was actually written by lawyers for one of the state's largest oil and gas companies, Devon Energy, the "New York Times" reported.
The story named Pruitt near the center of a "secretive alliance" among energy firms, other corporations, and state prosecutors coordinating legal strategy to target federal regulations.
Since becoming Oklahoma's top legal officer, Pruitt has sued EPA to stop public health protections, including standards for reducing the soot and smog pollution that crosses state lines; protections against emissions of mercury, arsenic, acid gases and other toxic pollutants from power plants; and standards to improve air quality in national parks and wilderness areas.
Pruitt often boasts of leading other states in challenging the Obama Administration's Clean Power Plan in the courts, where it remains today.
Environmental Defense Fund president Fred Krupp called Pruitt's nomination "deeply troubling."
"President-elect Trump's choice for EPA Administrator has a record of attacking the environmental protections that EPA is charged with enforcing," said Krupp.
"Every President-elect has a right to assemble his team, and many nominations are approved by a simple voice vote in the Senate. Scott Pruitt has built his political career by trying to undermine EPA's mission of environmental protection."
Copyright Environment News Service (ENS) 2016. All rights reserved.
Environment News Service (ENS) © 2016 All Rights Reserved.