EPA: 45 Areas Fail to Achieve Latest Smog Standards
WASHINGTON, DC, May 2, 2012 (ENS) – Forty-five areas across the country are not meeting the latest government standards for ground-level ozone or smog, the U.S. Environmental Protection Agency said Tuesday.
In 2008, EPA set a new smog standard at 75 parts per billion measured over eight hours, tightening the standard from the 80 parts per billion set in 1997.
"Reflecting ongoing improvements in air quality," EPA says it is identifying fewer areas that do not meet the 2008 standards than the agency identified as failing to meet the 1997 standards.
Following a change in standards, EPA works with states and tribes to identify areas that fail to meet the standards and establish plans to improve air quality.
Smog is created when emissions from vehicles, power plants, refineries and other factories mix in the presence of sunlight and heat.
Breathing air containing high levels of smog can reduce lung function, aggravating asthma and other respiratory conditions, says the EPA, warning that, "Ozone exposure may also contribute to premature death, especially in people with heart and lung disease."
Almost all of the 45 nonattainment areas already have programs in place to improve air quality because they did not meet the 1997 smog standards, the agency said.
Three areas in two states – Wyoming and California – are identified for the first time as failing to meet smog standards.
The EPA designated the Upper Green River Basin area of Wyoming as a nonattainment area due to a boom in natural gas drilling. Substances that contribute to smog pollution, including volatile organic compounds and nitrogen oxides, are released by the drilling of new wells and equipment maintenance.
Wyoming is the only state that has not previously had an area designated nonattainment for ozone.
In California, both of the new nonattainment areas register high smog levels blown in from elsewhere in the state.
In eastern San Luis Obispo on California's south central coast, emissions from the San Joaquin Valley are transported west, pushing smog monitors up over the limit in the sparsely populated Carrizo Plains and the unpopulated Red Hills areas. Smog also is transported from the San Francisco Bay Area 230 miles to the north.
The other new California nonattainment area is Tuscan Buttes, a part of Tehama County at an elevation above 1,800 feet with no pollution sources or populated areas nearby. The smog that pushed this rural area over the limit blows in from the Sacramento urban nonattainment region, according to a staff report from the California Air Resources Board.
Reducing smog and improving air quality is a shared responsibility of federal, state, local and tribal governments.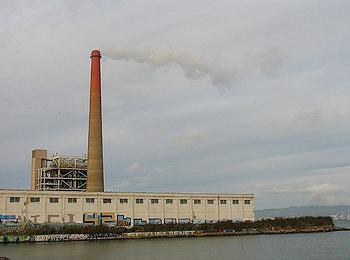 PG&E's Potrero coal-fired power plant in San Francisco (Photo by Orin Zebest)
EPA said it expects that most areas will be able to meet the 2008 standards as a result of recent and pending rules. National clean air programs such as EPA's standards to reduce power plant emissions that cross state lines, clean vehicle and fuel standards, and locally focused state, tribal air quality programs are already contributing to air quality improvements, the agency said.
The Clean Air Act requires EPA to review and, if necessary, revise air quality standards every five years to ensure that they protect public health with an adequate margin of safety.
Pushing ahead of the five-year requirement, in 2011 the EPA proposed to change the 2008 standard from 75 parts per billion measured over eight hours to 70 parts per billion. An advisory committee had recommended a range of 60 to 70 parts per billion.
But President Barack Obama killed the proposed regulation, conceding to businesses and congressional Republicans who objected that it would cost too much and would kill jobs.
In October 2011, four environmental and public health groups sued the Obama administration for scrubbing the stricter smog limit, saying the President's decision violated the law and put politics ahead of protecting public health.
EPA now says it is reviewing the science needed to inform the next five-year review of the smog standards and expects to propose action in 2013.
William Becker, executive director of the National Association of Clean Air Agencies, NACAA, which represents state and local air agencies across the country, says the nonattainment designations are a "long overdue" step forward, but the EPA needs to do more to help his members meet the 2008 ozone standard.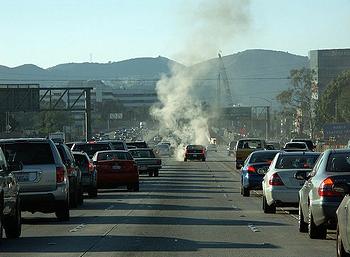 Car fire adds to the usual smog in Los Angeles, designated as an "extreme" nonattainment area. (Photo by Font Shop International)
"If states and localities are to be successful in meeting the ozone standard, the federal government must provide timely regulatory tools and financial assistance," Becker said. "For example, it is essential that EPA quickly publish the Tier 3 rule, which would lower sulfur levels in vehicle fuel to 10 parts per million."
"According to a NACAA study, Tier 3 could reduce NOx emissions – an ozone precursor – by over one-quarter of a million tons overnight. We cannot identify another control strategy that would provide as substantial and as expeditious ozone precursor reductions than Tier 3."
Congress is now debating whether to support the President's request to provide an increase of $65.8 million in federal grants to state and local air pollution control agencies.
Becker says these funds are "critical" in helping agencies meet their responsibilities in implementing the ozone standard that will protect public health and welfare for millions of people across the country.
While the Clean Air Act often has faced opposition from big polluters and their Congressional allies, a bipartisan survey released in March shows the American people support the Clean Air Act and EPA efforts to update and enforce clean air standards, including carbon and mercury emissions from power plants.
Commissioned by the American Lung Association, the poll of registered voters, conducted by Republican firm Perception Insight and Democratic polling firm Greenberg Quinlan Rosner Research, shows broad support for strengthening air pollution standards.
Nearly three quarters (73 percent) of respondents said Americans do not have to choose between air quality and a strong economy – both can be achieved.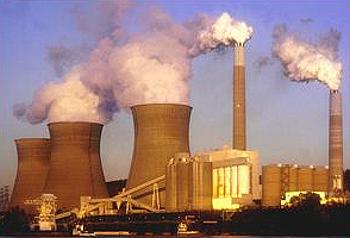 First Energy's Bruce Mansfield coal-fired power plant northwest of Pittsburgh, Pennsylvania (Photo by Kiyo Komoda)
A 2-to-1 majority (60 to 31 percent) believe that strengthening safeguards against pollution will create, rather than destroy, jobs by encouraging innovation.
Two-thirds of voters surveyed (66 percent) favor EPA updating air pollution standards by setting stricter limits.
The survey shows 72 percent of respondents support new standards for carbon pollution from power plants and support is strong (63 percent) after hearing arguments from both sides of the issue.
Also, 60 percent of voters support stricter standards for gasoline and limits on the amount of tailpipe emissions from cars and SUVs, a result that pollsters considered particularly strong given all the recent attention to high gasoline prices.
"The survey clearly indicates that voters reject the notion that we have to choose between strong safeguards against air pollution and economic growth," said Andrew Bauman, vice president at Greenberg Quinlan Rosner Research. "In fact, voters overwhelmingly believe that stronger safeguards against air pollution will create jobs in America."
"The poll does show there is broad support across partisan lines for new carbon regulations on power plants," said Marc DelSignore, president of Perception Insight. "However, there is a significant difference in the views regarding the impact regulations may have on the economy, with Republicans expressing higher concern for possible job loss and rising energy prices than Democrats or independents."
Peter Iwanowicz, assistant vice president for national policy and advocacy with the American Lung Association, said, "It's time polluters and their Congressional allies drop their attempts to weaken, block or delay clean air protections and listen to the public who overwhelmingly want the EPA to do more to protect the air we breathe."
Copyright Environment News Service (ENS) 2012. All rights reserved.