Electric Vehicles Land Sea Air USA 2012
SAN JOSE, California, March 29, 2012 (ENS) – "We are in the decade of the hybrid," EV consultant Dr. Peter Harrop told an audience at this week's Electric Vehicles Land Sea Air USA 2012 show, "because this is an incremental not a disruptive technology."
Harvard Business School Professor Clayton Christensen coined the term disruptive technology to describe a new technology that unexpectedly displaces an established one. Disruptive technology lacks refinement, may have performance problems because it is new, and appeals to a limited audience – a perfect description of electric vehicles.
The two-day conference and exhibition in San Jose, California is showcasing not only electric cars but also tractors, marine vessels, aircraft, buses, taxis, bicycles, motorcycles and golf carts, work and commercial vehicles.
Dr. Harrop, chairman of IDTechEx Ltd., the British company that organized the show, lectures and consults internationally on electric vehicles, energy harvesting and printed electronics.
He said the trend now is that, "Suppliers will increasingly swallow the extra cost of hybrid models in order to gain competitive advantage, just as Japanese car manufacturers gained dominance partly by offering extras free in the 1970s and superior reliability. Others will throw in the plug-in option free of charge, so the race is on."
By contrast to hybrids, pure electric cars are a disruptive technology with no emissions, almost no noise, the least maintenance, potentially the longest life, when battery life is improved, and potentially very green energy, Dr. Harrop said. "But, so far, they call for major changes in driver behavior and expenditure."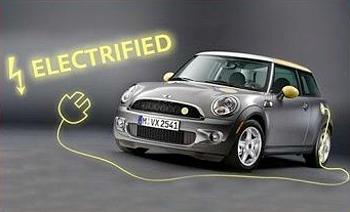 BMW's MINI E electric at the Electric Vehicles Land Sea Air USA 2012 show (Photo courtesy IDTechEx)
Harrop said the military is now developing electric vehicles, explaining, "The military wants vehicles on land and sea that don't have heat signatures or make noise, because missiles home in on that."
"There is great demand for new solutions for sustainable and individual mobility," said Dr. Anton Lesnicar, chief engineer MINI E with the BMW Group. He said his company "is developing solutions for opening up new opportunities and responding to changing customer demands."
Worldwide, about 1.6 million pure electric cars and hybrids, will be sold this year, he estimates, but the total number of all types of EVs sold will be closer to 39 million.
Many of those will be e-bikes, so popular in the Chinese market.
"A lot of electric vehicle conferences obsess about cars," said Harrop. "But if you're in green technology, you have to look at the big picture. The world is going off the car – we've reached peak car in most cities."
Banking on that trend, Saturna Green Systems Inc., of Vancouver, Canada, exhibited the next generation of wireless, location-based services for electric two and three-wheel vehicles.
On Wednesday, Saturna announced an agreement with New York-based evolve motorcycles to incorporate Saturna's wireless communications platform on evolve's electric scooters and motorcycles. This is the first time that location-based service and telematics devices have been installed on an electric scooter assembly line.
The show introduced electric vehicles not seen elsewhere, such as the new Soltrac solar-charged battery-powered electric crawler farm tractor and a new hybrid tractor from John Deere, a company that introduced its first hybrid machine, the award winning 2500E Greens Mower in 2005.
On view was the KleenSpeed Formula One pure electric race car, which is used as a moving laboratory to test components. "We now have the fastest EV race cars," KleenSpeed says. "We believe that when these components and systems are scaled down to power street vehicles they will yield a 6x increase in drive time and mileage."
A quick survey of trends indicates that the demand for electric vehicle charging stations is expected to sextuple in the next decade, particularly residential car charging stations.
While Japan is the leader, India and Korea are moving fast in the EV market, speakers said.
China has the largest potential market for electric vehicles. Over 90 percent of the world's electric vehicles are made in China, most for domestic use. China mines and controls 95 percent of the world's rare earth reserves used in the hybrid car batteries, motors and other key components of today's electric vehicles.
But Toyota "has developed a way to make hybrid and electric vehicles without the use of expensive rare earth metals, in which China has a near-monopoly," reports Japan's Kyodo newswire. Toyota could start to utilize the rare earth alternative within two years.
Copyright Environment News Service (ENS) 2012. All rights reserved.