62 Yellowstone Bison Freed on Indian Reservation in Montana
HELENA, Montana, March 29, 2012 (ENS) – After five years in quarantine captivity, 62 Yellowstone bison, one of the most important biological and cultural species in North America, will live on the tribal lands of the Assiniboine and Sioux tribes. The Fort Peck Reservation is home to two separate American Indian nations, each composed of numerous bands and divisions.
Tribal officials, Montana Governor Brian Schweitzer and wildlife conservation leaders gathered at the Fort Peck Indian Reservation on March 21 to welcome 62 genetically pure wild bison that were relocated from Yellowstone National Park.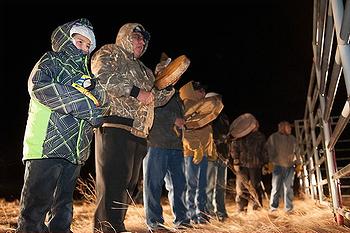 Drummers welcome the bison to the Fort Peck Indian Reservation, March 21, 2012 (Photo by
The animals had just completed a 500-mile journey from fenced pens near a highway outside Yellowstone National Park where some of them were held for up to five years to ensure they are free of brucellosis. This bacterial disease can infect cattle, sheep, dogs and humans; it sometimes results in spontaneous abortions in infected animals.
The return of the 62 bison follows decades of work by the tribes of Fort Peck and Fort Belknap Reservations, and is considered a step toward restoring wild bison to the Great Plains.
Millions of bison had roamed the Great Plains for thousands of years, but by the end of the 1800s, those vast herds had been nearly eliminated by unregulated shooting.
Jamie Rappaport Clark, president of Defenders of Wildlife and a former director of the U.S. Fish and Wildlife Service, was at Fort Peck to witness the 62 bison arrive. She said, "The return of genetically pure, wild bison to tribal lands in eastern Montana has been a long time coming, and it's great to see it finally happening."
"Restoration of these Yellowstone bison to tribal lands in eastern Montana is a major step forward for bison conservation," Clark said. "It's also part of a much broader effort to restore Yellowstone bison to more places across the entire region and revitalize our prairie ecosystems."
The Buffalo Field Campaign, the only group working in the field to stop the slaughter and harassment of Yellowstone's wild buffalo, said these 62 animals made it through a quarantine process that maimed and killed many others.
"All the buffalo that have survived the quarantine process have survived confinement and have been denied their natural instincts, their innate drive to migrate. Many did not survive," says Buffalo Field Campaign. "Throughout the quarantine process the buffalo were abused, tormented, and killed."
"This is what you will not read about in news stories," says BFC, "the serious injuries, deaths from stress, human handling, and the toll of confining a wild species in pens. Several females were overfed during winter and died while trying to deliver their calves in spring; without adults and stressed by constant captivity, several young mothers abandoned their calves; buffalo were gored to death and crushed against the corral pens; a calf mysteriously died in a creek; many were simply sent to slaughter."
A 2009 U.S. Department of Agriculture report, "History & Status of the Bison Quarantine Feasibility Study, USDA-APHIS," states, "In June 2006, 48 randomly selected sero-negative bison…were slaughtered… In October 2008, 41 randomly selected sero-negative bison … were slaughtered… all animals were culture negative [brucellosis-free]."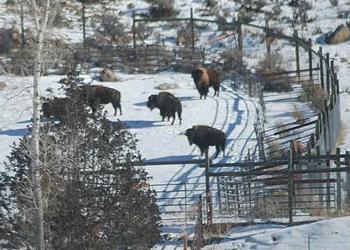 Yellowstone bison fenced for quarantine (Photo courtesy BFC)
Nick Anderson, cultural chairman and historian of the Mendota Mdewakanton Dakota Community, said, "Hau Mitakuepi, the buffalo have just as strong a connection to their land as we Indian people do. And just like us, the buffalo are being severed from their land by being put on ranches and domesticated."
"They are trying to turn buffalo into cattle just as they tried to turn Indians into Whites by putting us on reservations and sending us to boarding schools. Buffalo are not cattle anymore than Indians are Whites. They can't live without their connection to their land. They must be allowed to roam free," said Anderson.
"Quarantine is an insulting government program force-fed to First Nations as the only way to reconnect with buffalo," blogs Peet on the Buffalo Field Campaign website. "It is damaging to wild bison and the Tribes that would see them home again. Is that all we can do is abuse wildlife, create livestock situations and call it wildlife restoration? We can certainly do better in our efforts at 'wildlife restoration' than to abuse and treat members of America's only continuously wild population of buffalo like livestock. Quarantine is no more than a fear-based response to unfounded livestock industry complaints that are nothing but efforts to protect a subsidized lifestyle."
Defenders of Wildlife has invested more than $84,000 for bison restoration at both reservations and will be making additional contributions for fencing and for purchasing adjacent grazing allotments.
"Native Americans have had a special relationship with bison for thousands of years," said Clark. "The tribes at Fort Peck and Fort Belknap have generously offered to take these wild bison to restore new herds of genetically pure bison, which only adds to the cultural significance of this homecoming. We would like to thank the tribes for making this dream come true, and we're honored to have been able to play a part in making it happen."
Copyright Environment News Service (ENS) 2012. All rights reserved.