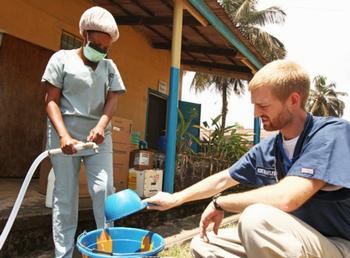 ATLANTA, Georgia, August 4, 2014 (ENS) – The Emory University Hospital in Atlanta is treating the first American infected with the deadly Ebola virus in a specially built isolation ward near the country's main medical agency, the Centers for Disease Control and Prevention.
Dr. Kent Brantly, 33, a medical missionary, caught the disease while caring for Ebola victims in Liberia. Across four West African countries, the viral hemorrhagic disease has killed 729 people to date and sickened at least 1,323.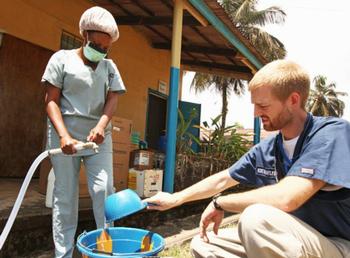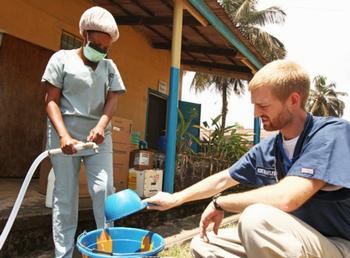 To date, more than 60 health care workers have lost their lives in helping others, eroding the capacity of these countries to respond.
Dr. Brantly, the first known Ebola patient on U.S. soil, traveled to the hospital by special plane and ambulance Saturday.
Attired in a hazmat suit, he climbed down from the ambulance under his own power and walked into the facility. Hospital officials said in a statement the facility is physically separate from other patient areas and has unique equipment and infrastructure that provide an extraordinarily high level of clinical isolation. It is one of only four such facilities in the country.
Because it can transport only one person at a time, the plane is now returning to Africa to pick up another Ebola-stricken American, Brantly's fellow missionary, Nancy Writebol. She also will be treated in Emory's isolation unit.
Dr. Jay Varkey, an infectious disease specialist at Emory who will care for Dr. Brantly, said Americans need not fear the illness will spread to the general population.
"Unlike the flu, like influenza, which we deal with every winter, Ebola cannot be spread through the air," he told The Associated Press. The virus can only be transmitted through blood and bodily fluids, he explained.
There is no known cure for the Ebola virus. Victims experience fever, weakness, pains and headache, followed by vomiting, diarrhea and kidney and liver dysfunction. In its final stages, the disease causes internal hemorrhaging and bleeding from the ears and mouth.
Dr. Brantly was serving as a medical missionary with Samaritan's Purse, a nondenominational evangelical Christian aid organization. He was a general practitioner at a mission hospital in the Monrovia suburb of Paynseville, where he directed the hospital's Ebola clinic, wearing full-body protective gear in the equatorial heat for up to three hours at a time.
"We thank God that they are alive and now have access to the best care in the world," said Franklin Graham, president of Samaritan's Purse. "We are extremely thankful for the help we have received from the State Department, the CDC, the National Institute of Health, WHO and, of course, Emory Hospital."
Samaritan's Purse is evacuating all but the most essential personnel to their home countries.
Dr. Margaret Chan, director-general of the World Health Organization, assessed the Ebola outbreak Friday with the four West African presidents at a meeting in Conakry, Guinea.
The Ebola outbreak is affecting a large number of doctors, nurses, and other health care workers, one of the most essential resources for containing an outbreak, she said.
"West Africa is facing its first outbreak of Ebola virus disease. This is an unprecedented outbreak accompanied by unprecedented challenges. And these challenges are extraordinary," Dr. Chan told the presidents of Guinea, Liberia, Sierra Leone, and Cote d'Ivoire.
She recognized the high level of political commitment and concern shown by their presence and urged, "This meeting must mark a turning point in the outbreak response."
West Africa's outbreak is caused by the most lethal strain in the family of Ebola viruses, she said. "It is moving faster than our efforts to control it. If the situation continues to deteriorate, the consequences can be catastrophic in terms of lost lives but also severe socioeconomic disruption and a high risk of spread to other countries.
The outbreak is "by far the largest ever in the nearly four-decade history of this disease," said Dr. Chan. "It is the largest in terms of numbers of cases and deaths, with 1,323 cases and 729 deaths reported to date in four countries. It is the largest in terms of geographical areas already affected and others at immediate risk of further spread."
"It is taking place in areas with fluid population movements over porous borders, and it has demonstrated its ability to spread via air travel, contrary to what has been seen in past outbreaks," she warned. "Cases are occurring in rural areas which are difficult to access, but also in densely populated capital cities."
The general public is not at high risk of infection by the Ebola virus, Dr. Chan explained, because the virus is not airborne. "Transmission requires close contact with the bodily fluids of an infected person, also after death."
Yet, she warned against allowing an Ebola virus to circulate widely and for a long time in human populations, saying, "Constant mutation and adaptation are the survival mechanisms of viruses and other microbes. We must not give this virus opportunities to deliver more surprises."
She described the Ebola outbreak as "a social problem" not just a medical or public health problem. "Deep-seated beliefs and cultural practices are a significant cause of further spread and a significant barrier to rapid and effective containment," that must be addressed "as an integral part of the overall response."
"Traditional funeral practices are a well-documented spark that ignites further chains of transmission," warned Dr. Chan.
"Chains of transmission have moved underground," in some areas, she said. They are not being reported because of Ebola's high fatality rate, which causes victims' families and friends to choose to care for loved ones in homes or seek out traditional healers.
"Such hiding of cases defeats strategies for rapid containment," said Dr. Chan, who warned that these attitudes "can create a security threat to response teams when fear and misunderstanding turn to anger, hostility, or violence."
She said that the governments of the four most affected countries "may need to use their police and civil defence forces to guarantee the safety and security of response teams. Some are already doing so."
They may have to place restrictions on population movements and public gatherings, she said.
Despite the absence of a vaccine or curative therapy, Ebola outbreaks can most certainly be contained, Dr. Chan assured the four presidents.
"Bedrocks of outbreak containment include early detection and isolation of cases, contact tracing and monitoring of contacts, and rigorous procedures for infection control. Moreover, we do have some evidence that early detection of cases and early implementation of supportive therapy increases the chances of survival."
Dr. Chan has taken on personal responsibility for coordinating the international response to this Ebola outbreak and mobilizing the support the four presidents need, "on the most urgent basis possible."
Under the provisions of the International Health Regulations, Dr. Chan has convened an Emergency Committee that will meet on August 6 to assess the international implications of West Africa's outbreak.
Copyright Environment News Service (ENS) 2014. All rights reserved.
Environment News Service (ENS) © 2014 All Rights Reserved.