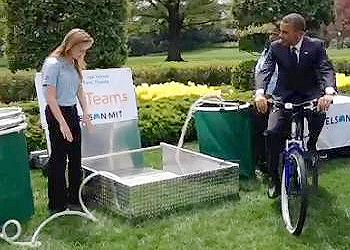 WASHINGTON, DC, April 22, 2013 (ENS) – "We cannot afford to ignore what the overwhelming judgment of science tells us: that climate change is real and that it poses an urgent threat to our people and our planet," President Barack Obama said Saturday as he proclaimed April 22 to be Earth Day 2013.
"That is why my Administration set historic fuel efficiency standards that will nearly double how far our cars go on a gallon of gas while reducing harmful carbon pollution. It is why we made unprecedented investments in clean energy, allowing us to double renewable energy production in only four years. And it is why I am challenging Americans to double it again by 2020," the President said.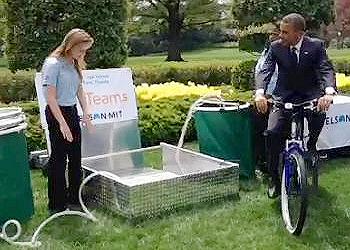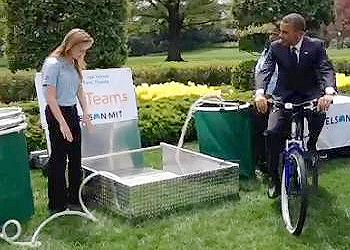 "At the same time, we are working to protect our communities and our economy from the unavoidable effects of climate change that we are already starting to feel," Obama said.
"Today, America is sending less carbon pollution into the environment than we have in nearly 20 years," said Obama. "But we owe it to our children to do more. That is why I have called on the Congress to pursue a bipartisan, market-based solution to climate change. In the meantime, I will direct my Cabinet to come up with executive actions to reduce pollution, prepare our communities for the consequences of climate change, and speed our transition to sustainable energy."
"More than four decades after the first Earth Day, millions of Americans have answered the call to protect the environment," said the President. "Today, let us do so again by joining together, raising our voices, and standing up for our planet and our future."
Federal Agencies
Secretary of State John Kerry said, "Ever since I was involved in the first Earth Day in Massachusetts, way back in 1970, this has always been a day to reflect on our environmental challenges and our responsibility to safeguard our God-given natural resources on a fragile planet we share with the rest of humanity and which we must protect for future generations."
"This year's Earth Day theme, the Faces of Climate Change, puts a special focus on the very real impact climate change has on people everywhere, and demonstrates just how clearly connected we all are," Kerry said.
"Dealing responsibly with the clear and present danger of climate change was a focus of my recent trip to China, and it is a challenge I will be engaging to meet everywhere I travel as Secretary of State. If ever there was an issue that demanded greater cooperation, partnership, and committed diplomacy, this is it."
"The science is screaming at all of us and demands action," Kerry said. "From the far reaches of Antarctica's Ross Sea to tropical wetlands in Southeast Asia, we have a responsibility to safeguard and sustainably manage our planet's natural resources, and the United States remains firm in its commitment to addressing global environmental challenges."
The U.S. Energy Department today announced nearly $18 million in four innovative pilot-scale biorefineries in California, Iowa and Washington that will test renewable biofuels as a domestic alternative to power cars, trucks, and planes.
The pilot-scale biorefinery projects will use non-food biomass feedstocks, waste-based materials, and algae in innovative conversion processes to produce biofuels that meet military specifications for jet fuel and shipboard diesel.
"Advanced biofuels are an important part of President Obama's all-of-the-above strategy to reduce America's dependence on foreign oil, improve our energy security and protect our air and water," said Energy Secretary Steven Chu. "The innovative biorefinery projects announced today mark an important step toward producing fuels for our American military and the civil aviation industry from renewable resources found right here in the United States."
The U.S. Environmental Protection Agency has recognized NASA's White Sands Test Facility in Las Cruces, New Mexico, and Johnson Space Center in Houston as Federal Green Challenge National Award winners.
White Sands received the National Award for Overall Achievement for outstanding efforts in 2012 to advance sustainability efforts and its leadership in reducing the environmental footprint of federal government activities.
"In 2012, concrete and asphalt debris piles were safely recycled into 10,712 tons of reusable materials," said Michael Jones, environmental project manager at White Sands.
Johnson was recognized for increasing that amount of solid waste composted from 16 tons in 2011 to 250 tons in 2012 – a 1,449-percent improvement achieved by Johnson grounds contractor ProDyn EPES LLC of Annapolis, Maryland.
"Through our composting program, we no longer need to purchase mulch and compost, we don't have to pay to get rid of yard debris, and we're reducing greenhouse gas emissions – it's a win-win situation all around," said Michelle Fraser-Page, recycling manager at Johnson.
The Federal Green Challenge, a national effort under EPA's Sustainable Materials Management Program, recognizes agencies for outstanding efforts that go beyond regulatory compliance.
At the Department of the Interior, the new secretary, Sally Jewell, sworn in April 15, will host her first webchat with members of the public to celebrate Earth Day and in recognition of National Park Week at www.doilgov/live.
Today, the National Park Service released a Green Parks Plan status report that found parks have diverted 28 percent of their solid waste since 2007 as a growing number of parks halt the sale of bottled water.
From Zion in Utah to Hawaii Volcanoes, 14 parks out of 403 parks have given bottled water the boot.
Parks are celebrating their progress with clean-ups and a "tap water challenge" at the Grand Canyon – a blind taste test for park-goers that pits bottled water against tap water. Volunteers also organized challenges today at Liberty Bell Center, Golden Gate National Recreation Center, and in Seattle to educate the public that the tap is more highly regulated than bottled water and more eco-friendly.
Before phasing out bottled water last year, the Grand Canyon National Park found plastic bottles accounted for 20 percent of its overall waste stream – more than 500 tons of waste annually.
"Eliminating the sale of water in disposable packaging within Grand Canyon National Park is in the best interests of both park resources and park visitors," said Dave Uberuaga, superintendent, Grand Canyon National Park. "Grand Canyon's decision to think outside the bottle has helped clear a trail for fellow parks to follow."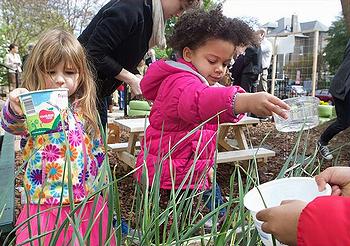 Chair of White House Council on Environmental Quality Nancy Sutley and EPA Acting Administrator Bob Persiacepe today joined Secretary of Education Arne Duncan to announce the second annual U.S. Department of Education Green Ribbon Schools award honorees.
The officials made the announcement at Mundo Verde Bilingual Public Charter School, in Washington, DC, one of the 2013 Green Ribbon Schools.
Sixty-four schools were honored for their exemplary efforts to reduce environmental impact and utility costs, promote better health, and ensure effective environmental education, including civics and green career pathways. In addition, 14 districts were honored with the first-ever District Sustainability Award.
"Today's honorees are modeling a comprehensive approach to being green," said Secretary Duncan. "They are demonstrating ways schools can simultaneously cut costs; improve health, performance and equity; and provide an education geared toward the jobs of the future. In fact, the selected districts are saving millions of dollars as a result of their greening efforts. And the great thing is that the resources these honorees are using are available for free to all schools."
States
California Governor Jerry Brown used his proclamation of Earth Day to ask that "Californians take this special day as an occasion to read the Warning to Humanity."
In 1992, some 1,700 of the world's leading scientists, including the majority of Nobel laureates in the sciences, signed the Warning to Humanity about the critical challenges facing the world's environment written by the late Henry Kendall, chairman of the nonprofit Union of Concerned Scientists.
The Warning starts, "Human beings and the natural world are on a collision course. Human activities inflict harsh and often irreversible damage on the environment and on critical resources. If not checked, many of our current practices put at serious risk the future that we wish for human society and the plant and animal kingdoms, and may so alter the living world that it will be unable to sustain life in the manner that we know. Fundamental changes are urgent if we are to avoid the collision our present course will bring about."
In honor of Earth Day, Nebraska Governor Dave Heineman announced that the Beel ranching family of Johnstown is the recipient of the 2013 Leopold Conservation Award. The $10,000 award is presented annually to private landowners who practice responsible land stewardship and management.
"Earth Day is the perfect time to acknowledge the conservation efforts of Nebraska landowners, including this year's award recipients, the Beel family," said Heineman. "More than 90 percent of Nebraska's land is used for farming and ranching. It is being well cared for by those who take on the responsibility of leaving things better for future generations. Conservation on private land is something Nebraskans do very well."
Sand County Foundation, Nebraska Cattlemen and Cargill present the Leopold Conservation Award annually in honor of world-renowned conservationist Aldo Leopold.
Virginia Secretary of Natural Resources Doug Domenech presented checks for $158,807 for two easement projects, the Chapman Farm and the Dorsey Orchard Tract, which will conserve 208 acres. He then traveled to Ogdens Cave Natural Area Preserve where five rare species have been protected by the cooperative efforts of the Cave Conservancy of the Virginias, The Nature Conservancy, the U.S. Army Corps of Engineers, and the landowner's family.
The Patrick-Murray Administration today launched the Massachusetts Electric Vehicle Incentive Program. The $2.5 million program will provide funding to municipalities to help purchase electric or plug-in hybrid passenger vehicles. The program will fund communities for the installation of dual electric charging stations, encourage increased deployment of advanced technology vehicles, improve air quality and reduce reliance on foreign oil.
It will help Massachusetts attain the emission reduction goals set under the Global Warming Solutions Act to reduce greenhouse gas emissions in the state 25 percent below 1990 levels by 2020 and 80 percent by 2050.
The Massachusetts Executive Office of Energy and Environmental Affairs today launched a new dashboard for Global Warming Solutions Act initiatives. "As we celebrate Earth Day, it is appropriate to announce a practical tool that will help us gauge our success in protecting the environment," EEA Secretary Rick Sullivan. "This will allow us to assess and communicate our accomplishments and impact policy-making for generations to come."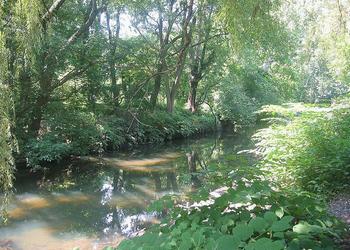 New York Attorney General Eric Schneiderman today announced that more than $4 million is going to local Bronx and Westchester County entities to help them improve water quality in the Bronx River by controlling storm runoff and snow melt.
"I am proud to fight to protect every New Yorkers' right to clean air, pure drinking water, a stable environment and healthy communities," said Schneiderman. "From safeguarding Long Island's Pine Barrens, cleaning up the Hudson River, protecting the Adirondack wilderness and waterways in the Southern Tier and securing air quality in Western New York communities, we've made tremendous progress across New York improving our environment. While I am proud of our accomplishments, we will continue to press for much tougher protections, including fighting against climate change pollution and for a tightening of national air quality standards."
Pennsylvania Governor Tom Corbett Saturday visited the Flight 93 National Memorial in Somerset County to honor the sacrifice of the passengers and crew to a terrorist attack on September 11, 2001 by presenting donated trees for the site.
The plans for the memorial, operated by the National Park Service, include 40 groves of trees to commemorate the lives of the 40 passengers and crew of Flight 93.
Corbett presented the first sapling for planting to Jeff Reinbold, superintendent of Western Pennsylvania Parks, National Park Service. About 600 volunteers will plant about 15,000 trees on 23 acres on April 19-20 and April 26-27.
Nongovernmental Organizations
A coalition of environmental groups has gathered more than one million signatures on a petition to President Barack Obama to reject TransCanada's application for a Presidential Permit to cross the Canada-U.S. border with the Keystone XL tar sands pipeline.
Sierra Club Executive Director Michael Brune said today, "If you love the Earth, you need to know some things about tar sands crude – starting with how it would affect the climate of this wonderful planet we all share. Actually, "affect" is probably the wrong word. We're talking wholesale destruction."
The one million comments were collected from more than 20 organizations, including: 350.org, Alliance for Climate Education, Avaaz, Bold Nebraska, CCAN, Center for Effective Government, Credo, Environmental Action, Friends of the Earth, FWW, Greenpeace, League of Conservation Voters, League of Women Voters, MoveOn, NWF, Oil Change International, NRDC, RAN, Sierra Club, and SumofUs.org.
"It's going to take some time for State department and the White House to go through a million comments, but when they do they'll see a common thread: people from every part of the country in every walk of life think that this pipeline is bad for our land, water, and climate," said Daniel Kessler, spokesperson for 350.org.
"Families from Arkansas, Michigan, Nebraska, and across the country have weighed-in in huge numbers urging President Obama and Secretary Kerry to reject Keystone XL," said Randy Thompson, Nebraska landowner. "There is too much risk to trade away our health, our water and our land for a tar sands pipeline that benefits foreign oil companies. Momentum is building against the Keystone XL tar sands pipeline every single day."
Gene Karpinski, president at the League of Conservation Voters, blogged, "One of the best ways to celebrate Earth Day is to continue working to combat climate change and protect our planet for future generations. With 2012 being the hottest year on record in the continental United States and climate change fueling deadly and costly floods, droughts, wildfires, and Superstorm Sandy, it's clear that the time to act is now. President Obama has the chance to do just that while building on his environmental legacy."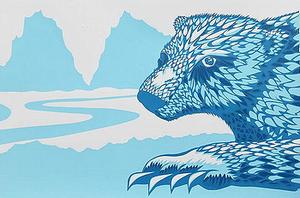 The Center for Biological Diversity is celebrating endangered species at 20 events in 13 states today. More than 15,000 condoms will be distributed in colorful packages, with artwork by Roger Peet, that feature species threatened by unsustainable human population growth, including the polar bear, the Florida panther and the leatherback sea turtle. Events will include celebrations at parks, zoos, farmers' markets, college and university campuses.
As part of the Nature Conservancy's All Hands on Earth campaign, the nonprofit is asking people all over the world to spend the whole month of April – Earth Month -thinking about where their food comes from, and how their food choices impact the planet. Picnic for Earth is about all of us coming together to do our part by eating sustainably. We're celebrating nature and the bounty it provides with Picnic for Earth. Submit photos and videos of picnics through social media using #AllHandsPicnic.
In celebration of Earth Day, Slacker and Greenpeace launched a new station called Going Green with Greenpeace. The station will play music from some of the world's most environmentally friendly and active artists. Tune into the station with a Slacker account or log in with Facebook.
Greenpeacer Bill Richardson blogged, "Can popular music change the world? It can certainly help. In the 41 years that Greenpeace has been around, eco-conscious artists have always been a part of our fabric. They've helped Greenpeace reach millions of people with its message of hope, and served as an inspiration to those of us who signed up for this."
Commercial
The largest utility company in the United States, Duke Energy, now plans to offer renewable energy to its major customers. This will allow Google, who announced plans today to double the size of one if its largest data centers, an option to power its cloud with clean energy.
Google's Gary Demasi, director, Global Infrastructure, said, "We're expanding our Lenoir, North Carolina data center, and our local electricity provider, Duke Energy, has pledged to develop a new program for large companies like Google who want to buy renewable power for their operations. Duke will file the plan with their state commission within 90 days."
Solar Energy Industries Association's Tom Kimbis, vice-president of strategy and external affairs and general counsel, is one of those standing up for the planet today.
Kimbis traveled from his Washington, DC office to Springfield, Ohio where he witnessed the inauguration of a new $7 million solar installation to supply clean energy at the office campus of insurance company Assurant Specialty Property, one of Springfield's largest employers.
Kimbus tweeted today, "Heading home to DC, w @AssurantSolar system now cranking power to Ohio. Happy Earth Day."
More than 6,200 solar panels were placed on the roof and atop 15 new solar carports. The 1.76 megawatt project will generate more than 1.9 million kilowatt hours of solar power each year, making it the Springfield-Dayton area's largest solar installation.
The solar power to be produced at Assurant translates to a reduction of more than 1,400 tons of CO2, or the equivalent of planting more than 280 acres of forest.
A former Department of Energy executive, Kimbis strategizes to promote solar energy across the U.S. While at DOE, he founded the Solar America Initiative, a billion-dollar effort to accelerate solar commercialization. He led the creation of the Solar America Cities program, a DOE partnership with U.S. cities to develop innovative methods for the adoption of solar energy technologies.
The health care benefits company Aetna today announced that a new 975 panel solar array has been installed in Windsor, Connecticut to power a major portion of the Aetna facility there. The environmental savings generated equates to 189 metric tons of carbon dioxide, the equivalent of taking 39 vehicles off the road.
Today, Staples became the first major U.S. consumer electronics retailer to become a licensed e-Stewards® Enterprise company, a program of the nonprofit Basel Action Network, BAN. In doing so, Staples has pledged to use certified e-Stewards Recyclers to handle materials collected from its free technology recycling program at more than 1,500 stores nationally, as well as electronic waste from its own internal operations.
"This is a breakthrough for U.S. electronics consumers and the environment in keeping with the true intent of Earth Day," said Jim Puckett, executive director of BAN. "Thanks to Staples leadership in committing to use e-Stewards Recyclers, consumers now have many more convenient drop-off locations to ensure their old cell phone or computer will be recycled in the most responsible way."
Marking the 43rd anniversary of Earth Day, the Institute of Scrap Recycling Industries today encouraged people to better understand the environmental benefits recycling provides, and the high environmental standards established by the industry.
"The scrap recycling industry was the original green industry, transforming worn-out materials into commodity grade products" said Robin Wiener, president of ISRI. "The more than 130,000 men and women that work in the sector make a positive impact on the environment every single day. Giving a second life to metals, paper, tires, plastic, glass, textile and other materials saves energy and natural resources, reduces the use of landfill space, and lowers greenhouse gas emissions. The continuous development of new technology and rigorous standards in the field further contributes to the industry's rich history of environmental stewardship and economic growth."
The total estimated reduction of CO2 emissions from scrap recycling globally is roughly 500 million tons per year.
Copyright Environment News Service (ENS) 2013. All rights reserved.
Environment News Service (ENS) © 2013 All Rights Reserved.