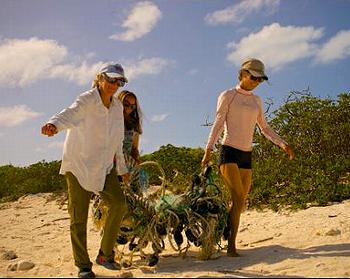 WASHINGTON, DC, April 18, 2018 (ENS) – Celebrated on Sunday, April 22, this year's Earth Day theme is End Plastic Pollution by fundamentally changing human attitudes and behaviors to reduce plastic pollution.
This year Earth Day Network, EDN, is building a grassroots movement to support the adoption of a global framework to regulate plastic pollution.
Poisoning marine life, disrupting human hormones, littering beaches, clogging waste streams and landfills – waste plastics threaten to overwhelm the planet.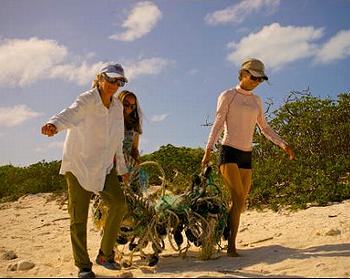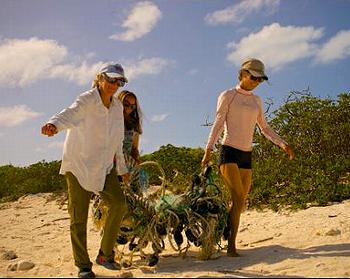 EDN is educating, mobilizing and activating people throughout the world to demand that governments and corporations control and clean up plastic pollution. And when they do, EDN is promoting their efforts.
EDN is also educating people worldwide to take personal responsibility for plastic pollution by choosing to reject, reduce, reuse and recycle plastics.
And EDN is working with other organizations and networks to extend the End Plastic Pollution campaign by developing resources that others can use and build partnerships.
"There is a growing tidal wave of interest in ending plastic pollution and some countries and governments are already in the vanguard. Earth Day Network believes we can turn that tidal wave into a permanent solution to plastics pollution," said Kathleen Rogers, president of Earth Day Network.
Based in Washington, DC, the Earth Day Network, global coordinator of Earth Day, is building toward the world's largest-ever coalition of people united to ensure a healthy planet.
Working year-round with 50,000 partner organizations in 192 countries, the Earth Day Network is bringing new voices into the environmental movement, representing youth and faculty, the faith community, minority groups, women, teachers, students and many others.
"We will mobilize our global network of NGOs, grassroots organizations, campus youth, mayors and other local elected leaders, faith leaders, artists and athletes, and students and teachers to build a world of educated consumers, voters and activists of all ages who understand the environmental, climate and health consequences of using plastic," said Rogers.
Some governments now are responding to the plastics crisis.
British Prime Minister Theresa May announced April 15 that New Zealand, Sri Lanka and Ghana have joined the UK and Vanuatu-led Commonwealth Clean Oceans Alliance (CCOA), an agreement between member states to join forces in the fight against plastic pollution.
Britain, together with CCOA joint chair Vanuatu, will call on other countries to pledge action on plastics, be this by a ban on microbeads, a commitment to cutting down on single use plastic bags, or other steps to eliminate avoidable plastic waste.
To drive this forward, Prime Minister May has announced a £61.4 million package of funding to boost global research and help countries across the Commonwealth stop plastic waste from entering the oceans in the first place.
British Environment Secretary Michael Gove said, "When it comes to our seas and oceans, the challenge is global so the answer must be too."
"Through this ambitious alliance we will build on the UK's world-leading microbeads ban and 5p plastic bag charge to harness the full power of the Commonwealth in pushing for global change and safeguarding our marine environment for future generations," said Gove.
Furthermore, the UK will commit £25 million to help researchers approach the scourge of marine plastic waste from a scientific, technical, economic and social perspective. It will also spend £20 million to prevent plastic and other environmental pollution from manufacturing in developing countries.
To further support the work of the CCOA, £16.4 million will be used to improve waste management at a national and a city level.
The Commonwealth Clean Oceans Alliance will work in partnership with businesses and NGOs, including the World Economic Forum, Sky, Fauna and Flora International, the Coca-Cola Company and WWF to share expertise and experience and push for global change.
The Washington, DC-based Plastics Industry Association has heard the Earth Day message and responded with a statement. "As the association that represents companies who make plastic products, we don't like to see litter and recognize that it is everyone's responsibility to help make sure plastic products are made responsibly and disposed of properly."
In addition to a Twitter chat about the issues, the Plastics Industry Association is encouraging its member companies to plan a company-wide cleanup of a beach, river or community; hold educational facility tours for the community and communicate sustainability messages; promote your company's recycling efforts such as bottle and film recycling in the breakroom; and encourage employees to take a recycling pledge.
As part of Earth Day 2018, Earth Day Network has released an online Plastics Pollution Calculator for consumers to calculate the amount of disposable plastic they use in a year and make plans to reduce their individual contribution to that waste stream.
At least 9.1 billion tons of virgin, non-recycled plastic has been produced to date, generating 6.9 billion tons of plastic waste, and only nine percent has been recycled.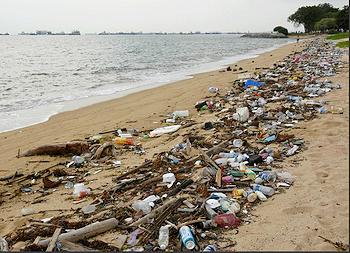 The world is already incapable of properly managing this enormous amount of waste, and the production of plastic is predicted to increase three times in the next 25 years.
Valeria Merino, vice-president of Global Earth Day at Earth Day Network, said, "Plastic pollution is now an ever-present challenge. We can see plastics floating in our rivers, ocean, and lagoons, littering our landscapes and affecting our health and, the future of billions of children and youth. We have all contributed to this problem, mostly unknowingly, and we must work to reduce and ultimately to End Plastic Pollution."
"You first need to know where you stand," said Merino. "This plastic pollution calculator will help you determine your total yearly consumption of disposable plastic items."
The Plastic Pollution Primer and Action Toolkit, will help consumers determine actions they can take to reduce their plastic pollution footprint. EDN's efforts center around the Five Rs: "Reduce, Refuse, Reuse, Recycle and Remove" actions.
"Once you have learned the benefits of embracing the 5 Rs in your daily lives," Merino said, "we hope you will create a goal for decreasing your yearly plastic pollution using the Plastic Pollution Tracker  also available in the Toolkit."
While recycling plastic waste is important, it is not nearly enough, says Merino. "You may be lulled into thinking it is OK to consume disposable plastic products because you plan to recycle them, but many plastics can't be efficiently recycled and will end up in the landfill or littering the planet, even in the most remote places."
"Also, some localities lack the most basic infrastructure to manage waste and to sort and recycle plastics. For this reason, it is much more important to focus on reducing your own level of plastic consumption," she advises.
Here's the Earth Day Network's advice on lessening your individual plastics impact:
* – Ask yourself every time that you are considering buying a disposable plastic item: Do I absolutely need this? Can I use something else that I already have? Could I buy something that I can use long-term instead?
* – Prevent the creation of micro-plastics by properly disposing of plastic products and being careful not to toss plastic products near waterways, beaches or in open spaces.
* – Pick up plastic trash whenever you see it, especially in ponds, streams, rivers, and beaches.
* – Look up products on the internet and choose not to buy products containing microbeads. Choose products that have natural exfoliators instead.
* – Consider changing the way you wash your clothing to reduce the number of microfibers that are released, wash synthetic clothes less frequently, purchasing items made of natural fibers when possible.
Copyright Environment News Service (ENS) 2018. All rights reserved.
© 2018, News Editor. All rights reserved.