Dozens Rescued Alive from Turkish Quake, Death Toll Now 279
ANKARA, Turkey, October 25, 2011 (ENS) – Two men were rescued alive after surviving for 32 hours in the wreckage of a building that collapsed during Sunday's magnitude 7.2 earthquake in eastern Turkey.
Ozan Yilmaz, 19, and Abdullah Pinti, 22, were trapped by the quake in the town of Ercis in Van province. They were pulled from the rubble at 10 on Monday night.
Turkey's disaster management agency confirmed that at least 279 people lost their lives, 1,305 people are injured and 2,262 buildings were demolished by the earthquake.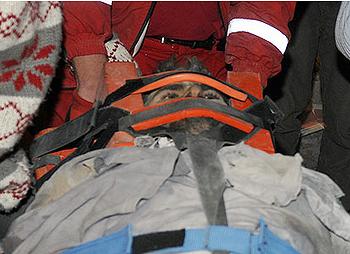 Search and rescue workers save a young man who was trapped in a collapsed building for hours. (Photo courtesy Andalou Ajensi)
Search and rescue teams are working desperately to locate more survivors in the quake-hit towns and villages close to the Iranian border in one of Turkey's zones most at risk of earthquakes. The quake's epicentre was below the village of Tabanli, in the city of Van.
Dogan news agency reports that 24 people have been rescued both in the town of Ercis and 60 kilometers (40 miles) away in Van, a city of about one million people.
Twenty hours after the quake, Yalcin Akay was pulled from a collapsed multi-story building. Akay used his cell phone to call an emergency line and gave the operator his location in Ercis, Turkey's Anatolia news agency reported. Three others, including two children, were rescued alive from the same building.
But hundreds more were not so fortunate. Crews unearthed bodies from the wreckage and lined them up on the streets for identification by their families.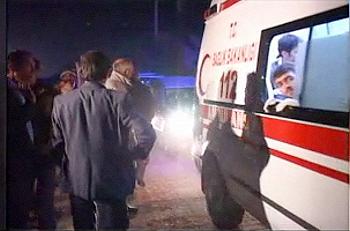 Ambulances work through the night bearing the injured to area hospitals. (Photo courtesy Office of the Prime Minister)
Rattled by more than 200 aftershocks, many thousands of residents slept outside, building fires against the cold, as aid organizations put up tents as fast as they could. Tent camps have been established and the delivery of tents to affected families on an individual basis has begun.
After the bitterly cold night Sunday, survivors took comfort Monday morning in the 11 tonnes of breakfast foods brought in by the Red Crescent.
Many survivors spent Monday night outside as well, either made homeless by the quake or too frightened to go back to their homes.
Turkey's Disaster and Emergency Management agency said a total of 3,346 search and rescue personnel are at work. There are 787 medical personnel on hand, 16 search dogs, 138 ambulance and air ambulances, 730 generators and 95 portable toilets, more than 10,000 tents, 25,000 blankets, 21 mobile kitchens and at least 100 tonnes of provisions.
Some 150 prisoners broke out the Van M Type Closed Prison moments after the earthquake. About 50 of the jailbreakers returned to the prison voluntarily, authorities are searching for the rest.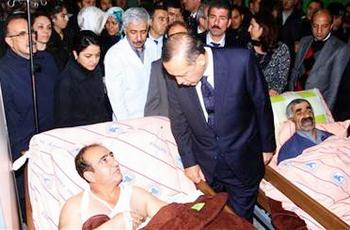 Prime Minister Recep Tayyip Erdogan visits injured survivors of the earthquake in Ercis. (Photo courtesy Office of the Prime Minister)
Offers of help have poured in from around the world: the United States, Britain, Greece, Azerbaijan, Pakistan, Israel, Ireland, Poland, Hungary, Switzerland, Bulgaria, Georgia, China, Ukraine, Russia, Canada, South Korea, Japan, Iran, Kosovo, the European Union, NATO and the United Nations offered to help Turkey cope with the effects of the earthquake.
According to the Turkish Disaster and Emergency Management, the President and the Prime Minister have announced that there is no request for international assistance, and bilateral government offers to help have been turned down at this stage.
Speaking from the quake-hit area where he was inspecting the damage, Prime Minister Recep Tayyip Erdogan said Turkey is able to manage on its own, but he said neighboring Azerbaijan and Iran as well as Bulgaria sent aid anyway.
The Turkish Red Crescent aid agency says psychologists and social service specialists are assigned to the affected regions to provide psycho-social support for the victims who lost their relatives and for those who have experienced post-traumatic stress disorder because of the shock caused by the quake.
The Iranian Red Crescent is ready to provide support with assessment and relief teams that are located and operational in Van in addition to three Iranian Red Crescent teams on standby on the Iranian-Turkish border.
This is the most powerful earthquake to hit Turkey in over a decade, as strong as the quake that devastated Haiti in January 2010. Turkey is located in an active seismic zone, where large earthquakes frequently occur.
Copyright Environment News Service (ENS) 2011. All rights reserved.