Airborne Wind Turbine Wins ConocoPhillips Energy Prize
HOUSTON, Texas, October 24, 2011 (ENS) – A wind turbine designed to operate at 2,000 feet above the Earth's surface has won the 2011 ConocoPhillips Energy Prize, a joint initiative between ConocoPhillips and Penn State University.
Ben Glass and Adam Rein today were awarded the $125,000 prize for their innovation, "Aerostat Platform for Rapid Deployment Airborne Wind Turbine." The turbine takes advantage of stronger and more consistent winds higher in the air. These turbines are designed for easy mobility and rapid deployment at remote, military, and offshore sites.
Glass and Rein say this power source be deployed from a single shipping container in about a day in an emergency and it could offer a new way to roll out wind power, so often strait-jacketed by high costs or local objections.
Close to the ground the flow of wind is disrupted by buildings, trees and other landscape features. As a result, wind power developers erect their turbines on ever-higher towers, making the most of the cleaner, faster air higher up. But larger means costlier, and more environmental impact.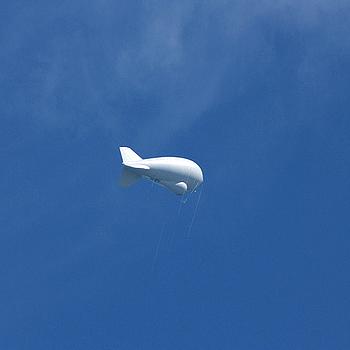 This tethered aerostat radar system provides the North American Aerospace Defense Command with low level surveillance coverage for air sovereignty in the Florida Straits. (Photo by David Serna)
In Glass and Rein's plan, the buoyancy of a helium-filled shroud is used to concentrate stronger winds into the blades of a horizontally-aligned turbine.
Power would be tapped via a conductive tether that holds the system at the optimal altitude.
This unique design is adapted from tethered blimps that have decades of experience lifting multi-ton monitoring equipment such as radars into the air for long periods of time.
With up to eight times as much power available at higher altitudes, the economic case for wind farms in the sky could see them soaring more widely soon.
Ben Glass is CEO of Altaeros Energies and is the inventor of the Altaeros Airborne Wind Turbine. His past experience includes design of small scale wind turbines and ultra-aerodynamic solar-powered vehicles.
An expert in fluid dynamic design, Glass received his degrees in aeronautics and astronautics in 2010 from the Massachusetts Institute of Technology.
Adam Rein is a co-founder and CFO of Altaeros Energies. As a strategy consultant for Bain & Company, Rein helped lead business development and operations for a biofuels organization in Africa and an energy efficiency startup in Boston. Rein received his MBA from the Massachusetts Institute of Technology Sloan School of Management and an MPA from the Harvard Kennedy School in 2010.
The ConocoPhillips Energy awards were given today at a ceremony held in State College, Pennsylvania after formal presentations by the five finalists to the panel of judges.
"The world needs clean energy concepts moving from the drawing board and into the home, office, field and factory, with an increasing urgency," said Merl Lindstrom, interim senior vice president for technology at ConocoPhillips. "We believe the ConocoPhillips Energy Prize is playing its part in providing a much-needed focus on developing these game-changing ideas."
The competition, which began in 2008, recognizes innovative ideas and solutions in three key areas: developing new energy sources, improving energy efficiency, and combating climate change.
This year, more than 100 proposals were submitted for evaluation by a panel of energy and environmental experts, which selected five finalists on the basis of creativity, scalability, commercial viability and sustainability.
The first runner up was Jason Aramburu, founder and CEO of re:char and team for "Biochar Production for Climate Change Mitigation." This concept seeks to roll biochar out to the general public, with cheap recycled kilns that can churn out up to five tonnes of biochar each year.
The second runner up was Mark Mascal, professor of chemistry at the University of California, for "Conversion of Plant Carbohydrates Into a New Generation of Biofuels and Substitutes for Petroleum Products."
The remaining finalists were Li Song and Gang Wang for "Development of an Automated Unit-Level Energy Monitoring Fault Detection and Diagnostic for High Energy Performance Buildings" and Jack Swearengen and Peter Swearengen and team for "Carbon-Free Ammonia for Agriculture."
Each of the five finalists received an award of $25,000 to further the development of their concept. The winner received an additional $100,000; the first and second runners-up received an additional $50,000 and $25,000 respectively.
Copyright Environment News Service (ENS) 2011. All rights reserved.