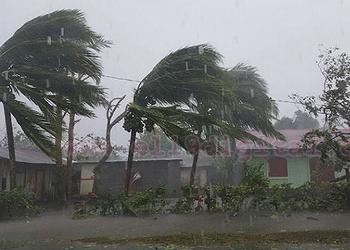 MANAGUA, Nicaragua, November 26, 2016 (ENS) – Thousands of people living along Nicaragua's coastal areas were forced to evacuate after a 7.0 magnitude earthquake jolted El Salvador and Nicaragua, just an hour after a powerful hurricane hit Nicaragua's east coast.
The quake was felt in parts of Costa Rica, Nicragua, El Salvador and Guatemala.
Nicaraguan President Daniel Ortega, declared a state of emergency immediately after the quake.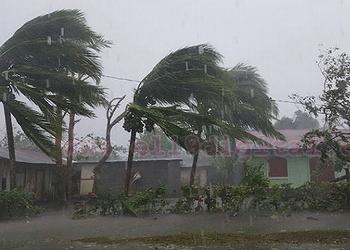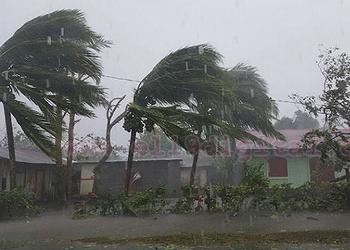 Hurricane Otto, a Category 2 hurricane with strong winds from 155 to 175 kilometers per hour, generated constant heavy rain all along the Caribbean coast.
President Ortega had activated Nicaragua's entire National Police force Wednesday in the regions where the Red Alert for Hurricane Otto was declared – Southern Caribbean, Rio San Juan and Zelaya Central.
Working together with municipal committees' natural disaster prevention units and the Army, authorities have evacuated residents to shelters in Bluefields, Punta Gorda, Corn Island, Pearl Lagoon, Monkey Point, El Bluff and San Juan de Nicaragua.
Authorities moved more than 400 people to shelters in the town of San Juan de Nicaragua, on Nicaragua's Caribbean coast just north of the Costa Rican border, where strong winds tore off roofs and brought down power and cable lines.
Otto is the southernmost hurricane ever to make landfall in Central America, said the U.S. National Hurricane Center, so  residents were not prepared for such a natural disaster. In total, about 10,570 residents were forced to flee.
Jhoni Gutiérrez, political secretary of Rio San Juan, said the government is ensuring water and food for families who have been relocated to shelters.
Earlier this week, four people died in Panama as the outer bands of the hurricane struck that country.
In El Salvador, Hurricane Otto has left at least four people dead and about 30 others missing as it passed through northern and western Costa Rica Thursday, according to "La Nación" newspaper in Costa Rica.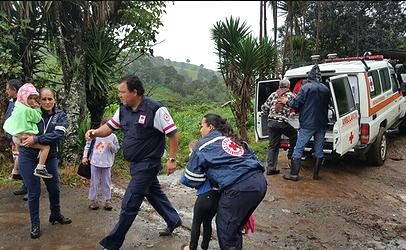 Costa Rica's President Luis Guillermo Solis said, "We are mourning the death of our beloved dead and we are also in a strong and strong attitude of solidarity with the people who have been affected by Otto and are in desperate situations."
Costa Rican authorities issued a tsunami alert after the quake, which struck around 75 miles off the Salvadoran coast 20 miles beneath the Pacific Ocean, according to the U.S. Geological Survey.
The quake was first measured at a magnitude of 7.2 but was then downgraded to magnitude 7.0.
Shaking was felt in the Nicaraguan capital Managua, and in the Costa Rican capital of San Jose.
Hurricane Otto has lessened to a Tropical Storm as it blows west across Nicaragua.
Today, officials with SINAPRED, the Nicaraguan government agency responsible for prevention and mitigation of disasters, the Ministry of the Environment and Natural Resources, as well as other government officials and environmental experts conducted a flyby to evaluate environmental damages caused by Hurricane Otto.
Damage to the Indio Maíz Biological Reserve is being assessed. Covering about 4,500 square kilometers in the southeastern corner of Nicaragua bordering the San Juan River, right in the path of Hurricane Otto, Indio Maíz is one of the most important forests in Central America.
The Indio Maíz Biological Reserve was established as a protected area in the 1990s and is a magnet for tourists who come to enjoy the diversity of wildlife.
The reserve is inhabited by more than 400 species of birds, 200 species of reptiles and four species of wild cats. Some of the mammals present include pumas, jaguars, tapirs, armadillos, sloths, raccoons, wild boars, several species of  monkeys, and there are manatees in the coastal waters.
Copyright Environment News Service (ENS) 2016. All rights reserved.