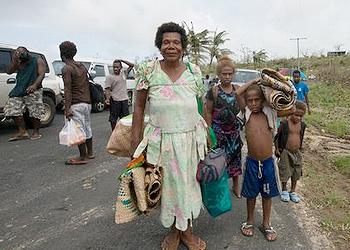 SENDAI, Japan, March 17, 2015 (ENS) – Cyclone Pam devastated the Pacific island nation of Vanuatu just as UN officials and insurers gathered in Japan this week for a long-planned conference on disaster risk reduction. UN Secretary-General Ban Ki-moon told delegates that the cyclone "tragically underscored" the importance of global efforts on disaster risk reduction.
Thousands are attending the Third World Conference on Disaster Risk Reduction, which runs through Wednesday. They are expected to agree on a new framework for managing disaster risk to reduce mortality and curb economic losses.
As the conference opened Saturday, top insurers from around the world signed a statement calling on governments to step up global efforts to build resilience against natural disasters.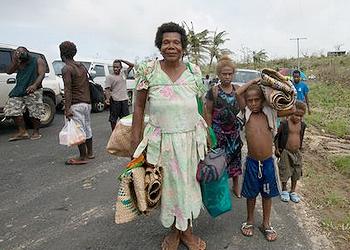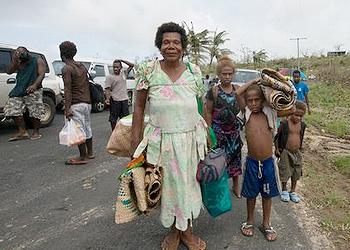 They calculate losses from disasters in the past decade at US$190 billion annually, while average insured losses were at about US$60 billion.
The insurance companies that signed the United for Disaster Resilience Statement are members of the UN Environment Programme's Finance Initiative Principles for Sustainable Insurance, PSI, the largest collaborative initiative between the United Nations and the insurance industry.
Michael Morrissey, president and CEO of the International Insurance Society, a signatory to the statement, said, "Managing risk is core to the purpose of the insurance industry. Recognizing the unique roles of the insurance industry as risk managers, risk carriers and institutional investors is key to harnessing its full potential in disaster risk management, and in supporting the transition to a sustainable economy."
PSI insurers represent about 15 percent of the world's premium volume with US$9 trillion in assets under their management.
UNEP Executive Director Achim Steiner said, "Building disaster-resilient communities and economies for the future will require an all hands on deck approach. Public-private collaboration is key to the success of such efforts."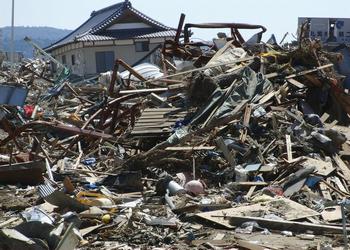 "The vision and initiative demonstrated by the insurance industry – from the launch of the landmark Principles for Sustainable Insurance at the Rio +20 conference to the strong, united commitments made, here, in Sendai – provide inspiration and a way forward," said Steiner.
Climate change is increasingly recognized by the insurance community as a primary cause of natural disasters.
Earlier this month, the re-insurer Munich Re said in a new report, "Over the past years, persistent extreme weather conditions have triggered severe natural catastrophes and caused losses in the billion range. There is a growing number of scientific studies that suggest an increase in quasi-stationary weather patterns and their correlation with the considerable rise in temperature in the Arctic due to global warming."
In Sendai, government and civil society officials emphasized the need for effective early warning systems to raise risk awareness and ensure proactive preventive action to help communities prevent and reduce loss of lives and property.
Vladimir Ryabinin, executive secretary of UNESCO's Intergovernmental Ocean Committee, said that early warning set-ups must provide information that is usable and used.
"Even the most advanced systems in the world are useless if people do not respond to the warning," Ryabinin told participants at a session on lessons learned from mega-disasters. "People need to know what to do in the event of a tsunami. We need to educate people. Japan provides an excellent example in this."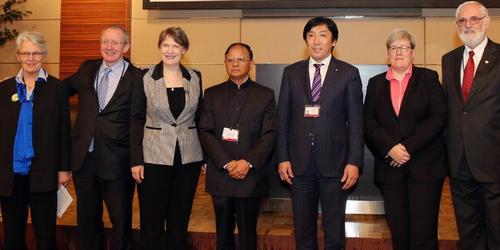 Noritake Nishide, director-general of the Japan Meteorological Agency, explained how Japan's early warning system has improved since the 2011 earthquake and tsunami that impacted Sendai caused and the Fukushima Daichi nuclear meltdown.
More accurate seismology monitors have been installed, key partnerships have been strengthened, and better communication of key information to at-risk populations has been established, said Nishide.
Chile's massive earthquake in February 2010 showed the need to prioritize a more resilient communications system and better links with technical agencies, said Eduardo Mesina, deputy director of Chile's Port Works Division Ministry of Public Works.
The World Meteorological Organization, WMO, Monday announced plans to support governments and others in developing multi-hazard early warning systems that provide a coordinated platform for managing multiple risks.
WMO Secretary-General Michel Jarraud said, "Fortunately we have the knowledge and tools we need to prepare for and reduce these risks. Effective disaster response requires political leadership to ensure investments in preparedness and prevention combined with weather forecasts, warnings, media reports, emergency response, health facilities, and recovery plans."
WMO is also working with its 194 member governments to develop "impact-based warnings" that describe a predicted event's physical impacts and recommend specific precautionary actions.
One of the world's first multi-hazard early warning systems has been established in Shanghai, a mega-city of over 23 million people. The system delivers alerts on tropical cyclones, storm surges, floods and extreme temperatures, as well as diseases.
Copyright Environment News Service (ENS) 2015. All rights reserved.
Environment News Service (ENS) © 2015 All Rights Reserved.