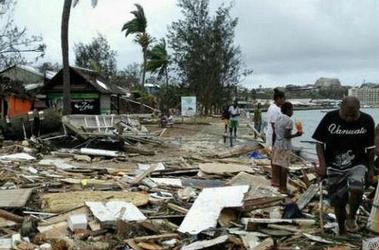 SYDNEY, Australia, March 16, 2015 (ENS) – At least 24 people lost their lives as Cyclone Pam blasted through the Pacific island nation of Vanuatu Friday night, UN and other aid agencies report.
Aid workers expect the death toll to rise as more information comes in from the nation's 65 inhabited islands, where communication services are still out after the cyclone which packed wind gusts of up to 320 kilometers per hour (199 mph).
Tropical Cyclone Pam struck Vanuatu, hitting the capital of Port Vila, as an extremely destructive category 5 cyclone.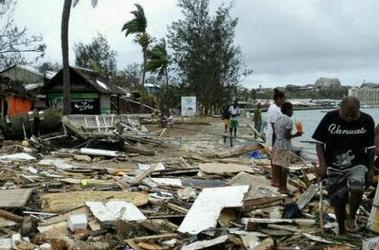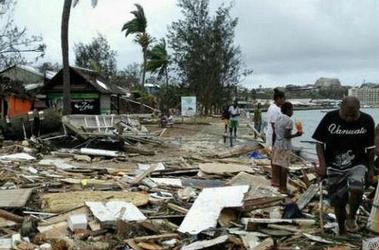 In addition to the two dozen confirmed dead, more than 30 people have been injured according to the UN Office for the Coordination of Humanitarian Affairs, OCHA.
The UN says "Tropical Cyclone Pam is likely to be the worst natural disaster the South Pacific has seen."
Vanuatu President Joe Natuman is seeking international help to rebuild the nation's infrastructure, which he said is "completely destroyed."
Vanuatu has a population of 267,000 spread over 65 islands. About 47,000 people live in the capital
Aid agencies have warned that conditions are among the most challenging they have faced, with displaced residents vulnerable to hunger, thirst and disease.
Officials have yet to assess the damage in many of the hard-hit outer islands because communications and power remain out.
International aid agencies are deploying emergency response teams to support relief efforts on the ground already assisting nations devastated by Tropical Cyclone Pam in the Pacific.
A United Nations Disaster Assessment and Coordination team arrived in Port Vila today. Pacific Humanitarian Team partners, including OCHA, are also on their way to Vanuatu to help support the response.
"It felt like the world was coming to an end," said UNICEF's Alice Clements, a UNICEF staff member who was in Port Vila when the storm hit. "The winds were incredibly strong, ripping off roofs, destroying homes and damaging hospitals and schools. Countless homes have been torn apart and communities have been left in ruins."
At least nine nations have experienced some level of devastation – Vanuatu, Solomon Islands, Kiribati, Fiji, Tuvalu, and Papua New Guinea.
In Efate, Vanuatu an estimated 90 percent of structures are either damaged or destroyed.
More than 2,000 people are sheltering in over 25 evacuation centres in Efate, Torba and Penama.
All commercial flights in and out of the capital Port Vila are currently grounded, with only military flights landing.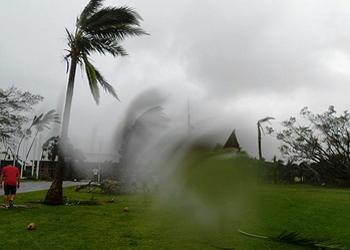 Shefa Province has been declared a state of emergency, with other areas to be determined following aerial assessments.
The Australian Red Cross says its aid workers will focus on assisting communities with food supplies, shelter, water and sanitation to prevent disease outbreaks.
Save The Children says evacuation centers are packed, with agencies focused on providing support, which may be needed for months as residents rebuild.
Agencies are raising money to assist the country to restore power, sewerage and water systems.
UN Secretary General Ban Ki-moon said the impact and scope of the disaster caused by the cyclone was not yet clear, but he fears the damage and destruction is widespread.
Oxfam country director in Port Vila, Colin Collett van Rooyen, said a lack of clean water, temporary toilets, water purification tablets and hygiene kits needs to be addressed rapidly.
Tens of thousands of Vanuatu children are in urgent need of assistance.
"Around 60,000 children in Vanuatu are affected," said Isabelle Austin, UNICEF Pacific deputy representative. "We are particularly concerned about their health, nutrition, safety, schooling and recovery."
Access to safe drinking water and sanitation facilities has been disrupted in many places, even in evacuation centres, leading to high risks of water-borne and vector–borne diseases. UNICEF is working to provide water containers, purification tablets, soap and temporary toilets.
Early childhood centres as well as primary and secondary schools have been damaged by the cyclone or are being used as evacuation centres. At least 70,000 school-aged children are missing their education as a result.
Seychelles President James Michel said Monday that Cyclone Pam was "a clear manifestation of climate change." He called on the international community to "wake up" to the dangers of global warming.
Copyright Environment News Service (ENS) 2015. All rights reserved.
Environment News Service (ENS) © 2015 All Rights Reserved.