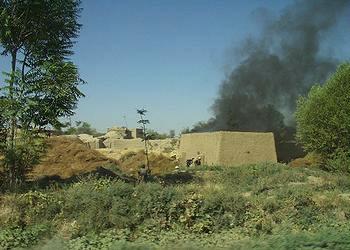 By Hijratullah Ekhtyar
JALALABAD, Nangarhar, Afghanistan, July 21, 2014 (ENS) – To escape the stifling summer weather of Afghanistan's eastern Nangarhar province, Abdurrahman and his family sleep on their roof at night. But when they awake every morning, they find their faces blackened by the smoke from nearby brick factories.
"There is no electricity, so we can't shut the windows of the room to run a fan or air conditioning. We have to sleep on the roof," said Abdurrahman, who is a student at Nangarhar university and lives in the Sorkhrod district. "We breathe in the fumes from the brick factories all night long. The ashes also fall on our clothes. We are fed up with this situation."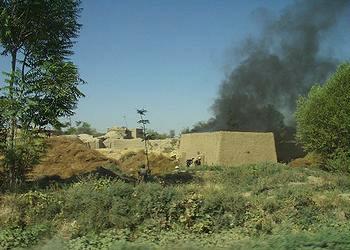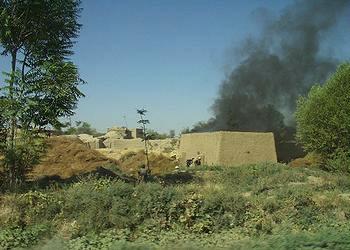 He said that all complaints to the municipality had fallen on deaf ears.
"Why would officials care? They sleep in luxury houses in the city with air conditioners. They don't care about people," Abdurrahman said.
A thriving brick-producing industry sprang up in Sorkhrod district after the fall of the Taleban in 2001, with as many as 100 factories supplying the entire eastern region. They provide employment for about 9,000 people who used to work in factories over the border in Pakistan.
However, the environmental impact of these factories has been severe. Local residents report that as well as using coal, the factory furnaces also burn old tires, producing foul emissions, and that locals are suffering more and more from respiratory and skin diseases. Even washing hung on lines outside absorbs ashes as it dries.
Abdurrahman said the industry had created a further problem – child labor.
"Local people are poor. Instead of sending their children to school, they get them to work at the factories," he said.
Community leaders say local officials have no interest in their plight.
Reza, the head of Narenj Bagh village, said polluting industries had seriously damaged local farming.
"The smoke from the factories has badly affected agricultural crops and orchards. Yields have decreased and the crops don't grow well," he said. "These are not factories – they are the conduits of hell. Most people suffer from respiratory problems, the children are coughing, and our skin is irritated. Is this a life?"
People have complained to the factory owners as well as to local government officials, but nothing has been done – the result of systemic corruption, Reza claims.
Neither local officials nor the provincial governor's office agreed to be interviewed for this report. However, the head of environmental protection in Nangarhar, Yahya Ghafuri, said he was very concerned about the impact of the Sorkhrod factories.
Ghafuri said that after several meetings with representatives of the industry, he saw no imminent solution.
"They promised not to burn harmful materials any more, but unfortunately they have not kept their promises," he said, adding that he had approached other government agencies about the issue without no success.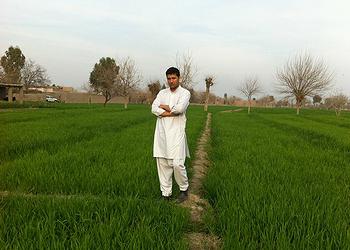 "It is obvious the factories have created problems for the public and that they're damaging the environment," he added.
Reza said that he would have moved his family out of the area if he could afford to rent a house elsewhere.
One factory owner who asked to remain anonymous laughed as he said, "Come on brother! As long as you give someone money in this country, no one is going to tell you what to do – even if you're burning people. When officials get short of funds, they come over here and wander around. Then they take their money and leave."
Nilofar Aziz, a member of the Nangarhar provincial council, said that she had raised the issue with the former governor, Gul Agha Sherzai, several times, but that he had never taken any action.
The issue is complicated by the fact that the polluting factories created job opportunities for local people, she added.
Recalling a visit to the area, Aziz said, "The children told me that they were happy about the factories because they could earn some bread for their families there."
Aziz said she was nonetheless determined to exert pressure on the incoming Kabul government to rein in the industry and provide an alternative source of work.
"It is my commitment to find people other jobs instead of at the factories, and to eliminate the source of disease," she concluded.
While the brick factories in Nangarhar districts cause environmental issues, the provincial capital Jalalabad has a different set of problems.
Amin Yusufzai, director of Nangarhar's traffic department, says Jalalabad only has the capacity to support 40,000 residents and 5,000 vehicles. Now, however, nearly 500,000 people live there and up to 36,000 vehicles circulate in the city.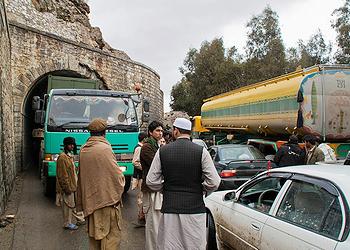 Yusufzai said that the biggest source of pollution were the three-wheeled motorbike taxis known by locals as "autos," widely used as a cheap way of navigating the city's narrow streets. He estimated there were 10,000 such motorbike taxis operating in the city, which produced not only great volumes of exhaust but also noise pollution.
"The noise and exhaust from the autos drives us crazy," Jalalabad resident Maiwand Aman said. "We have no peace from them either day or night. Autos need to be banned in cities… they don't benefit people, they harm them."
Yusufzai agreed that the motorbike taxis not only create public health problems but also lead to most of the city's traffic jams and accidents.
Even so, he said, "we cannot remove all these autos from the city or curb them, because many people earn their daily bread this way." Longer term, the solution is a public transport system, he said.
The taxi drivers themselves suffer alongside the general public.
"Driving an auto is like insanity," said Azwallah, who used to run a three-wheeled taxi. "The smoke and noise from the auto, as well as all the arguments with the public, traffic police and other drivers every moment of the day are enough to turn any man crazy."
Azwallah's solution to give up ferrying passengers and start working as a stonemason.
"Although it is a difficult job, my health is fine. I sleep well. Previously, I'd hear auto noises all night even while I was asleep, and call out to passengers."
Not everyone has the option of finding different work.
Gul Mohammad, who drives a motorbike taxi in Jalalabad, said, "The noise and fumes from the auto drive me crazy. When I go home in the evening, no one can talk to me – I get angry at everybody. I hear the noise in my ears all night. I've been to the doctor several times. He told me to leave the job because it would damage both my hearing and my mental health, but I have no other choice."
{This report was originally published by the Institute for War and Peace Reporting, July 21, 2014}