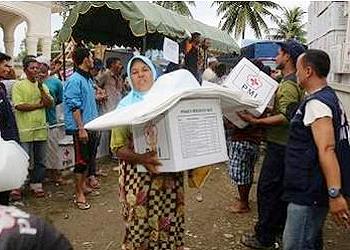 JAKARTA, Indonesia, December 12, 2016 (ENS) – While most people were asleep, a shallow earthquake of magnitude 6.5 struck Indonesia's Aceh Province in Northwest Sumatra at 5:03 am local time on December 7, leaving more than 100 people dead and injuring or displacing thousands of others.
Indonesian authorities and the U.S. Geological Survey confirm that the epicenter of the earthquake was located 12 miles southeast of Aceh's Sigli town in Pidie Jaya Regency and 106 km southeast of Banda Aceh, the capital of Aceh Province.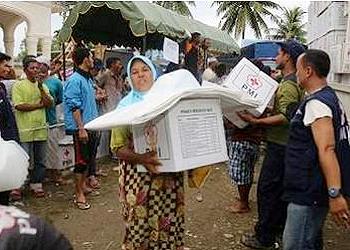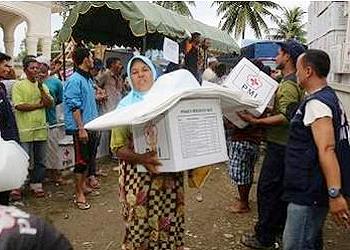 The quake roused memories of the deadly tsunami that devastated Aceh in December 2004. Yet this time, there was no tsunami after the tremor, which the USGS said struck just offshore at a depth of 8km (five miles).
The Indonesian Geophysical and Meteorological Climatology Agency reported aftershocks and warned that there still is the potential for further aftershocks.
Indonesian authorities report that the temblor resulted in 101 deaths, 666 injuries, and more than 65,060 people displaced from their homes. A total of 58 mosques have been damaged and 11,378 houses, 33 schools and several hundred other buildings have collapsed.
Search and rescue and victim identification efforts are ongoing.
Airports in Aceh Province, including the Sultan Iskandar Muda International Airport in Banda Aceh, remain open and airlines continue to operate on a normal schedule.
A number of roads in Aceh were reported to have been destroyed and some remain closed.
Some 3,962 personnel have helped in handling earthquake victims in Pidie Jaya, Pidie, and Bireuen, according to BNPB spokesman Sutopo Purwo Nugroho in a press statement on Saturday.
In addition, hundreds of police and military officers have been deployed to help the evacuation and debris clearance processes.
"We chose to stay in a tent outside our house rather than go back inside," said 36-year-old Iskandar, who lives in the village of Panton Raya with his family. "We feel safer under the tarpaulins, my three children and wife were traumatized by the earthquake," he told the Indonesian Red Cross.
The main hospital in Pidie, located 90 miles east of Banda Aceh, is reportedly treating injured patients outside its main building. Water and electricity services in some areas have been interrupted, and cellphone networks are operating but may experience periods of overload or outage.
The Governor of Aceh has issued a decree that the earthquake disaster emergency response will end on December 20.
Yet urgent needs remain – food and clothing, medical equipment, medicines and medical services, medical tents, portable toilets, shelter, and heavy equipment.
The first shipment from the Disaster Emergency Logistic System of ASEAN stockpile arrived on Saturday evening in Banda Aceh and are now in Pidie Jaya. A second shipment is expected shortly.
President Joko Widodo, called Jokowi, visited the affected regions, particularly in the Pidie Jaya and Pidie districts with several other ministers on Friday.
Jokowi ordered the reconstruction of the mosques destroyed in the quake.
"I have seen the condition of the mosque and have decided that it will be rebuilt jointly, starting tomorrow," Jokowi told reporters after visiting At Taurrub Mosque in Trienggadeng Sub-district, Pidie Jaya.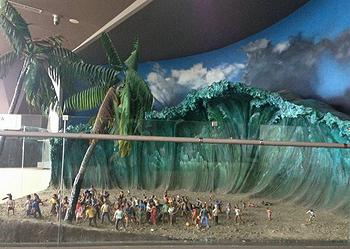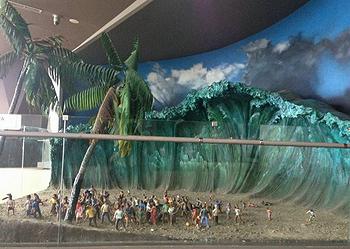 Social Affairs Minister Khofifah Indar Parawansa promised to help heal victims traumatized by the disaster, the state-run Antara news agency reports.
Indonesia, the worlds largest archipelago, is prone to earthquakes due to its location on the Pacific "Ring of Fire," an arc of volcanoes and fault lines in the Pacific Basin.
Aceh lies on the northern tip of Sumatra Island, which is particularly prone to quakes. For the Acehnese, the latest quake was another terrifying reminder of their region's vulnerability to natural disasters.
The most powerful one in recent years was an 8.9-magnitude earthquake on December 26, 2004 that triggered a gigantic tsunami in Aceh and Nias Island, North Sumatra Province, leaving some 200,000 people dead or missing and one million others homeless.
Copyright Environment News Service (ENS) 2016. All rights reserved.