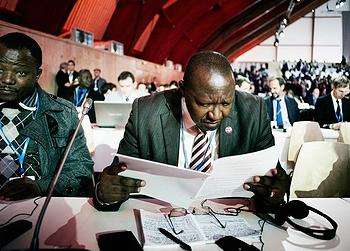 PARIS, France, December 9, 2015 (ENS) – With just two days to go before the United Nations COP21 climate talks in Paris are scheduled to conclude, it's crunch time for the negotiating ministers.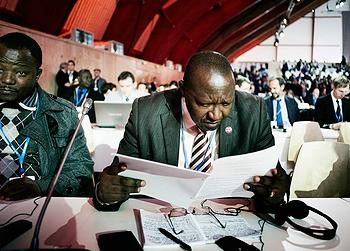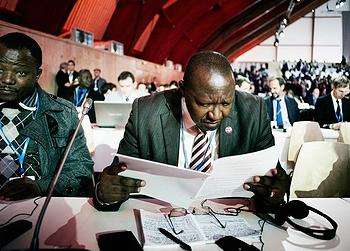 The latest version of the draft outcome text released today outlines the choices still on the table.
One crucial choice that has emerged in the past week of negotiations is that of lowering the global average temperature target below the 2°Celsius above pre-industrial levels agreed by world leaders at the 2009 UN climate talks in Copenhagen.
On the all-important issue of the temperature increase target, the draft text reads [all language in brackets has yet to be agreed]:
"The purpose of this Agreement is to [enhance the implementation of the Convention and to achieve its objective] [further implement the objective of the Convention set out in its Article 2 [through enhanced action, cooperation and support]] so as:
(a) To hold the increase in the global average temperature to
"Option 1: below 2°C above pre-industrial levels,
"Option 2: well below 2°C above pre-industrial levels [and to [rapidly] scale up global efforts to limit
temperature increase to below 1.5°C] [,while recognizing that in some regions and vulnerable ecosystems high risks are projected even for warming above 1.5°C],
"Option 3: below 1.5°C above pre-industrial levels, taking into account the best available science, equity, sustainable development, the need to ensure food security and the availability of means of implementation, by ensuring deep reductions in global greenhouse gas [net] emissions;"
To give these choices some context, global temperatures today are 0.74°C (1.33°Fahrenheit) higher than they were 150 years ago.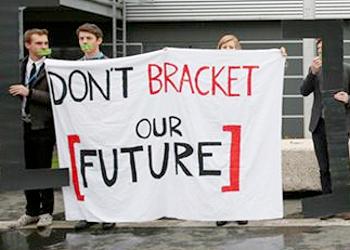 The Intergovernmental Panel on Climate Change, IPCC, reported in 2014 that scientists were more than 95 percent certain that global warming is being caused mostly by increasing concentrations of greenhouse gases and other human activities.
IPCC climate model projections showed that during the 21st century the global surface temperature is likely to rise a further 0.3 to 1.7°C for the lowest emissions scenario and 2.6 to 4.8°C for the highest.
These findings have been recognized by the national science academies of all major industrialized nations and are not disputed by any scientific body of national or international standing.
A number of big emitters, including China, the United States, Canada, and the European Union, have expressed support for the principle of a 1.5°Celsius global temperature target, as indicated by Options 2 and 3 in the draft.
While this tightening of the 2°Celsius target is a key demand from vulnerable developing countries, small island nations and environmental groups, it is opposed by many larger developing countries, who fear it would limit their ability to develop modern economies.
Environmental groups view Option 1 – the 2°Celsius option – as putting the world on a path that would actually result in a 3°Celsius amount of warming.
This is because the total of the Intended Nationally Determined Contributions, INDCs, submitted to the UN by nearly all countries show a gap between what they intend to do and the greenhouse gas limits needed to reach the 2°C target.
Today, after negotiators tabled what they called a "weak draft climate deal," hundreds of civil society demonstrators staged a noisy protest inside the conference venue to say that politicians are "failing to provide a fair and just climate deal in Paris."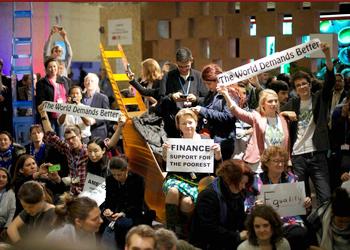 Friends of the Earth International climate justice and energy coordinator Sara Shaw said, "Our governments must not settle for the draft text as it stands. People on the frontline of climate change, who are already suffering as a result of climate change, demand that rich countries to do their fair share of emissions reductions and provide necessary finance for an energy transformation in Southern countries. The draft deal fails these frontline communities."
"Today's text shows no progress on crucial issues, including ambition, differentiation, equity, finance, loss and damage. Many of the most important issues remain in brackets," said Shaw.
Tasneem Essop, WWF's head of delegation to the UN climate talks in Paris, was more optimistic, saying, "We still have the ingredients for an ambitious outcome in Paris."
"But they still haven't taken the hard decisions yet. Ministers now have just two days to decide to either put us on a path that will limit us to 1.5°Celsius of warming, or towards a 3°Celsius world," said Essop.
"The text now includes more options to have all nations come back to the table by 2020 to improve their current pledges," said Essop. "That said, they'll need to close existing loopholes to make sure any pre-2020 review and ratcheting up mechanism is comprehensive – covering adaptation, finance, and emissions reductions – and does not let some countries off the hook."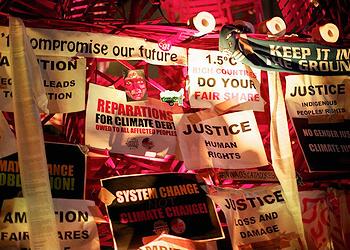 Greenpeace Climate Policy Advisor Kaisa Kosonen is critical of the draft text but still hopeful that a stronger final deal can be reached.
"Some of the words in this text are smeared with the fingerprints of the oil-producing states. It's a mix of the good, the bad and the ugly," Kosonen said.
"It's good that a temperature goal of 1.5 degrees C is still there. It's bad that countries' emissions targets are so weak and there's very little in the text that makes them come back soon with something better," she said.
"But worst is the deadline for phasing out carbon emissions," Kosonen said. "Right now this draft deal contains wishy-washy language instead of setting a tight deadline of 2050. Without a date it won't have weight."
Peter Carter of the Climate Emergency Institute is concerned that "the oceans have not survived the negotiations."
This is despite "the excellent ocean coverage" by IPCC's Fifth Assessment Report, and requests to the UN Climate Secretariat by U.S. and EU ocean agencies to include oceans in the agreement.
"Even measures that could mitigate the disastrous ocean situation are not in the agreement," warned Carter. "The atmospheric greenhouse gas pollution situation for the oceans is dire – without doubt a planetary emergency."
Carter stresses that as the planetary temperature rises the oceans will suffer impacts such as irreversible heating, acidification, and de-oxygenation lasting 1,000s of years. "Most heat is going to ocean warming and will last 1,000s of years; a limit only to 2100 means multiple catastrophes to oceans."
He wants to see in the agreement atmospheric carbon dioxide and other gas concentration safety limits. Carter calls this the safety requirement metric of the 1992 UNFCCC, impacting ocean heating and acidification.
The text mentions the ocean for the first time in the preamble to the agreement, but the preamble is not legally binding.
Later paragraphs refer to the need to enhance greenhouse gas sinks to help absorb CO2 emissions, and to foster ecosystem integrity, vague wording that can be taken to refer to coastal and ocean ecosystems as well as land-based ones.
Climate finance expert Torsten Thiele, of the Global Ocean Trust, said, "I see this draft as a case of the glass is half full. We got ocean in the substance and also symbolically in the preamble of the draft. This is good news but we need to encourage the negotiators to continue to work to get to an ambitious agreement without the brackets."
The agreement should state a specified year for emissions to peak, an immediate time frame for mitigation of multiple catastrophic impacts on oceans, ocean campaigners demand.
Carter and other critics warn that carbon pricing is not included in the draft text despite calls to include it this year from most of the largest corporations, including the chief executive officers of banks and fossil fuel corporations.
And finally, critics are disappointed that the draft does not call a halt to fossil fuel subsidies despite a universal call for termination, including at the G7 meeting of the world's industrialized nations in June 2015.
Sven Harmeling, climate change advocacy coordinator with the aid nonprofit CARE International, said, "All the elements for a meaningful deal are on the table, but now the fight begins on trade-offs. It's encouraging to see 'loss and damage' recognised in the draft text, but its place is not yet secured."
"The means to deliver solutions for climate impacts are also falling short from what is needed," said Harmeling. "This is a question of survival for the world's poorest and most vulnerable people and communities."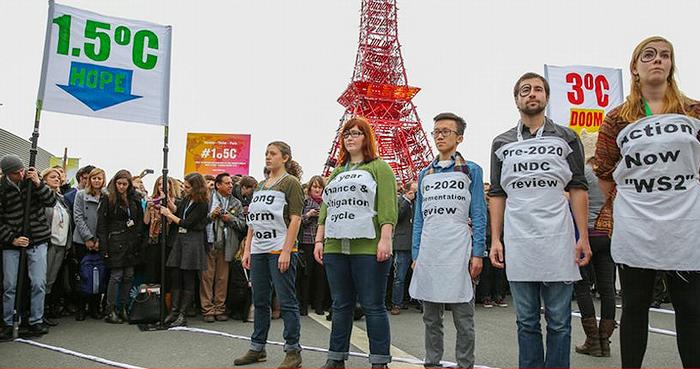 Copyright Environment News Service (ENS) 2015. All rights reserved.