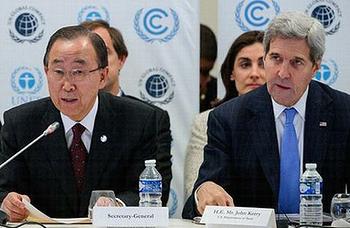 PARIS, France, December 8, 2015 (ENS) – An unprecedented coalition of the world's major financial institutions met on the sidelines of the United Nations COP21 climate talks in Paris Monday and agreed to adopt five Principles to Mainstream Climate Action.
With more than US$11 trillion, 26 public and private financial institutions, from both developing and developed countries, voluntarily adopted these principles to combat climate change.
Jonathan Taylor, European Investment Bank vice president responsible for climate action and energy lending, said, "It is crucial to ensure that all new investment contributes to more effective climate action. As the world's largest lender for climate related investment the European Investment Bank is pleased to share experience with financial institutions from around the world."
"Closer cooperation outlined by the new principles is essential for strengthening our combined efforts to combat climate change," Taylor said.
"This new initiative reflects the EU Bank's own commitment to enhance the impact of climate action and follows the EIB's climate lending strategy adopted earlier this year that ensures that climate action will be part of everything we do," he said.
The Principles outline how financial institutions can: commit to climate strategies, manage climate risks, promote climate-smart objectives, improve climate performance, and account for climate action.
A related publication, also released Monday, compiles emerging practices of financial institutions as they integrate climate change considerations into their core activities.
Separately, the International Development Finance Club, IDFC, a group of 23 international, national and subregional development banks from across the world has cooperatively published their annual green finance mapping report for the fourth year.
The report shows that IDFC gave US$98 billion of new green finance commitments to the world's fight against climate change and toward COP21 in Paris. www.idfc.org
Stock exchange chief executives also came together in Paris to discuss how stock exchanges, investors and regulators can support the global climate agenda. The gathering of CEOs began with a special opening bell ceremony Monday at Euronext Paris dedicated to the success of COP21.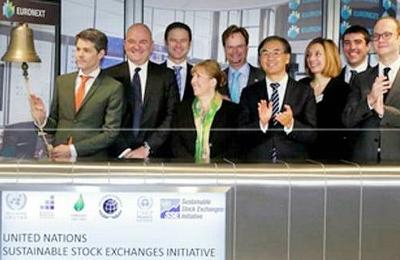 Euronext is one of 11 stock exchanges that showed their commitment to sustainable capital markets, and their support for the evolving climate agenda, by becoming a United Nations Sustainable Stock Exchanges (SSE) Partner Exchange.
The SSE initiative now has participation from some 47 stock exchanges on five continents, including four out of the top five largest exchanges in the world.
Addressing the stock exchange CEOs at a luncheon, economist Jeffrey Sachs, director of Columbia University's Earth Institute encouraged capital market leaders to act boldly on climate, and congratulated them for work already done.
"Capital markets will be the main driver of the transformation," said Professor Sachs, "and we will be on the right track when stock markets say 'shame on you,' punishing those who continue to add stranded assets to their portfolios."
Unprecedented corporate engagement on key climate issues that include carbon pricing were announced Tuesday at the Caring for Climate (C4C) Business Forum, a parallel event timed to coincide with COP21.
The UN Global Compact, UN Environment Programme and the secretariat of UN Framework Convention on Climate Change, UNFCCC, came together under the banner of Caring for Climate – the world's largest business coalition for climate change.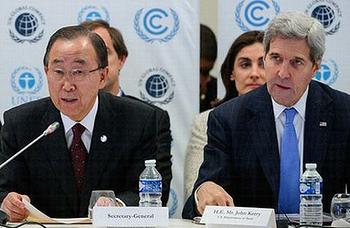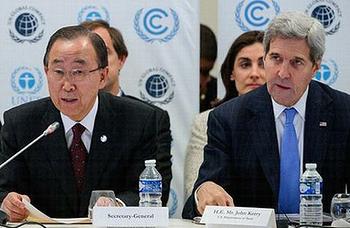 More than 700 participants from business, finance, government, civil society and the United Nations gathered to discuss the private sector's role in the world's new climate agenda.
The event was attended by UN Secretary-General Ban Ki-moon; France's Minister of Environment, Sustainable Development and Energy Ségolène Royal; and U.S. Secretary of State John Kerry.
Ban told conference delegates, "The collective momentum among the private sector for climate action is growing daily. More companies and investors are leading on climate action than at any time in history."
"But to limit global temperature rise to less than 2 degrees we must go much further and faster," Ban urged. "We need 100 percent participation from the business community."
"The private sector can help to fill the gap between what has been committed by Governments through the INDCs and what is needed to reach a carbon neutral economy by mid-century," said Lise Kingo, executive director of the UN Global Compact. "Our job coming out of Paris is to mobilize the great majority of companies that are not yet part of this movement."
Said Lise Kingo, executive director of the UN Global Compact, which organized the Forum, "The momentum is unstoppable." <www.unglobalcompact.org>
Kingo said, "The new targets announced at COP21, if achieved, will generate an estimated annual emissions savings of 93.6 million metric tons CO2e or more than the annual carbon emissions of Peru."
Many new pledges emerged from the Caring for Climate event. Some 65 CEOs with a total market capitalization of US$1.9 trillion across 20 sectors have integrated carbon pricing into corporate long-term strategies and investment decisions. They pledged to set an internal carbon price, report publicly, and call for carbon markets through the Business Leadership Criteria on Carbon Pricing.
Over 450 CEOs from 65 countries across 30 sectors committed to set targets, report on progress and work with policymakers to drive climate action through the Caring for Climate initiative;
There were the 79 chief executives, representing US$2.13 trillion in revenue who announced that their companies would reduce their environmental and carbon footprints, set targets to reduce their emissions, and collaborate with supply chains and across sectors.
In addition, 140 companies with a total market capitalization of over US$100 billion and nearly 30 institutional investment firms with assets estimated at US$2.5 trillion committed to including climate change-related information in their mainstream reports.
Kerry highlighted the support of more than 150 U.S. companies for action on climate change through their commitment to the American Business Act on Climate Pledge.
"As you leave Paris, carry a clear message that how we do business today will determine if we do business in the future," said Kerry. " In the end, its business – the choices you make and the products you make that will make the difference."
Copyright Environment News Service (ENS) 2015. All rights reserved.