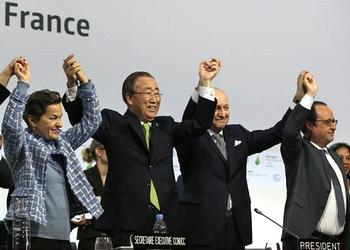 PARIS, France, December 12, 2015 (ENS) – With hugs, kisses and applause, ministers and official delegates from 195 countries tonight celebrated their approval of the Paris Climate Agreement, an historic document that commits the whole world to cut greenhouse gas emissions and deal with the impacts of climate change.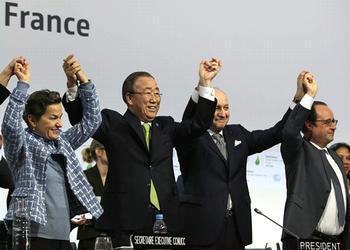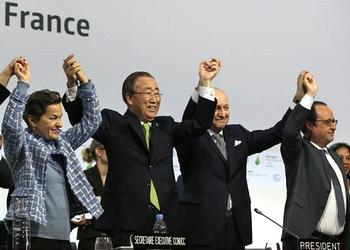 "The Paris Agreement on climate change is a monumental triumph for people and planet," rejoiced UN Secretary-General Ban Ki-moon at the Paris-LeBourget conference venue.
"We have solid results on all key points. The agreement demonstrates solidarity. It is ambitious, flexible, credible and durable," said Ban, who has made dealing with climate change "one of the defining priorities" of his nine-years as secretary-general.
Laurent Fabius, president of the UN's COP21  climate change conference and French foreign minister, said, "The Paris Agreement allows each delegation and group of countries to go back home with their heads held high. Our collective effort is worth more than the sum of our individual effort. Our responsibility to history is immense."
COP21 is shorthand for the 21st Conference of the Parties to the United Nations Framework Convention on Climate Change, UNFCCC.
UNFCCC Executive Secretary Christiana Figueres declared with pleasure, "One planet, one chance to get it right and we did it in Paris. We have made history together. It is an agreement of conviction. It is an agreement of solidarity with the most vulnerable. It is an agreement of long-term vision, for we have to turn this agreement into an engine of safe growth."
"Successive generations will, I am sure, mark the 12 December 2015 as a date when cooperation, vision, responsibility, a shared humanity and a care for our world took center stage," Figueres said. "I would like to acknowledge the determination, diplomacy and effort that the Government of France have injected into this remarkable moment."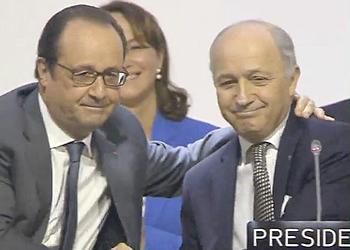 French President Francois Hollande told the assembled delegates, "You've done it, reached an ambitious agreement, a binding agreement, a universal agreement. Never will I be able to express more gratitude to a conference. You can be proud to stand before your children and grandchildren."
The Paris Climate Agreement will take effect in 2020. The document will be deposited at the UN in New York and be opened for one year for signature on April 22, 2016 Earth Day.
The agreement will enter into force after 55 countries that account for at least 55 percent of global emissions have deposited their instruments of ratification.
While there are many critics of the deal, especially from civil society, most of the main sticking points that complicated negotiations were resolved in the final agreement.
All countries agreed to hold global temperature rise to well below 2 degrees Celsius above pre-industrial levels.
Countries agreed that the 2 degrees Celsius ambition is the floor, not the ceiling, and they agreed to try to limit the temperature increase to 1.5 degrees Celsius.
Every five years, beginning before 2020, they agreed to review what further emissions cuts are needed in line with science.
Countries will submit updated climate plans, called nationally determined contributions,– every five years, steadily increasing their ambition in the long-term.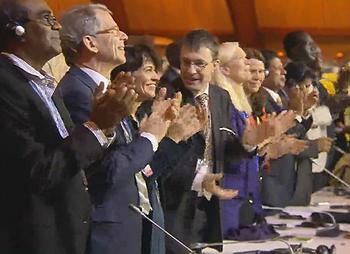 On the financial side, the Paris Agreement ensures what Ban called "sufficient, balanced adaptation and mitigation support for developing countries, especially the poorest and most vulnerable."
Developed countries agreed to lead in mobilizing finance and to scale up technology support and capacity building for poorer countries. In the period before the agreement takes effect, countries will work to define a clear roadmap on ratcheting up climate finance to US$100 billion by 2020.
Developing countries have assumed increasing responsibility to address climate change in line with their capabilities.
Governments have agreed to "binding, robust, transparent rules of the road to ensure that all countries do what they have agreed across a range of issues," Ban said.
"When historians look back on this day, they will say that global cooperation to secure a future safe from climate change took a dramatic new turn here in Paris," said the secretary-general.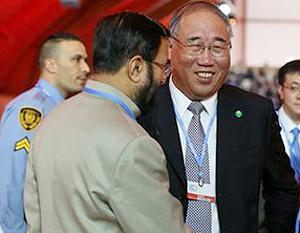 "Today, we can look into the eyes of our children and grandchildren, and we can finally, after so many years of discussion and delay, tell them that we have joined hands to bequeath a more habitable world to them and to future generations," Ban said.
For the first time, a climate agreement applies to all countries, including big developing country emitters such as India and China.
China's chief negotiator Xie Zhenhua said, "China congratulates warmly the adoption of the Paris Agreement. The agreement is not perfect … but that does not prevent us from marching forward."
"It is a milestone in the global efforts reacting to climate change. This is a marvelous act that belongs to our generation and all of us," Xie said. "The next step ahead belongs to implementation."
Small island nations came out of the two-week-long conference hopeful.
Saint Lucia's Minister of Sustainable Development, Energy, Science and Technology James Fletcher said, "I can tell the young people of the Caribbean that their future looks much brighter today than it did two weeks ago. There was a genuine interest to engage, listen, and to find solutions. The special treatment of loss and damage is a most welcome inclusion."
U.S. Secretary of State John Kerry said, "We have set a course here … a remarkable global accomplishment."
"We leave behind on Earth a legacy for our children and grandchildren," said Kerry. "This is in the interest of every nation on Earth. We have taken a critical step forward. How we build on this agreement will determine how we address one of the most complex challenges the world has ever faced."
In Washington, U.S. President Barack Obama said, "Today, nations of the world have come together to announce a historic achievement: the most ambitious global agreement to combat climate change."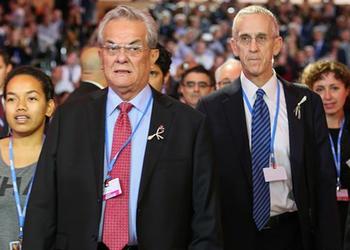 "The Paris Agreement establishes a long term, durable global framework to reduce global greenhouse gas emissions," said Obama. "For the first time, all countries commit to putting forward successive and ambitious, nationally determined climate targets and reporting on their progress towards them using a rigorous, standardized process of review."
The reactions of civil society groups ranged across the spectrum from congratulations to disappointment.
Greenpeace International Executive Director Kumi Naidoo said, "The wheel of climate action turns slowly, but in Paris it has turned. This deal puts the fossil fuel industry on the wrong side of history."
Sierra Club Executive Director Michael Brune was optimistic. "The Paris agreement is a turning point for humanity. For the first time in history, the global community agreed to action that sets the foundation to help prevent the worst consequences of the climate crisis while embracing the opportunity to exponentially grow our clean energy economy."
"Decisive leadership and action from President Obama and other world leaders, an increasingly powerful climate movement, and strong progress in the U.S. and globally to move off coal cleared the way for every nation to come to the table," said Brune.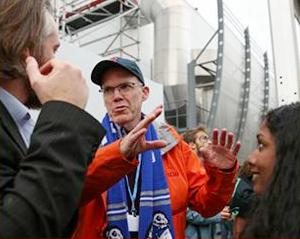 Bill McKibben, co-founder of the U.S. nonprofit 350.org, emphasized the need for continued civil society action. "Every government seems now to recognize that the fossil fuel era must end and soon. But the power of the fossil fuel industry is reflected in the text, which drags out the transition so far that endless climate damage will be done," he said. "Since pace is the crucial question now, activists must redouble our efforts to weaken that industry."
Representing some of the most vulnerable countries, Krishneil Narayan, coordinator of the Pacific Islands Climate Action Network, said, "Rapid action to address climate change is a matter of survival for my Pacific people and as such, how can we accept any compromises? The Paris Agreement did not reflect all we asked for in the Suva Declaration on Climate Change, but Paris was never meant to be the last step. It was meant to be a progressive step in identifying new common grounds to address climate change together collectively through a new, universal agreement."
"Nature is a powerful ally in our fight against climate change," said Inger Andersen, director general of the International Union for the Conservation of Nature. "We are encouraged to see such a strong focus on nature-based solutions in the new agreement, which lays a solid foundation for the world to move towards a more sustainable, resilient and low-carbon future. We cannot afford to leave nature out of the equation; no climate action can possibly succeed without it."
Mohamed Adow, senior climate advisor to Christian Aid, said, "Although different countries will move at different speeds, the transition to a low carbon world is now inevitable. Governments, investors and businesses must ride this wave or be swept away by it. Negotiations were long and hard fought but the result is an agreement which will usher in a new dawn of climate-aware politics. The era of politicians burying their heads in the sand is over."
WWF's leader of the Global Climate and Energy Initiative Samantha Smith had this to say. "Governments have critically agreed to keep warming well below 2 degrees C and aim to limit temperature increase to 1.5 degrees C. Everything they do from now on must be measured against that goal. … Our leaders must make their actions stronger and stronger over time, in terms of mitigation, adaptation and finance. This is vital."
UN Secretary-General Ban, who has negotiated repeatedly with national leaders throughout the world for years to bring this moment about, agrees that much work remains to be done.
"We have an agreement. It is a good agreement. You should all be proud," said Ban. "Now we must stay united, and bring the same spirit to the crucial test of implementation. That work starts tomorrow."
Copyright Environment News Service (ENS) 2015. All rights reserved.