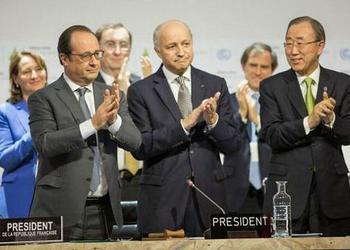 WASHINGTON, DC, December 14, 2015 (ENS) – The world has warmly received the breakthrough Paris Climate Agreement reached Saturday in Paris that for the first time, unites wealthy nations and poorer ones to take common climate action.
Politicians and civil society leaders from around the world expressed optimism and hope that humanity has acted in time to curb runaway climate change.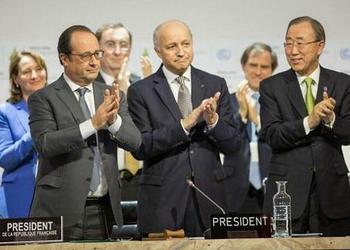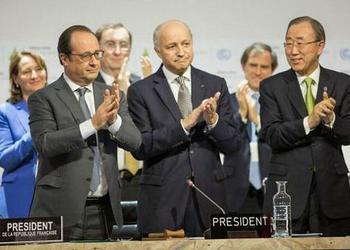 U.S. President Barack Obama said, "This historic agreement is a tribute to American leadership. Over the past seven years, we've transformed the United States into the global leader in fighting climate change."
"In 2009, we helped salvage a chaotic Copenhagen Summit and established the principle that all countries had a role to play in combating climate change. We then led by example, with historic investments in growing industries like wind and solar, creating a new and steady stream of middle-class jobs," said Obama.
"We've set the first-ever nationwide standards to limit the amount of carbon pollution power plants can dump into the air our children breathe," Obama said of his Clean Power Plan, which is being challenged in court.
"Now, skeptics said these actions would kill jobs. Instead, we've seen the longest streak of private-sector job creation in our history. We've driven our economic output to all-time highs while driving our carbon pollution down to its lowest level in nearly two decades.
Obama credits the joint announcement with China last year that both countries would work together to lower their greenhouse gas emissions within the next 15 years as inspiring the success of the Paris climate conference.
"We showed it was possible to bridge the old divides between developed and developing nations that had stymied global progress for so long," said Obama. "That accomplishment encouraged dozens and dozens of other nations to set their own ambitious climate targets. And that was the foundation for success in Paris. Because no nation, not even one as powerful as ours, can solve this challenge alone. And no country, no matter how small, can sit on the sidelines. All of us had to solve it together."
Chinese President Xi Jinping and Obama said Monday they are ready to work together to make sure that the climate accord reached in Paris will be effectively implemented.
In a telephone conversation, Xi noted that the Paris deal charts a clear course for global cooperation on fighting climate change from 2020.
China, the United States and other relevant parties maintained close coordination and jointly contributed to the success of the UN climate conference in Paris, Xi said, adding that the Paris meeting marked "a new starting point in global response to climate change."
"China is willing to work with the United States and other relevant parties to ensure the implementation of the Paris deal, and effectively expand pragmatic bilateral cooperation in tackling climate change so as to bring more benefits to the two peoples as well as people in other parts of the world," Xi told the Chinese state news agency Xinhua.
China wishes to maintain coordination and cooperation with the U.S. side on major global issues, he said.
The Paris Climate Agreement is built on the Intended Nationally Determined Contributions (INDCs) submitted by 187 countries in advance of COP21, the 21st Conference of the Parties to the UN Framework Convention on Cliamte Change, UNFCCC. The remaining countries are encouraged to issue their INDCs promptly.
But the proposals made to date will, at best, take the world about halfway to the target of 2 degrees Celsius or 3.6 degrees Fahrenheit, above pre-industrial temperatures.
Scientists agree that we must hold total warming below 2 degrees to avoid dangerous climate change. Yet even at that level, island and coastal communities would be at risk of flooding by rising seas.
World leaders agreed on the 2 degree goal at the UN climate conference in 2009, confirmed it in 2010, and enshrined in the Paris Climate Agreement on December 12.
While commitments made under the Paris Agreement don't meet the target goal, most stakeholders view the document as an effective instrument that will at least begin to limit the greenhouse gases responsible for planetary warming.
The Parties included language that requires them to work toward holding the increase to 1.5 degrees C, or 2.7 degrees F.
To date, average global temperatures have risen by about one degree Celsius, or 1.8 degrees F higher than 150 years ago. Most of the warming has happened in the past 50 years.
Keeping total warming 1.5 degrees is crucially important, countries agreed in Paris.
To approach the lower 1.5 degree target, the agreement calls on nations to assess their progress every two years. They agreed to come back together five years from now to build on those gains by setting even lower goals going forward.
U.S. Secretary of State John Kerry said, "This is a tremendous victory for all of our citizens, not for any one country, or any one bloc, but for everybody here who has worked so hard to bring this across the finish line. It is a victory for all of the planet and for future generations."
"We have set a course here," said Kerry. "The world has come together around an agreement that will empower us to chart a new path for our planet, a smart and responsible path, a sustainable path."
Other leaders agree. European Commission President Jean-Claude Juncker said, "Today the world is united in the fight against climate change. Today the world gets a lifeline, a last chance to hand over to future generations a world that is more stable, a healthier planet, fairer societies and more prosperous economies. This robust agreement will steer the world towards a global clean energy transition."
Indian Environment Minister Prakash Javadekar said, "We have opened a new chapter of hope in the lives of 7 billion people on the planet. We have [the planet] on loan from future generations. We have today reassured these future generations that we will all together give them a better earth."
The financial community has expressed its support.
International Monetary Fund Chief Christine Lagarde said, "Governments must now put words into actions, in particular by implementing policies that make effective progress on the mitigation pledges they have made. That is why my key message is to price carbon right and to do it now."
World Bank Group President Jim Yong Kim said, "We welcome the historic agreement that has just been reached in Paris. The world has come together to forge a deal that finally reflects the aspiration, and the seriousness, to preserve our planet for future generations."
"We called for strong ambition, for remarkable partnerships, for mobilization of finance, and for implementation of national climate plans," said Kim. "Paris delivered. Now the job becomes our shared responsibility."
The business community is also supportive.
Paul Polman CEO, Unilever said Saturday, "Today's agreement demonstrates without question that it is possible for us to come together in common cause to address the greatest challenges we face, preventing tragedy for the many millions of people vulnerable to the effects of climate change and securing the economic prosperity of the world in the 21st century."
"The result is an unequivocal signal to the business and financial communities, one that will drive real change in the real economy," said Polman. "The billions of dollars pledged by developed countries will be matched with the trillions of dollars that will flow to low carbon investment."
Copyright Environment News Service (ENS) 2015. All rights reserved.