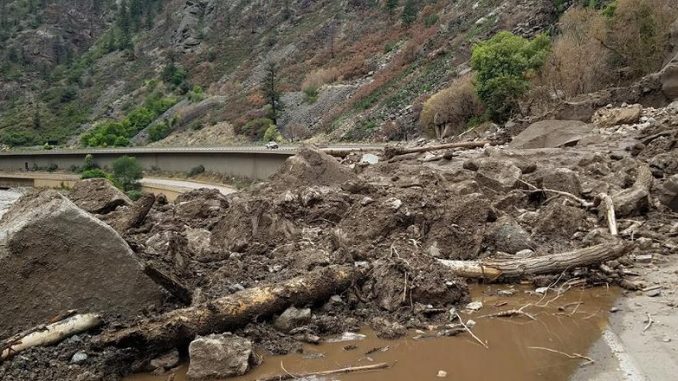 GOLDEN, Colorado, August 4, 2021 (ENS) – Mudslides stranded motorists overnight Thursday and shut down an interstate highway in Colorado, and after the latest round of heavy rain and flooding Saturday night, the state is preparing to issue a disaster declaration.
At least 108 people were trapped in the Hanging Lake Tunnel in Glenwood Canyon Thursday night due to debris on the highway and had to be rescued.
Crews are still clearing the damaged areas of I-70 near the Hanging Lake Tunnel where the mudslides occurred, and there is no estimate as to when that section of the interstate will reopen – it could be days or weeks, officials say.
Colorado Governor Jared Polis, a Democrat, said in a news conference Monday, "The state, local and federal authorities are working to clear debris from the canyon as quickly and safely as possible. We are also readying a state disaster declaration and a request for a federal declaration with the Biden administration."
"Glenwood Canyon is majestic, but its majestic nature makes for challenges when it comes to infrastructure, especially in the face of catastrophic climate change affecting states across the West. We have extensive damage to I-70 in multiple locations in Glenwood Canyon, and the monsoon weather pattern means this threat is ongoing," the governor said.
Debris from the burn scar of the Grizzly Creek Fire, which burned from August 10 to December 18, 2020, spilled over onto I-70 in Glenwood Canyon, according to an update from CDOT. "Mudslides and debris reached I-70 within a few minutes," the update said.
"Given the historic wildfires that we experienced last summer, the three largest in the history of our state, we knew that we would see the severe impact that burn scars and debris could have on a landscape," Polis said during his news conference Monday.
The extent of the damage is still not known as debris-cleaning work was suspended due to storms and parts of the highway are still covered by some 10 feet of rocks, logs and mud.
"Today's hail and rain could potentially do additional slides and we're not out of the woods yet with regards to additional damage," the governor said.
A wildfire's impact on an area can last for years after the flames have burned away the vegetation, creating a burn scar. With the vegetation burned away, flooding and debris flows happen occur in and around the burn scars.
"Just to put it into perspective the amount of rain that we've been having, average monthly rainfall is 2.4 inches in July, for the entire month," Polis said. "We had 4 inches drop in five days. So unusual monsoon rains on top of the burn scars and debris from the fires is the recipe that has led to the extensive damage and closures."
This is not the first time this summer that I-70 through Glenwood Canyon has been closed due to mudslides. On June 28, all lanes on the interstate through Glenwood Canyon were reopened after crews had cleaned up from two mudslides within two days, according to the CDOT.
Polis explained that over the last five weeks there have been intermittent closures across the state due to debris slides.
Featured image: Debris and mud block Interstate Highway 70 in Glenwood Canyon, Colorado, July 31, 2021 (Photo courtesy Colorado Dept. of Transportation)
Environment News Service (ENS) © 2021 All Rights Reserved.