Climate Change: a 'Matter of Life and Death'
DURBAN, South Africa, November 28, 2011 (ENS) – "For most people in the developing world and Africa, climate change is a matter of life and death," said South African President Jacob Zuma today, opening the annual United Nations climate summit, being held this year in Durban.
Some 20,000 people have convened in Durban for the conference, which includes the 17th Conference of the governments that are Parties to the UN Framework Convention on Climate Change and the seventh conference of the Parties serving as the Meeting of Parties to the Kyoto Protocol. Talks that began today will lead up to the high-level portion of the conference, when world leaders will meet from December 6-9.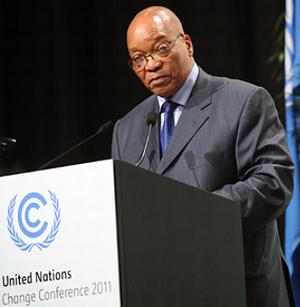 President of South Africa Jacob Zuma opens the UN climate change conference in Durban, November 28, 2011 (Photo courtesy Earth Negotiations Bulletin)
Adaptation is a key priority, particularly for small island states, least developed countries and Africa," said President Zuma.
"We have experienced unusual and severe flooding in coastal areas in recent times, impacting on people directly as they lose their homes, jobs and livelihoods," said the President. "Given the urgency, governments need to strive to find solutions here in Durban. Change and solutions are always possible, and Durban must take us many steps forward towards a solution that saves tomorrow today."
"We also feel strongly that as an African Conference of the Parties, the COP 17 outcome must recognize that solving the climate problem cannot be separated from the struggle to eradicate poverty," he said.
"Africa's vulnerability does not only stem from climate change impacts such as the rise in the sea level, severe droughts and floods. Africa is more vulnerable because of poverty which limits the ability of most African nations to cope with the impact of climate change," President Zuma said.
Due to climate change, agricultural output in many African countries is expected to decrease by as much as 50 percent by the year 2050, which will cause serious food shortages, Zuma warned.
"In some practical examples of impact, scarce grazing land is causing conflict in the Sudan, amongst peoples that have previously lived in peace for centuries," he said. "Severe drought in Somalia is exacerbating an already volatile region, causing displacement of populations and increasing refugee communities in Kenya."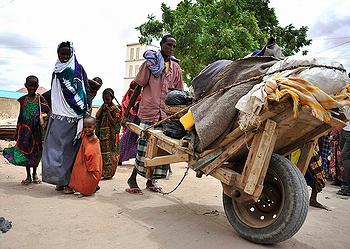 An extended family of 18 people flees the drought in south-central Somalia, May 2011. (Photo by R. Gangale courtesy UNHCR)
President Zuma said South Africa is doing its part to curb climate change. At the 2009 climate conference in Copenhagen, his government announced its commitment to reduce carbon emissions by 34 percent in 2020 and by 42 percent in 2025, with support from developed countries on finance, technology and capacity-building.
As evidence that South Africa is making progress towards that goal, President Zuma pointed to this month's conclusion of the Green Economy Social Accord, signed by government, the trade union movement and the business community, pledging to create 300,000 green jobs by 2020.
South Africa plans to build one of the world's biggest solar parks, a giant step in a coal-dependent country where one in six people still has no electricity. The project would supply energy to power utility Eskom and not mining firms.
Giant mirrors and solar panels would be spread across the Northern Cape province, and by the end of its first decade the project is expected to generate five gigawatts of electricity, currently about one-tenth of South Africa's energy needs.
Zuma highlighted a new clean energy deal that will provide electricity to more than half of Africa's population. South Africa and the Democratic Republic of Congo have recently signed an agreement to build the world's largest hydropower dam on the Congo River – the US$80 billion Grand Inga Hydro Electricity Project.
The power project is estimated to generate about 40,000 megawatts, which is over one third of the total electricity produced in Africa today, President Zuma told the delegates in Durban.
"We are also working to generate hydro and wind energy sources from cooperation with the Kingdom of Lesotho through Phase 2 of the Lesotho Highland Water Project, and are working on other renewable energy projects with Mozambique," he said.
The UN?'s top climate change official, UNFCCC Executive Secretary Christiana Figueres, said governments can take two major, decisive steps in Durban.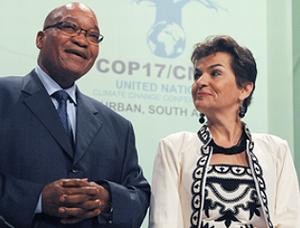 President Jacob Zuma and UNFCCC Executive Secretary Christiana Figueres, November 28, 2011 (Photo courtesy ENB)
The first step is to complete a comprehensive package to help developing countries adapt to climate change and to limit the growth of their greenhouse gas emissions, which was decided at the UN Climate Change Conference in Cancun last year.
In Cancun, countries agreed to develop a new multilateral fund to help invest in developing country emissions reduction and adaptation actions.
Figueres says that as part of that package, the first phase of the design of the Green Climate Fund can be approved in Durban and governments can ramp up funding towards the US$100 billion of long-term climate finance they have agreed to provide by 2020.
The second decisive step that can be made in Durban, said Figueres, relates to how governments will work together to achieve their common goal of limiting the global temperature rise to a level that will prevent the worst ravages of climate change.
?"This means, as a central task for Durban, answering the very important question of the future of the Kyoto Protocol. At the same time, governments will need to agree on how they want to pursue a broader framework to reduce greenhouse gases under the Climate Change Convention,"? Figueres said.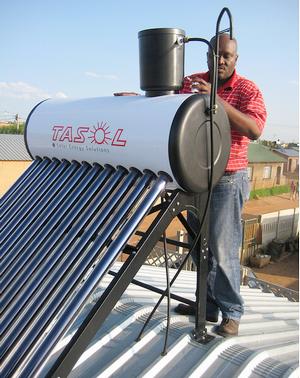 Solar hot water heater is installed in a South African community under a Kyoto Protocol Clean Development Mechanism project. (Photo by Chris Zink)
Andrew Steer on the World Bank blog says that negotiators in Durban could achieve, "A global system of technology centers that would provide access to knowledge and capacity building in developing countries for climate smart technology – which in turn could yield more investment, more jobs and lower costs."
A system that would help developing countries prepare and finance their adaptation plans, could emerge, says Steer, along with a decision to incorporate agriculture fully into the Convention, allowing poor farmers to benefit from climate finance.
Steer anticipates simpler rules on how to credit greenhouse gases from forests, which would make it easier to prevent deforestation, and for forest dwellers to access support.
Durban outcomes could include, "Common rules allowing city-wide approaches to dealing with climate change, as many cities are showing more leadership than countries," says Steer.
Negotiators could make agreements leading to a long-term networked carbon market that would lower the costs of addressing climate change and bring finance and technology to developing countries, he suggests.
"There is a risk that these measures will be crowded out by the big political decisions at Durban," Steer said. "This would be a mistake. While not game-changers individually, they are important building blocks towards an eventual global deal."
The Durban summit is being powered by solar energy from a 500 kW solar photovoltaic concentrator built by the multi-national solar company Soitec about 25 kilometers away from Durban.
Constructed by local crews in just one month, the new solar project will be officially inaugurated by President Zuma on December 4.
At the entrance to the Climate Change Response Expo, Soitec is displaying a full-sized, 10-meter-high solar panel tracker to give visitors a close-up look at the technology. The demonstration project will be used to charge electric vehicles.
Copyright Environment News Service (ENS) 2011. All rights reserved.
© 2011 – 2012, Jim Crabtree. All rights reserved.