Canada Signals Withdrawal From Kyoto Protocol
OTTAWA, Ontario, Canada, November 28, 2011 (ENS) – Canada's Environment Minister Peter Kent said Monday that the Kyoto Protocol "is the past," but he would not publicly confirm that Ottawa intends to formally withdraw from the accord that binds 36 developed countries and the European Union to reduce their greenhouse gas emissions.
Kent told a news conference in Ottawa that he was "neither confirming nor denying" that Ottawa will pull out of its Kyoto commitments.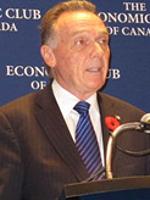 Environment Minister Peter Kent (Photo courtesy Government of Canada)
But CTV's Roger Smith reported Sunday that Canada will withdraw from the Kyoto Protocol a few days before Christmas.
The development comes as countries gather in Durban, South Africa today for the annual United Nations climate conference, the 17th Conference of the Parties under the United Nations Framework Convention on Climate Change (COP17), taking place in conjunction with the 6th Meeting of the Parties to the Kyoto Protocol in Durban.
The negotiations in Durban may lead to a new agreement to replace the Kyoto Protocol, the first commitment period of which expires on December 31, 2012.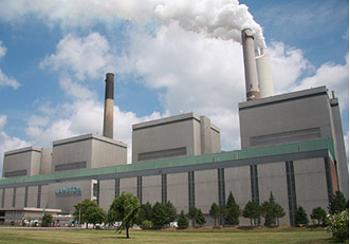 The Lambton coal-fired power plant on the St. Clair River south of Sarnia, Ontario, emits greenhouse gases. (Photo courtesy Ontario Power Generation)
Environment Minister Kent indicated that Japan, Russia and the United States agree with Canada that there must be a new way of controlling greenhouse gas emissions responsible for dangerous climate change.
Japan and Russia are Parties to the Kyoto Protocol, which requires a five percent average reduction in greenhouse gas emissions below 1990 levels by the end of 2012. The United States signed but never ratified the protocol and is not bound by it.
On June 22nd, 2007 the Kyoto Protocol Implementation Act became law in Canada, committing the country to cut greenhouse gas emissions an average of six percent below 1990 levels over the 2008-2012 period.
In 2006, Canada's greenhouse gas emissions were about 29 percent above the country's Kyoto target. Canada is the third-largest per capita greenhouse gas polluter after Australia and the United States. At 8,300 kilograms of crude oil equivalent per person per year, Canada's hydrocarbon consumption is the highest in the world.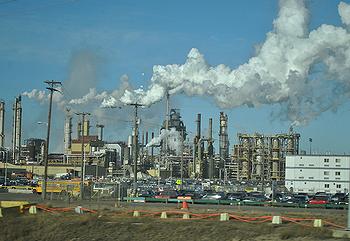 Tar sands production releases greenhouse gases over northern Alberta, November 8, 2011. (Photo by Dan Lederman)
Kent today criticized the protocol for setting unrealistic emission targets and failing to attract major greenhouse gas emitters such as Brazil, China and India.
Kent's news conference was not called to discuss the Kyoto Protocol but to announce an investment of C$600 million (US$580 million) over five years to renew the Clean Air Regulatory Agenda, which has been the Conservative Government's framework for reducing greenhouse gas emissions and improving air quality since 2006, soon after Prime Minister Stephen Harper took office.
"Renewed funding for the Clean Air Regulatory Agenda emphasizes our Government's commitment to protecting the health and environment of Canadians," said Kent. "It will help us identify emerging air quality issues, measure and monitor the status of existing ones, and determine solutions that will allow Canadians to, literally, breathe easier."
But opposition parties were critical of the Conservatives' move.
Official Opposition Leader, Nycole Turmel of the New Democratic Party said, "Stephen Harper's Conservatives can't distract from six years of total inaction on climate change. They are trying to hide the fact that Canada is falling behind while the rest of the world is moving forward on a cleaner energy economy."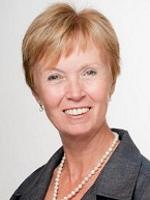 Official Opposition Leader, Nycole Turmel of the NDP (Photo courtesy NDP)
Liberal Environment critic Kirsty Duncan said, "By signalling their withdrawal from the Kyoto Protocol on the eve of a crucial climate change conference, the Conservatives are misleading the world and trying to slip out the back door on our global climate change commitments."
"This cowardly move also affects our clout internationally. Under the Conservatives, Canada has lost its place on the world stage as a leader on environmental matters," said Duncan. "We simply cannot expect countries to work with us when we break our international promises and negotiate in bad faith, as Mr. Harper and Mr. Kent intend to do."
Duncan said, "Unlike the Conservatives, Liberals believe climate change is real and that we are already experiencing its grave consequences globally. We believe the ongoing United Nations negotiations are an opportunity to build a robust green economy that leads the world. That's why today, in the House of Commons, I will formally request an emergency debate on climate change and Canada's withdrawal from its international obligations."
Green Party Leader Elizabeth May called Canada's move "a very damaging act of sabotage."
May sent a letter today to the Speaker of the House of Commons Andrew Scheer requesting an emergency debate on Canada's negotiating position in Durban, pointing out that there has been no opportunity for Members of Parliament to discuss Canada's position.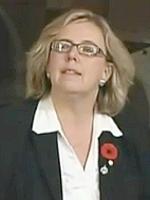 Green Party MP Elizabeth May (Photo courtesy Green Party)
"The threat of anthropogenic climate change constitutes a clear and present danger," wrote May. "It is already causing billions of dollars of damage to Canada, causing death and destruction around the world, and … can only be effectively controlled if action is taken at the COP17 conference."
"The Standing Committee on the Environment and Sustainable Development has been undertaking the mandatory statutory review of the Canadian Environmental Assessment Act," wrote May. "COP17 has not been discussed. There has been no opportunity to debate COP17 in the House."
Ordinarily, as has been the practice for decades, Members of Parliament from Opposition Parties would be attending COP17 as part of the delegation of the Government of Canada. However, Minister Kent informed the House on November 14 that Opposition Members of Parliament will not be included in the Canadian delegation to COP17.
Each of the Opposition Parties in the House of Commons has written to the Prime Minister requesting that one member from each party be included on the delegation, without any cost to the Government of Canada. They have had no response.
Kent said today, "I'll be travelling by the end of the week to attend the United Nations' annual climate change summit, COP17. At this meeting in South Africa, I will be advancing Canada's position that the world needs a comprehensive climate change agreement with binding commitments for emissions reductions by all major emitters."
Kent's position was criticized by Canadian environmentalists. Environmental Defence Climate and Energy Program Manager Gillian McEachern said, "If the Government of Canada officially pulls out of the Kyoto Protocol next month, it will make Canada the only country in the world to have signed and ratified the international agreement to tackle climate change, and then walked away from it."
"This news on the first morning of negotiations in Durban, SA, further hurts Canada's reputation for being a progressive actor on the world stage," said McEachern. "Instead, we're throwing a wet blanket on progress towards a binding, international deal on climate change."
The Climate Action Network, an international nongovernmental organization, handed Canada the Fossil of the Day award, saying, "This move is a slap in the face to the international community. Canada is further isolating itself in these talks as a country that not only is refusing to take meaningful action at home (tar sands anyone?), but also one that does not deserve trust and respect from the international community here in Durban. Shame on Canada."
Copyright Environment News Service (ENS) 2011. All rights reserved.