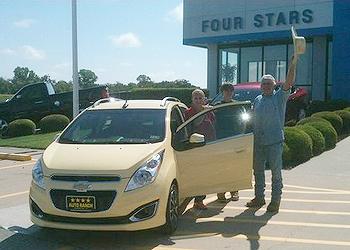 WASHINGTON, DC, December 4, 2013 (ENS) – Because it can travel 119 miles on the equivalent of a gallon of gasoline, the 2014 Chevrolet Spark electric subcompact car occupies the #1 spot in the official U.S. 2014 Fuel Economy Guide published Tuesday.
According to the Fuel Economy Guide released by the U.S. Environmental Protection Agency and Department of Energy, the Chevy Spark gets 128 mpg equivalent in city driving and 109 mpge on the highway, for a combined mileage figure of 119 mpge.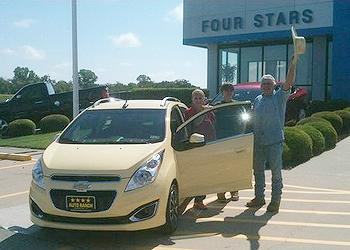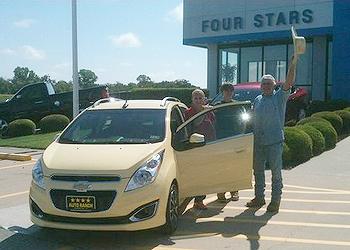 The next most fuel efficient vehicle is the 2014 Honda Fit electric small station wagon. This model can travel 118 combined city and highway miles on the equivalent of a gallon of gasoline and has a range of 82 miles.
The driver of a new Honda Fit wagon will save $8,000 in fuel costs over five years compared to the average new vehicle. The electricity to fuel a Honda Fit will cost $500 per year.
The next most fuel efficient vehicle is in the Minicompacts category – the Fiat 500e gets 116 mpge combined city and highway miles.
In the two-seater category, the 2014 smart fortwo electric drive convertible and the coupe are high on top with a 107 mpg equivalent fuel efficiency. While it costs smartfortwo drivers $600 a year for power, they save $7,500 in fuel costs over five years compared to the average new vehicle.
"For American families, the financial and environmental bottom lines are high priorities when shopping for a new vehicle," said EPA Administrator Gina McCarthy. "This year's guide is not just about how the latest models stack up against each other. It's about providing people the best information possible to make smart decisions affecting their pocketbooks and the planet."
The 2014 models assessed in the guide include efficient and low-emission vehicles in a wide range of classes and sizes. For the second year, the guide includes a 1-10 greenhouse gas rating for each model, enabling potential buyers to identify and choose the most fuel efficient vehicles and those that emit low levels of greenhouse gases.
The guide provides "Top Ten" lists allowing buyers to see the most efficient advanced technology vehicles as well as the most efficient gasoline and diesel powered vehicles.
The vehicles that get the worst fuel efficiency ratings are also listed. Topping that list is the 2014 Bugatti Veyron, which gets just 10 miles per gallon out of its 8.0 litre, 16 cylinder engine.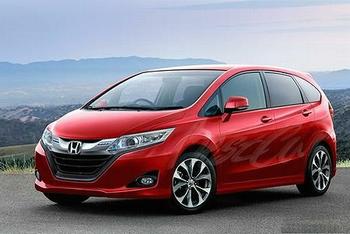 Included in the Guide is an estimated annual fuel cost for each vehicle. That cost is based on the vehicle's miles per gallon rating and national estimates for annual mileage and fuel prices.
"The Energy Department is committed to building a strong 21st century transportation sector that cuts harmful pollution, saves consumers' money and leads to a more sustainable energy future," said Energy Secretary Ernest Moniz.
"By providing reliable, user-friendly fuel economy information, the Fuel Economy Guide is helping Americans choose the right fuel efficient vehicle for their family and business and save money at the pump," he said.
An online version of the guide, available at: www.fueleconomy.gov, allows anyone to enter local gasoline prices and typical driving habits to receive a personalized fuel cost estimate.
EPA fuel economy estimates are the best way to compare the fuel economy among vehicles, say Moniz and McCarthy. Official fuel economy testing is controlled, repeatable, and accounts for all kinds of real-world conditions for the average driver, such as air conditioning usage and a variety of speed and temperature conditions.
The agency heads are quick to say that individual mileage will vary depending on factors such as driving style, high air conditioning usage, carrying extra weight, towing, and weather.
Fuel efficiency driving tips are online at: http://fueleconomy.gov/feg/drive.shtml.
More information, including a complete version of the guide and details on the fuel economy labels: http://www.fueleconomy.gov/ and at http://fueleconomy.gov/m/ for mobile devices. EPA and DOE will update the guide online as more 2014 vehicles become available.
Copyright Environment News Service (ENS) 2013. All rights reserved.