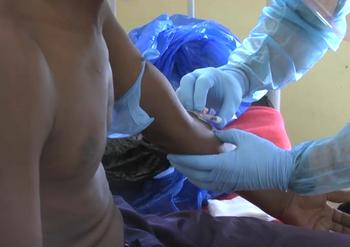 OTTAWA, Ontario, Canada, August 12, 2014 (ENS) – Canada will donate at least 800 doses of an experimental Ebola vaccine to the World Health Organization, WHO, to fight the current outbreak of the deadly Ebola virus in West Africa, Canadian Health Minister Rona Ambrose said Tuesday.
"Today on a call with Dr. [Margaret] Chan, director general of the World Health Organization, I was pleased to offer the experimental vaccine developed by Canadian researchers as a global resource to help fight this outbreak," said Ambrose.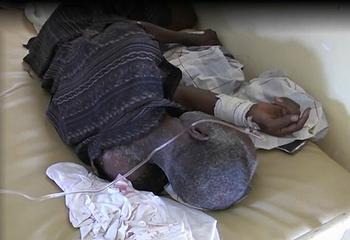 WHO will facilitate distribution of the vaccine, she said.
The WHO said Tuesday that the Ebola death toll in Guinea, Sierra Leone, Liberia and Nigeria had reached 1,013. A total of 1,848 cases have been reported.
Ebola virus disease, EVD, once known as Ebola hemorrhagic fever, is a severe illness in humans with a fatality rate of up to 90 percent. Severely ill patients require intensive care.
Developed by the Public Health Agency of Canada, the vaccine, VSV-EBOV, has never been tested in humans, but has shown promise in animal research, the agency said in a statement Tuesday.
Scientists at the agency's National Microbiology Laboratory developed the vaccine and the Government of Canada owns the intellectual property rights to the vaccine.
The Government of Canada licensed the rights to BioProtection Systems to further develop the product for use in humans.
The final number of doses provided to WHO will be based on the amount required for applied research and clinical trials. Canada will keep a small supply of the experimental vaccine in the event it is needed for compassionate use in Canada.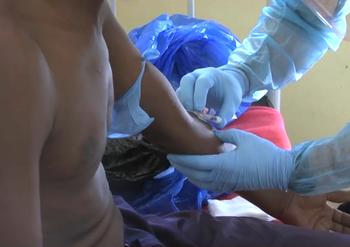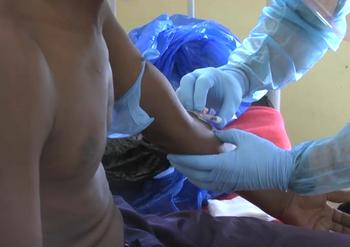 The Government of Canada's decision to provide doses of the experimental vaccine was informed by its Public Health Ethics Advisory Board, as well as by a WHO panel of medical ethics experts that met on Monday.
The WHO panel reached consensus that it is ethical to offer unproven interventions with as yet unknown efficacy and adverse effects, as potential treatment or prevention.
Ethical criteria must guide the provision of such interventions, the panel agreed. These criteria include transparency about all aspects of care, informed consent, freedom of choice, confidentiality, respect for the person, preservation of dignity and involvement of the community.
The ongoing Ebola outbreak in Africa is the largest on record and comprehensive efforts are required to prevent and control the spread of the virus.
While the experimental vaccine is promising, it does not replace the need for rapid diagnosis, good infection control practices and tight coordination among partners involved in the response, WHO and Canadian health officials agree.
As new interventions become necessary, none of which is likely to meet demand in the short term, the WHO panel identified three other areas that need more detailed analysis and discussion:
* – ethical ways to gather data while striving to provide optimal care
* – ethical criteria to prioritize the use of unregistered experimental therapies and vaccines
* – and ethical criteria for achieving fair distribution in communities and among countries
Minister Ambrose said today that the Public Health Agency of Canada will provide an additional $185,000 to the World Health Organization to support infection prevention and control, enhanced surveillance and outbreak response capacity in West Africa.
Public Health Agency scientists have set up mobile laboratories at two sites in the Ebola-affected regions to provide rapid diagnostic support. A new team will be deployed in the near future to relieve the scientists currently in the field.
To date, Canada has contributed nearly Cdn$5.2 in support of humanitarian, security and public health interventions to address the spread of the Ebola virus in West Africa.
The Ebola virus does not spread easily from person to person, Canadian health officials emphasize. Instead, it is spread through direct contact with infected bodily fluids, not through casual contact.
There has never been a case of Ebola in Canada and the risk to Canadians remains very low.
Other Ebola treatments are in development. In March, the U.S. National Institutes of Health awarded a five-year grant of up to $28 million to establish a new center for excellence to find an antibody "cocktail" to fight the deadly Ebola virus. The project, which involves researchers from 15 institutions, including the Public Health Agency of Canada, is led by Erica Ollmann Saphire, professor at The Scripps Research Institute.
"It's a global collaboration," said Saphire. "Everyone in the field got on the same page to collaborate on a set of definitive experiments."
Copyright Environment News Service (ENS) 2014. All rights reserved.
Environment News Service (ENS) © 2014 All Rights Reserved.