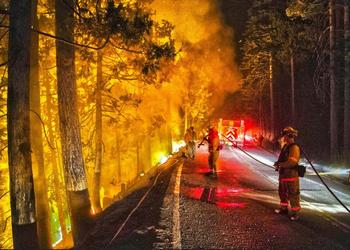 SACRAMENTO, California, August 11, 2018 (ENS) – California Governor Jerry Brown has issued an emergency proclamation for Lake, Mendocino and Napa counties due to the effects of the River, Ranch and Steele fires, which have destroyed homes, causing thousands of residents to flee, and threatened critical infrastructure.
There are 15 major fires currently burning in California that have destroyed homes and infrastructure and continue to threaten communities. More than 13,000 firefighters from California, 17 other states, Australia and New Zealand are working the front lines of wildfires statewide.
But meanwhile, a National Weather Service computer model shows how smoke from the wildfires devastating California is traveling across the country all the way to New York City, about 3,000 miles away, spreading noxious gases and particles.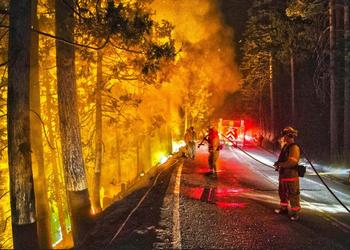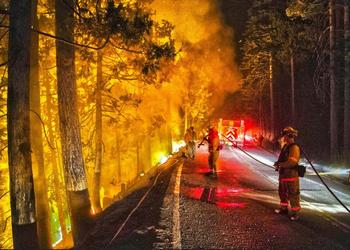 Parts of Yosemite National Park have been closed since the lightning-caused Ferguson Fire started on July 13 on the Sierra National Forest. Much of the fire is burning in steep, rugged terrain with little to no access roads. Firefighters are bringing the blazes under control and parts of Yosemite are expected to open to the public during the coming week.
The Mendocino Complex fire includes two large fires – the River Fire and the Ranch Fire – both of which started July 27 and have merged into the biggest fire in California history.
The Mendocino Complex has burned over 325,226 acres, and full containment is not expected until September 1. Two firefighters have been injured while working on this fire, and 139 residences and 119 other structures have been destroyed.
The northern portion of the Ranch Fire was very active overnight and continues to threaten areas north of the fire perimeter.
Firefighters had success bringing the western edge of the fire back into the Mendocino National Forest. Fire crews continue working on bringing the east edge of the fire back in to the Mendocino National Forest, but obstacles and access are challenging.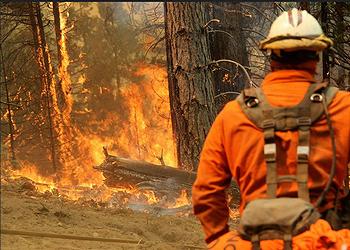 Most of the fire attack resources are being moved to the northern region of the fire to help fight and suppress an active fire front that is pushing north. Crews on the southern perimeter continue suppression repair and patrol.
The River Fire continues to be patrolled with suppression repair crews on the ground.
Governor Brown Thursday issued an executive order to cut red tape and help streamline recovery efforts in communities impacted by the wildfires that continue to burn in Lake, Siskiyou, Shasta, Mendocino and Napa counties.
The executive order includes provisions that:
* – Expedite debris removal and cleanup of homes and businesses that were damaged or destroyed by the fires;
* – Extend the state's prohibition on price gouging during emergencies;
* – Suspend planning and zoning requirements and state fees for manufactured homes and mobile home parks to help displaced residents with housing needs;
* – Allow for the accelerated hiring of additional personnel for emergency and recovery operations;
* – Provide waivers on temporary school facilities and outdoor physical education requirements to allow schools to open as quickly as possible;
* – Extend the filing deadline for certain taxes for businesses in the impacted counties;
* – Streamline contracting and purchasing rules; and
* – Strengthen coordination between state agencies on environmental restoration in fire-impacted areas.
On July 28, Governor Brown announced that the state had secured a presidential declaration providing direct federal assistance to further support the communities impacted by the Carr Fire north of Redding. This fire, started July 23 by a spark generated by a metal wheel rim scraping on the ground, has charred 186,416 acres, forced thousands of people from their homes. It is just 55 percent contained.
The governor has also ordered state flags to be flown at half-staff in honor of two firefighters who died while working on the Carr Fire, and issued emergency proclamations for Riverside and Mariposa counties this week due to fires.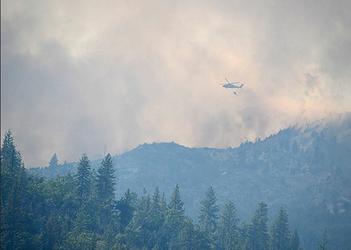 Meanwhile, on Tuesday the California Department of Forestry and Fire Protection (CAL FIRE) announced that more than $170 million has been awarded in grants to prevent catastrophic wildfires, like the Carr Fire and Mendocino Complex, and restore forest health.
More than 100 agencies and organizations across California will receive funding to help the state reduce greenhouse gas emissions from wildfires and sequester carbon.
With funds provided by the Greenhouse Gas Reduction Fund for California Climate Investments (CCI), CAL FIRE awarded 142 fire prevention grants totaling $79.7 million and 23 forest health projects totaling $91.5 million.
"California continues to invest millions of dollars into creating healthier, more resilient forests that benefit all of us," said Chief Ken Pimlott, CAL FIRE director and California's state forester.
"Already this year more than 700,000 acres have burned across the state creating significant carbon releases that counter our efforts at reducing greenhouse gases. Local projects funded by this money will prevent wildfires before they start, and when combined with our fire prevention activities, will help move us toward our greenhouse gas reduction goals," said Chief Pimlott.
The fire prevention grants will enable local organizations like fire safe councils, to implement activities that address the risk of wildfire and reduce wildfire potential to communities and forests.
Funded activities include hazardous fuel reduction, fire planning, and fire prevention education with an emphasis on improving public health and safety, while reducing greenhouse gas emissions.
CAL FIRE's Forest Health grants were distributed to non-profits and local and state resource agencies to implement collaborative projects that extend across multiple land ownerships. These projects seek to improve water quality, manage forest pests, and increase the use of tools such as prescribed fire and hazardous fuels reduction to create resiliency in California's forests.
Multiple projects include a bioenergy component – turning trees killed by drought and bark beetles into energy.
Five of the Forest Health grants will enable the purchase of conservation easements under CAL FIRE's Forest Legacy Program. These grants will protect more than 14,000 acres of forestland in Humboldt and Sonoma counties from urban and agricultural development which would increase greenhouse gas emissions.
To date, CAL FIRE's Forest Legacy Program has conserved nearly 111,996 acres of working forest lands in California.
This May, Governor Brown announced the creation of the Forest Management Task Force to address the issue of the health of California's forests, which have been adversely impacted by drought and climate change.
The Task Force held its first meeting on June 11 and has scheduled a second meeting for August 13. The Task Force is working to facilitate strategies that reduce the risk of wildfire and increase the pace and scale of forest restoration activities leading to improved watersheds.
Copyright Environment News Service (ENS) 2018. All rights reserved.