British Government Clears Track for High Speed Rail Network
LONDON, UK, January 12, 2012 (ENS) – Britain will build a national high speed rail network providing new seating capacity and faster travel across the country from 2026, Transport Secretary Justine Greening announced Tuesday, over the objections of environmentalists and wildlife groups.
The high speed trains on the new Y-shaped rail network called HS2 will link stations in London, Birmingham, Leeds, Manchester, Sheffield and the East Midlands, moving up to 26,000 people an hour at speeds of up to 250 miles per hour.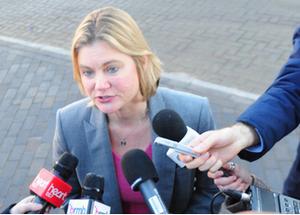 Transport Secretary Justine Greening explains HS2 to reporters in Birmingham, UK, January 11, 2012 (Photo by Jas Sansi)
High speed trains also will connect with the existing West Coast and East Coast main lines to serve passengers beyond the HS2 network in Edinburgh, Glasgow, Newcastle, Durham, York, Darlington, Liverpool, Preston, Wigan and Lancaster.
The project is being developed by High Speed Two Ltd., a company established by the British government in January 2009, when Labour was in power.
The current Conservative-Liberal Democrat coalition government, which took office in May 2010, gave a green light to the £32.7 billion (US$50.1 billion) project on Tuesday.
Plans call for building the HS2 in two phases.
The first phase, to be built by 2026, will be a new 140 mile line between London and Birmingham and an undersea connection to the rest of Europe via the Channel Tunnel.
In the second phase due for completion by 2033, lines built from Birmingham to Leeds and Manchester. A formal consultation on second phase routes will begin in early 2014 with a final route to be chosen by the end of 2014.
On completion of HS2, the network will include a direct link to Heathrow Airport.
HS2 will mean substantial time savings between Britain's cities, reducing a Birmingham to Leeds journey from two hours to just 57 minutes and a Manchester to London journey from two hours eight minutes to only one hour eight minutes, said the secretary.
Travel time between Birmingham and London will be almost halved from one hour 24 minutes to just 45 minutes.
Greening said that even cities and towns off the HS2 network – such as Edinburgh, Glasgow, Liverpool, Preston, Wigan, Lancaster, Newcastle, Darlington, York and Durham – will be served by high speed trains able to use both HS2 and existing intercity lines to save up to an hour on journeys to London.
HS2 will effectively act as a rail "motorway" network offering greater capacity and speed while not restricting train services to stations on the HS2 network, she said.
A commitment to reducing the environmental effects of HS2 will see 79 miles of the 140-mile line between London and Birmingham running in tunnels or cuttings.
Greening said the 22.5 miles of the line that will run in tunnels is a 55 percent increase in the amount of tunneling over that described in the consultation route.
The HS2 route runs through 13 miles of the Chilterns Area of Outstanding Natural Beauty a few miles northwest of London – an unspoiled area of rolling chalk hills, beechwoods, fields and clear streams.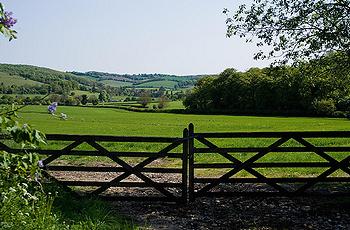 The rolling hills and fields of Chiltern (Photo by Lonfunguy)
Greening announced that to mitigate the environmental impact on Chilterns, less than two miles of the route through this area will be at or above surface level and much of the line will run underground.
But these environmental mitigation measures are not enough to satisfy HS2 opponents, a group that once included Greening.
While in Opposition, Greening, a Conservative MP, who became Transport Secretary on October 14, 2011, opposed the HS2 development. In January 2009, she told Parliament, "On a democratic basis we have had a consultation and residents and people have said overwhelmingly that they do not want this plan to go ahead. The fact that in spite of all of that ministers still seek to override the will of public opinion, I find it deeply, deeply concerning."
But she said Tuesday, "There are no credible alternatives to a new railway line. Network Rail has judged that alternative packages of rail upgrades and improvement on existing lines are no substitute to the long-term and sustainable capacity increase that HS2 provides."
Stop HS2 Campaign Co-ordinator Joe Rukin pointed out the contradiction. "Justine Greening is a Grade 1 hypocrite, otherwise known as a politician," he said. "She harked on about it being 'deeply concerning' for Government not to listen to public opinion when it suited her, but now it doesn't suit, she is fully committed to ride roughshod over it."
Rukin points out that the minister had said she was concerned about environmental damage, "but when she announced more tunnels for HS2 she upped the environmental damage, both due to now needing larger construction depots and the fact more energy and more energy is needed to run through tunnels. Now it is certain that HS2 will lead to an increase in carbon emissions."
Several reports have indicated that the project is likely to be roughly carbon neutral.
The Wildlife Trusts, representing 47 local trusts, expressed "disappointment" over the government's approval of HS2, saying, "Serious damage to wildlife and habitats is expected as a result of the route's construction."
Research by The Wildlife Trusts shows the route for HS2 phase one, to run from London to Birmingham, could threaten as many as 160 wildlife sites. "This includes 50 irreplaceable ancient woodlands and the habitat of rare species such as Bechstein's bat and black hairstreak butterfly."
Paul Wilkinson, head of Living Landscape for The Wildlife Trusts, said, "The Transport Secretary says Government is committed to the 'lowest feasible impact' on wildlife. Yet the mitigation measures announced focus on the noise and visual impact of HS2. They include tunnels in various locations. Tunnels will not necessarily prevent damage to fragile habitats – their construction could even make matters worse. It is vital that the impacts on wildlife are not overlooked yet again in this process."
Seven local wildlife trusts are affected by the route for HS2's phase one from London to Birmingham.
In London, over 18 wildlife sites could be adversely affected, including Perivale Wood in Ealing, Britain's second oldest nature reserve, which opened in 1902.
Copyright Environment News Service (ENS) 2012. All rights reserved.