Automotive Innovations Center Stage at Consumer Electronics Show
LAS VEGAS, Nevada, January 11, 2012 (ENS) – The 2012 International Consumer Electronics Show opened in Las Vegas Tuesday with a strong auto technology presence – hundreds of exhibitors showing electric vehicles, charging solutions and in-car electronics.
The GoElectricDrive TechZone, sponsored by the Electric Drive Transportation Association in the North Hall of the Las Vegas Convention and World Trade Center, is showcasing electric drive technologies, products and services.
Electric vehicles and charging stations for homes, condominiums, public facilities and a range of electric mobility products and services are on display.
The Safe Driver TechZone is focused on technologies that assist in auto collision avoidance, lane drift assistance, parking, speed monitoring, hands-free, text-to-voice, driver drowsiness detection and more.
The Location Based Services TechZone is the place for providers of custom technologies, services and advertising sent to portable and in-car navigation devices based on current location.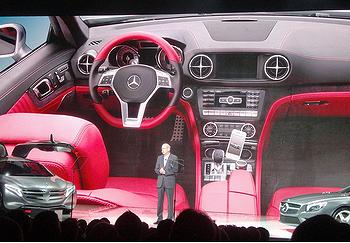 Dieter Zetsche of Daimler and Mercedes-Benz outlines a bright future for automotive innovation at the opening of the 2012 International CES. (Photo by trendonegermany)
During his Tuesday keynote address, Dr. Dieter Zetsche, chairman of the Board of Management of Daimler AG and head of Mercedes-Benz Cars, told the CES audience that the crossroads of the automotive and electronic industries is rich with opportunities for innovation.
"Here at the Consumer Electronics Show in Las Vegas there are some people who view the automobile as an accessory to consumer electronics," said Dr. Zetsche. Conversely, at the auto show in Detroit there are many people who view consumer electronics as mere trimmings for the car."
"Both points of view miss the point," said Dr. Zetsche. "As much as a smartphone can be far more than just a tool for communication, a smart car can be more than just a means of transportation. Precisely at the interfaces between communication and mobility, vast potential for innovation lies dormant, and we intend to tap it."
Zetsche highlighted Daimler's Car2Go service, a car sharing program featuring electric vehicles. He said the service will add 12 new cities in 2012 as well as Car2gether, a secure social network for the road.
On Wednesday, Daimler and Google announced a deepening of their strategic partnership to provide Daimler with access to the suite of application programming interfaces known as Google Maps API for Business for the use of cloud-based, map-related applications in Daimler vehicles.
The collaboration will enable Daimler to use Google Maps for in-car map displays, and improve the German automaker's ability to quickly and seamlessly integrate Google services into Mercedes-Benz vehicles.
Daimler and Google have a history of integrating innovative electronics into vehicles. As of 2011, Mercedes-Benz offers COMAND Online, a telematics system with cloud-based Mercedes-Benz apps that brings Google Street View, Panoramio and local search technologies to most Mercedes-Benz passenger cars.
After showcasing AMG Performance Media, an in-car telemetry system powered by Android in autumn 2011 at the launch of the Mercedes-Benz SLS AMG Roadster, Daimler was named "International CES Innovations 2012 Design and Engineering Awards Honoree."
Ford Motor Company was honored at the Consumer Electronics Show with the "Best of Innovation" recognition for its innovative MyFord Mobile application and is demonstrating the first beta versions of the new technology at the show.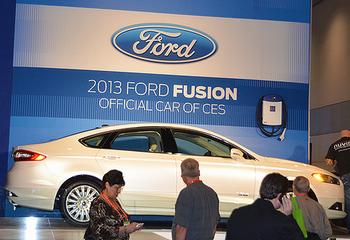 Ford offers three versions of the mid-sized Fusion: gas, hybrid and plug-in hybrid electric. (Photo courtesy CES)
The MyFord Mobile application enables Ford Focus Electric users to monitor charging, receive alerts, find charge stations, plan trips and share information from their smartphones to enhance the electric vehicle lifestyle.
MyFord Mobile adds gaming and social sharing components to the driving experience. As in video games, drivers of the Focus Electric can earn achievements based on how far they drive and how much carbon dioxide they save by not using gas. The leaderboards help MyFord Mobile users compare their driving results with those of other Focus Electric drivers.
MyFord Mobile was jointly developed by Ford Motor Company and Airbiquity, using Airbiquity's connected vehicle solution for EVs.
"We are very proud of our partners at Ford Motor Company for their award-winning MyFord Mobile application, justly honored at this year's International CES show," said David Jumpa, senior vice president of global sales and business development at Airbiquity. "Our comprehensive electric vehicle solution includes all services required for EV owners and the experience to integrate all ecosystem partners into a cohesive consumer service."
The Ford Fusion is the "Official Car of the 2012 International CES" and was introduced at the show by Ford CEO Alan Mulally and Consumer Electronics Association CEO Gary Shapiro.
TomTom, the Dutch supplier of location and navigation products and services, and Fisker Automotive, the California manufacturer of premium electric vehicles with extended range, announced their new agreement at the Consumer Electronics Show.
Under the three-year agreement, TomTom will provide the Fisker Karma electric plug-in hybrid with map and location content covering North America and Europe. The core map; Points of Interest; and Voice Maps, which are used to support text-to-speech and voice recognition for address input to the navigation system are available via a Command Center with the industry's first 10.2 inch touch screen interface.
In another business deal unveiled at the show, Eaton Corporation and Coulomb Technologies announced plans to expand the North American footprint of charging stations for electric vehicles.
Eaton's Level II and DC quick charging Pow-R-Stations can now connect to Coulomb's ChargePoint Network, the largest network of independently owned charging stations in the world.
Eaton Pow-R-Stations can charge a depleted EV in three to four hours. They will now be able to access all the functionality of the ChargePoint Network and ChargePoint service plans – centralized management infrastructure to set up services; automated billing and transaction payment processing; 24/7 driver support; and driver services that show real-time station availability.
ChargePoint-enabled Eaton stations will be included on all ChargePoint mobile phone applications for iPhone, Android and Blackberry. Panels at the 2012 Consumer Electronics Show featuring auto developments include the Connect2Car: Connecting Automotive and Consumer Electronics Lifestyles SuperSession focused on integration of new systems and apps into vehicles.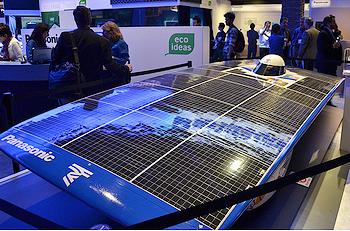 The world's fastest solar car at the 2012 CES (Photo courtesy CES)
The In-Vehicle Technology Conference Track features sessions focused on smart technologies that minimize driver error, enhance the driving experience and boost road safety.
On the show floor in Las Vegas, Panasonic is showcasing its technology on the world's fastest solar car. Tokai University's solar car won the 2011 and 2009 World Solar Challenge races across Australia, one of the world's largest solar-powered car races.
Panasonic supplies the Japanese university team with its Heterojunction with Intrinsic Thin-layer (HIT) solar cells and high capacity lithium-ion batteries.
The New Jersey-based utility NRG is showcasing the largest gadget ever seen on the CES floor, the Reliant Smarter Home on Wheels. NRG is building a privately funded, comprehensive electric vehicle charging network across the United States – the eVgo network with home charging docks and fast network charging stations located at retailers throughout eVgo cities.
In addition, the prototype of DeLorean's DMCev, the all-electric version of one of the most iconic cars in automotive history, is on display at the NRG booth.
"Consumers have the power to move clean energy forward," said Jason Few, NRG executive vice president. "We are making solar power and electric vehicle charging easy and affordable. We're empowering consumers with information, tools and plans to help them manage the electricity that runs all the incredible innovations at CES. With our investment in large-scale solar generation and repowering our generation fleet with cleaner technologies, we are forging a more sustainable energy future."
Copyright Environment News Service (ENS) 2012. All rights reserved.