BMW Drives London Olympics With Electric Cars, Hybrids
LONDON, UK, May 3, 2012 (ENS) – BMW will have 240 electric and hybrid cars at the London Olympics this summer as part of the fleet of 4,000 vehicles the German automaker is supplying to the Games.
As Official Automotive Partner to the London 2012 Olympic and Paralympic Games, BMW is bringing 160 units of the 1 Series ActiveE small family car and 40 of the even smaller Mini E, with another 40 units of the 5 Series Active Hybrid.
The London Organising Committee of the Olympic Games, widely known as LOCOG, last week unveiled its deployment plans for the BMW low-emission, diesel, hybrid and electric cars, motorcycles and bicycles.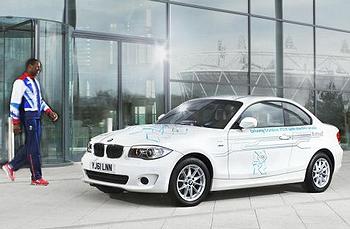 BMW 1 Series ActiveE stands ready to transport an Olympic athlete (Photo courtesy BMW)
The fleet will be on call for a wide range of duties during the Games, which open on July 27 and conclude on August 12.
Across more than 30 Olympic venues in London and beyond, electric and hybrid BMWs will perform tasks such as pulling boats out of the water at Weymouth, providing a mobile camera platform for the marathon, towing a horse ambulance across Greenwich Park and carrying medal winners around the Olympic Park to media interviews.
Media will be users of the fleet, as will judges, event organizers, Games officials and staff, medical officers, International Organising Committee photographers and crew as well as official rights holders and technical delegates.
LOCOG Transport Director Richard George said, "From motorcycles to electric vehicles and 4x4s, the requirements of the 2012 fleet are hugely diverse. BMW and MINI have provided a variety of different cars, ideal both for city driving and long distance, to travel to Olympic and Paralympic venues around the country."
LOCOG's challenging average fleet emissions target of 120 grams of carbon dioxide (CO2) per kilometer was set far below the UK total new car emissions average of 138 grams CO2 per kilometer / 54.2 mpg.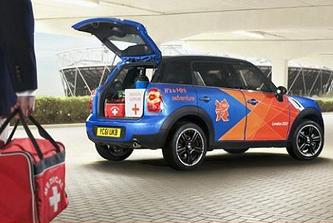 BMW's electric Mini E painted with London Olympics colors and logo, stands ready to transport a Red Cross medical officer. (Photo courtesy BMW)
The BMW and MINI fleet surpasses the target with average CO2 emissions of 116 grams CO2 per kilometer or 64.5 mpg.
"It was vital that our partner in this field could deliver a one-stop shop solution and meet our sustainability targets," said George. "BMW has surpassed our requirements and we are delighted to be working with them."
The BMW electric vehicles and hybrids will be the first medium-sized cars on UK roads that meet the 2014 EU6 emissions regulations. As of September 2014, EU6 will be the mandatory emission limit for all new cars. EU6 brings down diesel nitrogen oxide emissions to petrol car level.
At the London Games, 80 percent of the BMW fleet will fulfil EU6 emission standards two years before they become mandatory.
Chris Brownridge, UK marketing director with BMW, said, "Our London 2012 fleet shows what BMW technology can achieve today in terms of fuel economy and low emissions, including the first major presence of super clean EU6-compliant cars on UK roads."
"We look forward sharing our vision of sustainable urban mobility during the Games, including our revolutionary electric vehicle technology at the BMW Group Pavilion in the Olympic park," Brownridge said.
When they need to charge up, the electric BMWs will showcase London's new charging infrastructure – 120 new high speed charge points installed in five key locations such as at ExCeL London.
The rest of the BMW fleet for the Olympics is made up of the 320d EfficientDynamics (1,550 vehicles), 520d Efficient Dynamics (700 vehicles), X3 xDrive 20d (17), X5 xDrive 30d (10) and Mini Countryman Cooper D (200 vehicles), plus another 25 R1200 RT motorcycles and 400 BMW Streetcruiser bicycles.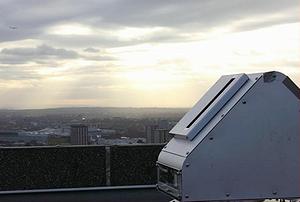 University of Leicester's CityScan monitor (Photo courtesy U. Leicester)
The 2012 Olympic and Paralympic Games are expected to draw some 11 million visitors from around the world to the UK's capital for seven weeks, and three million extra car journeys are anticipated on the busiest day.
University of Leicester scientists say new technology they have developed will be monitoring the impact of increased traffic on pollution levels in London during the Olympics.
The team of researchers will use their CityScan technology, which gathers scattered sunlight to scan whole cities for air quality, to investigate the impact of this extra traffic on pollution. CityScan reveals the days and times when pollution levels are highest.
Existing technology can give accurate readings only for certain "hotspots," but U. Leicester researchers say CityScan can show the air quality over every point of the city, pinpointing individual roads, buildings and playgrounds.
Sensors will be set up on two buildings in North Kensington and in Chelsea and at a third location to be determined. The sensors will give readings of nitrogen dioxide, which is produced from traffic emissions. Exposure to the gas can decrease lung function and increase the risk of bronchitis and asthma.
Team leader Roland Leigh, of the university's Earth Observation Science Group, said, "We will be able to map the pollution in 3D to show emissions of nitrogen dioxide and how far they spread."
"Traditional sensors take in a single point measurement, giving a very accurate measurement that might be by a roadside. Between two or three CityScan instruments, we can map out a complete urban area and tell you where the nitrogen dioxide is in that space," said Dr. Leigh.
"CityScan makes the link between emissions and poor air quality downwind, enabling better management of the respiratory health of sensitive individuals," he said.
Dr. Leigh and his team hope their findings during the Olympic Games will help councils across the UK improve their environmental planning and traffic management.
Copyright Environment News Service (ENS) 2012. All rights reserved.