B.C. Coast Oil Spill Points Up Enbridge Pipeline Danger
HARTLEY BAY, British Columbia, Canada, May 3, 2012 (ENS) – The Gitga'at Nation of Hartley Bay has reported an oil spill between two and five miles long in the Grenville Channel, not far from the tanker route for the proposed Enbridge Northern Gateway pipeline.
The village of Hartley Bay, located at the confluence of Grenville and Douglas Channels, is 630 kilometers (390 miles) north of Vancouver. The isolated village, home to 180 people, is reachable only by air or water.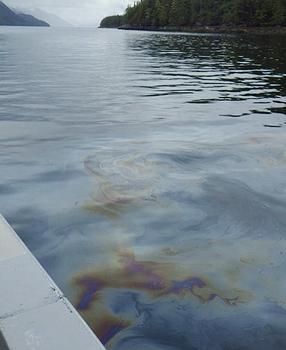 Oil spill in Grenville Channel near Hartley Bay, British Columbia, May 1, 2012 (Photo courtesy Gitga'at Nation)
Just 80 kilometers (50 miles) northeast of Hartley Bay at the head of the narrow Douglas Channel lies the Port of Kitimat, terminus of the proposed Enbridge pipeline. There, crude oil from the Alberta tar sands would be loaded onto tankers and shipped to China and other Asian countries.
The spill was spotted by a commercial pilot from Inland Air Charters and reported to the Gitga'at Nation and the Canadian Coast Guard on Tuesday.
A Canadian Coast Guard vessel with three aboard attended the spill location Wednesday and a Transport Canada plane carrying an official from Environment Canada conducted an overflight.
Coast Guard communications officer Dan Bate told ENS that the sheen was observed to stretch for a "fair distance" but he could provide no exact figure. He said the amount of oil observed was "less than one liter."
Speaking on behalf of the Gitga'at Nation, Andrew Frank told ENS that instead of taking samples of the spill, the Coast Guard personnel were photographed fishing. "They're not taking it seriously," said Frank. "It wasn't big enough for them to worry about even though you can see oil floating in the water."
Bate confirmed that the Coast Guard sent samples of oil taken by the Gitga'at, not their own samples, to a lab for testing.
Heavy oil is thought to be welling up from a U.S. army transport ship, the USAT Brigadier General M.G. Zalinski, that sank in 1946 with 700 tonnes of bunker fuel and munitions on board.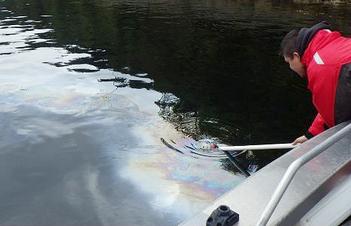 A Gitga'at Guardian takes a sample of spilled oil from Grenville Channel, May 1, 2012 (Photo courtesy Gitga'at Nation)
Bate said the lab positively identified the oil samples as being from the Zalinski. He said the Coast Guard is contracting a dive team to dive on the wreck and patch any leaks they find.
"We are aware of the vessel, and we have done dive surveys in 2003 and 2005. Patching was done on leaks found at those times," said Bate.
Arnold Clifton, Chief Councillor of the Gitga'at Nation said, "The spill is just the latest in a series of spills of bunker oil and diesel coming from the Zalinski and the BC Ferry Queen of the North, which sank in 2006. Despite government assurances of clean-up, both wreckages continue to leak fuel, fouling the marine environment, and heightening the fear of future oil spills."
Bate said that a fuel recovery operation is possible but "munitions have to be dealt with first." The Coast Guard currently has no plan to deal with the munitions except assessment, he said.
The ongoing oil spills are polluting traditional shellfish harvesting areas of the Gitga'at, who rely on shellfish, fin fish and seaweed for about 40 percent of their food supply.
"They're already starting to close these beds," said Frank. "Right now they're getting ready to visit traditional harvesting camp, gather seaweed fish for halibut, to feed them through the whole year."
"Right now we're focused on getting a handle on the size of the spill and the clean-up that's required," said Clifton. "But this incident definitely raises questions about the federal government's ability to guard against oil spills and to honor its clean-up obligations."
"As a result," said Clifton, "our nation has serious concerns about any proposal to have tankers travel through our coastal waters, including the Enbridge proposal."
The proposed Enbridge Northern Gateway pipeline would transport 525,000 barrels of crude oil a day 1,177 kilometers from the tar sands near Edmonton, Alberta to the port of Kitimat on the B.C. coast. There it would be loaded onto tankers and shipped to China and other Asian countries.
The Douglas Channel from Kitimat to Hartley Bay already is a busy shipping artery that serves an aluminum smelter at Kitimat.
Enbridge insists that double-hilled supertankers carrying oil out of Kitimat pose no risk to coastal First Nations. But a growing coalition of First Nations and conservation groups has vowed to fight the Enbridge proposal.
The Canadian Environmental Assessment Agency's three-member Joint Review Panel is now holding community hearings in British Columbia for the Enbridge Northern Gateway project. The next hearing is scheduled for Terrace on May 7.
Copyright Environment News Service (ENS) 2012. All rights reserved.