Blizzard Threatens 100 Million Americans
WASHINGTON, DC, January 31, 2011 (ENS) – A major blizzard the National Weather Service that could be life-threatening is approaching the Midwest today, and expected to dump up to 18 inches of snow across the region starting at about noon Tuesday. The storm will bring include heavy snow, blowing snow, destructive ice, tornadoes and bitter cold, warns the Federal Emergency Management Agency.
The storm could affect up to 100 million Americans says FEMA Administrator Craig Fugate, who is urging all residents in the areas that could be impacted to use the next few hours to get prepared.
"A storm of this size and scope needs to be taken seriously," said Fugate. "As we continue to do our part to watch the storm and work closely with our state and local partners as they get ready, it's critical that the public does its part to get ready."
National Weather Service map shows the forecast path of the storm. The pink areas indicate a winter storm warning, the bright green area at the tip of Lake Michigan a blizzard watch. Darker areas indicate winter weather warnings. (Map courtesy NWS)
National Weather Service meteorologist Samuel Shea warned, "You figure if you are out traveling and you do end up going off the road, having to be rescued and you aren't prepared for the conditions, things could be life-threatening," he told the "Chicago Sun-Times," predicting 18-foot waves on Lake Michigan.
Coming in from the southwest, the blizzard will hit states as far south as Oklahoma, Arkansas and Texas early this week.
Later this week the storm is forecast to reach the Northeast, still digging out from a snowstorm that dumped 19 inches on New York's Central Park last week, breaking a record that has held since 1925.
The National Weather Service says, "A rapidly deepening upper-level trough and an intensifying disturbance over the Southwest will drive this system. A large amoung of Gulf [of Mexico] moisture will feed into the system ahead of the incredibly strong surface front over the Southern Plains … precipitation amounts are going to quickly increase."
"Already this winter we've seen how snow and ice can knock out power and affect transportation," Fugate said. "If you haven't already, take steps now to get your homes and families ready, and be sure to check on your neighbors, especially the elderly and young children – those who can be most vulnerable during emergencies."
At the request of the state of Oklahoma, FEMA has deployed an Incident Management Assistance Team to the state, in order to help with coordination, should emergency response assistance be needed.
In addition, FEMA liaison officers have been deployed to Kansas, Missouri, and Indiana, at the request of those states, to help coordinate if additional support is needed.
FEMA has also pre-positioned emergency commodities, including water, generators, meals, cots and blankets across the United States should they be needed to support state and local emergency response operations.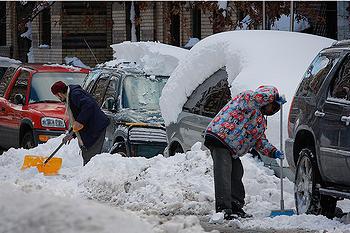 The approaching storm is forecast to be heavier than the one that blanketed New York City, January 27, 2011. (Photo by Pavement Pieces)
In areas from northwestern Texas into Oklahoma, northwestern Arkansas, Missouri and parts of Illinois, Indiana and Ohio, the snow will be preceded by sleet or freezing rain.
Freezing rain is by far the worst form of wintry precipitation, Fugate warned. By definition, freezing rain is rain that falls and freezes on contact with surfaces such as roads, sidewalks, trees and power lines. Sleet is frozen raindrops or ice pellets.
The worst of the freezing rain will target areas from central Missouri into southern Illinois, Indiana, Ohio and the central Appalachians, threatening to cause power outages and hundreds of vehicle accidents. In many of these places, snow falling on top of the ice will make roads even more hazardous.
Farther southwest through Oklahoma, it will be mainly sleet that precedes the snow. While sleet is less hazardous than freezing rain, it will still make roads slippery. With snow falling on top of the sleet and partially melting then refreezing, roads will become treacherous and icy for days.
Emergency managment agencies advise people to create a Family Disaster Kit that will cover at least three days. Include:
A battery-powered NOAA Weather Radio
A battery-powered commercial radio and extra batteries
Foods that do not require cooking or refrigeration are best. Include high energy foods, such as dried fruit and granola bars
Extra medications and special items for babies, the disabled or elderly
Extra water in clean containers
Flashlights and extra batteries. Do not use candles
A first-aid kit, non-prescription drugs and personal sanitary items
Copyright Environment News Service (ENS) 2011. All rights reserved.