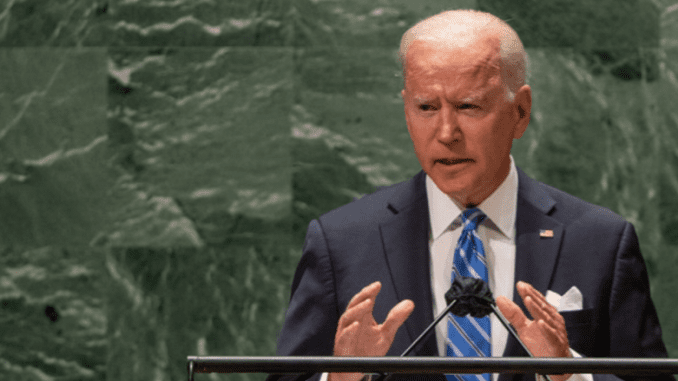 NEW YORK, New York, September 21, 2021 (ENS) – UN Secretary-General António Guterres today welcomed important commitments made towards climate action by the world's two largest economies, the United States and China, as this year's High Level Debate of the UN General Assembly began in New York.
President Joe Biden announced that the United States would increase its international climate finance commitment to $11.4 billion a year.
"This increased contribution from the United States will bring developed countries closer to meeting their collective commitment to mobilize $100 billion a year in climate finance," said Guterres in a statement.
President Biden emphasized that the United States is back and eager to partner with other nations to achieve a better world.
"As a global community, we're challenged by urgent and looming crises wherein lie enormous opportunities if – if – we can summon the will and resolve to seize these opportunities," Biden said, touching on questions about the pandemic, climate change and human rights.
"We stand, in my view, at an inflection point in history," the U.S. president said. "And I'm here today to share with you how the United States intends to work with partners and allies to answer these questions and the commitment of my new administration to help lead the world toward a more peaceful, prosperous future for all people."
"Instead of continuing to fight the wars of the past," Biden said after pulling out of Afghanistan in August, "we are fixing our eyes on devoting our resources to the challenges that hold the keys to our collective future: ending this pandemic; addressing the climate crisis; managing the shifts in global power dynamics; shaping the rules of the world on vital issues like trade, cyber, and emerging technologies; and facing the threat of terrorism as it stands today."
Biden went on to say that the United States will compete vigorously and lead with its values and its strength.
"We'll stand up for our allies and our friends and oppose attempts by stronger countries to dominate weaker ones, whether through changes to territory by force, economic coercion, technological exploitation, or disinformation," the U.S. president said.
"But we're not seeking – I'll say it again – we are not seeking a new Cold War or a world divided into rigid blocs," Biden said.
"The United States is ready to work with any nation that steps up and pursues peaceful resolution to shared challenges, even if we have intense disagreements in other areas." he said, "because we'll all suffer the consequences of our failure if we do not come together to address the urgent threats like COVID-19 and climate change or enduring threats like nuclear proliferation."
China Will End Funding of Coal Power Plants Abroad
Secretary-General Guterres also welcomed the announcement made by President Xi Jinping that China would end all financing of coal-fired power plants abroad and redirect its support to green and low carbon energy.
"Accelerating the global phaseout of coal is the single most important step to keep the 1.5-degree goal of the Paris Agreement within reach," Guterres said.
To tamp down the coronavirus, President Xi reiterated the pledge that China will strive to provide a total of two billion doses of vaccines to the world by the end of this year.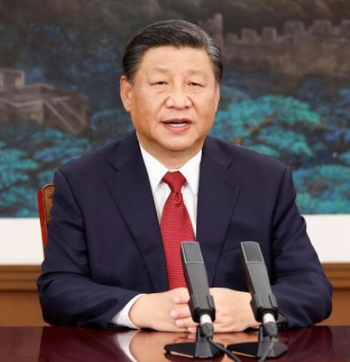 "In addition to donating 100 million US dollars to COVAX," Xi said via video link, "China will donate 100 million doses of vaccines to other developing countries in the course of this year."
Xi announced a six-pronged Global Development Initiative, including staying committed to:
– development as a priority
– a people-centered approach
– benefits for all
– innovation-driven development
– harmony between man and nature
– results-oriented actions
"We need to increase input in development, advance on a priority basis cooperation on poverty alleviation, food security, COVID-19 response and vaccines, development financing, climate change and green development, industrialization, digital economy and connectivity, among other areas, and accelerate implementation of the UN 2030 Agenda for Sustainable Development, so as to build a global community of development with a shared future," the Chinese leader said.
China will not build new coal-fired power projects abroad, he said, also pledging that China will increase support for other developing countries in green and low-carbon energy.
"This is another remarkable step taken by China on its own initiative to cope with the global climate change, as Xi earlier announced China's pledge to strive to peak carbon dioxide emissions before 2030 and achieve carbon neutrality before 2060," Ruan Zongze, executive vice president of the China Institute of International Studies told the state-run news agency Xinhua.
But Guterres stressed that there is still "a long way to go" to make next month's UN climate conference, COP26, in Glasgow, Scotland the kind of success that ensures "a turning point in our collective efforts to address the climate crisis."
He reminded the world leaders assembled in New York for the high-level discussions that, based on UN Member States' current emission reduction commitments, "the world is on a catastrophic pathway to 2.7 degrees of heating."
The Secretary-General called for "decisive action by all countries," especially the G20 leading industrialized nations, to "go the extra mile" and effectively contribute to emission reductions.
Guterres said, "All countries must bring their highest level of ambition to Glasgow if we are to keep the 1.5-degree goal of the Paris Agreement within reach."
Featured image: U.S. President Joe Biden addresses the United Nations General Assembly in New York, September 21, 2021 (Photo courtesy United Nations)
© 2021, News Editor. All rights reserved.