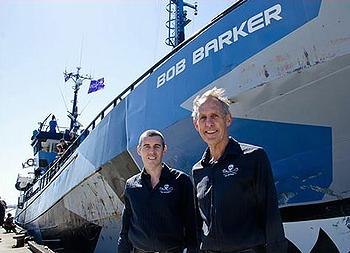 MELBOURNE, Australia, March 20, 2013 (ENS) – Sea Shepherd Australia this morning welcomed to Melbourne its three ships and 110 crewmembers after their campaign defending whales in the Southern Ocean against Japanese "research" whalers.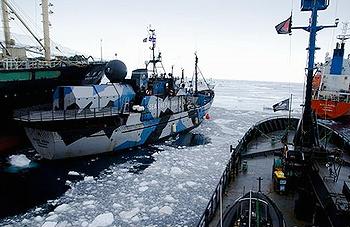 All three Sea Shepherd ships – the Steve Irwin, the Sam Simon and the Bob Barker – were damaged after colliding with the Japanese factory ship Nisshin Maru.
The Japanese Institute of Cetacean Research, a government body that runs Japan's whaling program, claims that Sea Shepherd "sabotaged" its factory ship. Sea Shepherd claims the much larger Japanese ship deliberately rammed the whale defense vessels.
The Sea Shepherd crews endured attacks by concussion grenades and were hit with water cannons as they tailed Japan's four whaling vessels, interfered with their whale killing activities and tried to block them from refueling. The Japanese vessels had to refuel from a contracted tanker ship, which was engaged after Australia refused to allow the whalers to refuel in Australian ports.
Bob Barker Captain Peter Hammarstedt said, "It is with great pride that the Sea Shepherd crew returns to Melbourne, secure in the knowledge that everything was done in accordance with the law to give the whale poachers the worst killing season that they have ever had in history, in no small part thanks to the support of the whaling-loving people of Australia."
"Sea Shepherd's ninth campaign to Antarctica was named Operation Zero Tolerance because illegal whaling in the Southern Ocean Whale Sanctuary in violation of an Australian Federal Court ruling prohibiting the killing of threatened, endangered and protected whales cannot, and will not, be tolerated by Sea Shepherd," said Hammarstedt.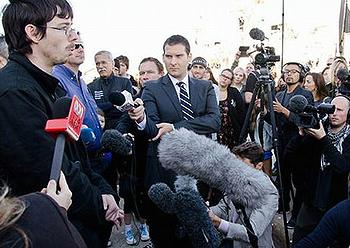 Japan sets itself an Antarctic quota of 950 minke whales plus 50 fin and 50 humpback whales annually despite a global moratorium on commercial whaling that took effect in 1986. International Whaling Commission regulations permit lethal "research" whaling as long as the meat is used and not discarded. Whale meat appears at Japanese markets and in sushi bars.
"Sea Shepherd Australia's Operation Zero Tolerance has been Sea Shepherd's most successful campaign to date," said Jeff Hansen, director of Sea Shepherd Australia.
Hansen co-led this season's whale defense campaign after Sea Shepherd founding president Captain Paul Watson stepped down in December 2012 to comply with a U.S. court ruling in a case brought by Japanese whaling authorities.
Watson observed Operation Zero Tolerance activities from aboard the Steve Irwin, but he was not aboard the vessel when it arrived in Melbourne today.
Hansen said his heart is "heavy" because "the man that started it all, defending Australia's whales in the Australian Antarctic Territory, Captain Paul Watson, can not be stepping ashore because the Australian Government will not announce his safe passage into Australia."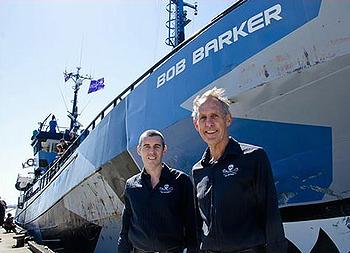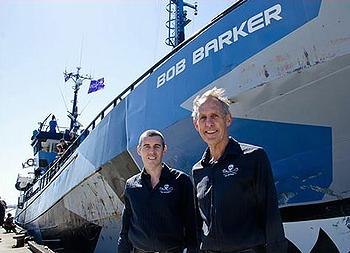 "A man that is an Australian hero, doing the work that the Australian government refuses to do, that the Australian public want done, is once again forced to go into hiding," Hansen said.
The other co-leader of Operation Zero Tolerance was former Australian Greens leader and senator Bob Brown who now chairs Sea Shepherd Australia. He stood on the pier beside the group's damaged vessels and asked the government to clarify whether or not it intends to arrest Watson.
"There have not been charges laid against him that we know of, but if Japan is seeking to have Paul Watson apprehended, let's have the Australian government say so," Brown told reporters.
An immediate question in Parliament from Greens MP Adam Bandt, who represents Melbourne, drew clarification of the government's position from Australian Attorney-General Mark Dreyfus.
"I can confirm Mr. Watson is not subject to any arrest warrant under Australian government jurisdiction," he told parliament.
Dreyfus would not reveal whether Japan or any other country has requested Watson's extradition, a requirement before an arrest warrant can be issued.
"It is a long-standing Australian government policy … not to disclose whether Australia has received an extradition request from another country," Dreyfus said. "The Australian government does not provide assurances about whether a person will be subject to extradition proceedings either now or in the future."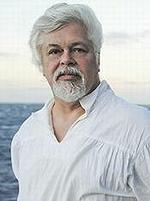 Earlier this month, Germany dropped an arrest warrant for Watson that was originally issued last year at the request of Costa Rica. To avoid arrest, Watson jumped bail, forfeiting some $300,000, and left Germany last July. He is still wanted in Costa Rica over a 2002 incident over a shark finning vessel, although Costa Rica has banned shark finning.
"The really big welcome awaits Sea Shepherd founder, Paul Watson, when and if the government clears his path to Melbourne," said Brown.
While he is now laying low in an undisclosed location, Watson is proud of the outcome of the Sea Shepherd's Operation Zero Tolerance. In a Facebook posting March 4 Watson wrote, "This season has been our most effective campaign of them all and it will mark the lowest kill figures in the entire history of the Japanese Southern Ocean whaling operations."
Steve Irwin Captain Siddharth Chakravarty said, "Every single crew member can go home today proud of the fact that they have returned triumphant from the Southern Ocean having saved the lives of hundreds of whales. It has taken us four months and 15 days and more sea miles than it takes to circumnavigate the globe to ensure that Operation Zero Tolerance lived up to its name. The determination, resolve, strength and passion of the crews along with Sea Shepherd Australia has made this the most successful Southern Ocean campaign in nine years."
Sam Simon Captain Luis Manuel Pinho said, "The entire crew of the Sam Simon and myself are happy that our months of hard work and hardship translated into a victory for life, beauty and nature, showing that determined people when united can achieve great feats, such as stopping greedy and illegal interests from damaging Antarctica's pristine eco-systems."
Copyright Environment News Service (ENS) 2013. All rights reserved.