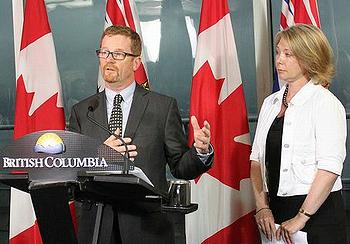 VANCOUVER, British Columbia, Canada, July 23, 2012 (ENS) – The British Columbia government today outlined five minimum requirements for the province to consider the construction and operation of heavy oil pipelines within its borders.
The Northern Gateway pipeline proposed by Enbridge, and another proposed by Kinder Morgan, would transport heavy crude oil called diluted bitumen from the Alberta tar sands to Asian markets via terminals on the B.C. coast.
"Our government is committed to economic development that is balanced with environmental protection," said B.C. Premier Christy Clark at a news conference today. "In light of the ongoing environmental review by the Joint Review Panel on the Enbridge pipeline project proposal, our government has identified and developed minimum requirements that must be met before we will consider support for any heavy oil pipeline projects in our province."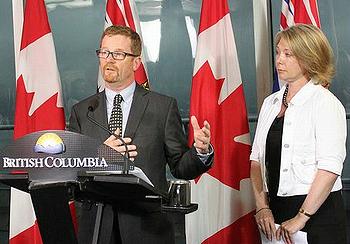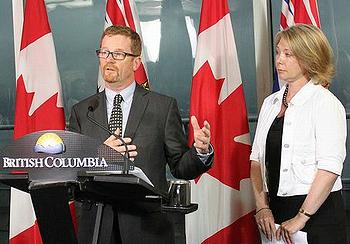 "We need to combine environmental safety with our fair share of fiscal and economic benefits," the premier said, without defining her idea of a fair share.
The Enbridge Northern Gateway Project involves a new twin pipeline system running from near Edmonton, Alberta, to a new marine terminal in Kitimat, British Columbia, 652 kilometers (405 miles) north of Vancouver.
B.C. Environment Minister Terry Lake told reporters that the government's support for the controversial pipeline depends on the plan being approved by the Joint Review Panel of the National Energy Board that has been holding hearings across the province.
"When we consider the prospect of a heavy oil pipeline, and of the increased oil tanker traffic that would result, it is clear that our spill prevention and response plans will require significant improvements," said Lake.
Other conditions set by the government are world-class marine spill oil response, prevention and recovery systems for B.C.'s coast and ocean waters to manage and mitigate the risks and costs of heavy oil pipelines and shipments; and similar measures for oil spills on land.
"Our government has already initiated discussions with the federal government on improving our response plans and resources," Lake said. "This represents an opportunity for British Columbia and Canada to develop world-leading environmental protection regimes."
On Thursday, Premier Clark expressed her concerns about the Northern Gateway project during a telephone call to Prime Minister Stephen Harper and personal meetings with Saskatchewan Premier Brad Wall in Saskatoon and Alberta Premier Alison Redford in Edmonton.
Last week, Enbridge, a Calgary, Alberta-based company known for minimal pipeline safety standards, promised the Joint Review Board it would increase pipeline safety for the C$5.5 billion Northern Gateway project at an additional cost of C$400-500 million.
"We recognize that there are concerns among Aboriginal groups and the public around pipeline safety and integrity," said Janet Holder, executive vice president, Western Access, Enbridge Inc. "We had already planned to build a state-of-the-art project, using the most advanced technology, safety measures and procedures in the industry today. With these enhanced measures, we will make what is already a very safe project even safer in order to provide further comfort to people who are concerned about the safety of sensitive habitats in remote areas."
The province also wants legal requirements and treaty concerns of First Nations addressed and those communities provided opportunities, information and resources necessary to participate in and benefit from a heavy-oil project.
Premier Clark's list of requirements met with angry concern from environmentalists and with derision from the Union of BC Indian Chiefs, who called the province's announcement "grandiose."
A majority of British Columbia First Nations continue to oppose the proposed pipeline, based on what the Indian Chiefs called "its deadly potential for extreme environmental destruction and devastation."
Grand Chief Stewart Phillip, president of the Union of BC Indian Chiefs, said, "Both the Province of BC and Enbridge refuse to acknowledge that people have clearly said 'no' to the proposed Northern Gateway pipeline. No amount of miniscule increases to safety, or a provincial policy paper that ultimately allows the Christy Clark government to approve the proposed pipeline, provide any assurances that the land and waters will be protected."
"The proposed pipeline would cross over 1,000 streams and rivers, including the salmon bearing Fraser and Skeena watersheds that are the life-force of First Nations throughout the province," said Chief Phillip.
"Enbridge has consistently failed to meaningfully consult with Indigenous peoples on whose territory its pipelines traverse," he said.
"Promising to increase pipeline wall thickness for major tributaries is simply not enough, and neither is the B.C. Government's illusory 'trust us' approach to regulation. Based on Enbridge's track record, the question of a pipeline spill is not if but when," Chief Phillip warned.
Premier Clark said today, "We have identified aggressive environmental requirements and principles for First Nations engagement, and we have clearly stated we expect a fair share of the fiscal and economic benefits for our province. British Columbians are fair and reasonable. We know we need resource and economic development, but we also expect that risks are managed, environmental protection is uncompromised and that generations will benefit from the decisions we make today."
But critics of the proposed Northern Gateway project point to the fact that according to Enbridge's own reports, from 1999 to 2010, the company had 804 spills total with 168,645 barrels spilled. This equals approximately 26.81 million liters (7.08 million gallons).
They remind the government that as recently as June 18, Enbridge spilled 230,000 liters (60,760 gallons) of oil in Elk Point, Alberta.
Enbridge pipelines have consistently spilled oil when they run through relatively flat terrain with regular weather conditions, critics say. The proposed Northern Gateway pipeline would run through varied terrain with a rocky coastline and unpredictable coastal weather.
A major objection from environmental groups and First Nations is that the proposed Northern Gateway pipeline would facilitate tar sand expansion by 30 percent. Production of heavy crude oil from the tar sands is Canada's fastest growing source of the greenhouse gas emissions that are responsible for climate change.
Tanker Free BC Campaign Director Sven Biggs said today that the provincial government is "still not listening to British Columbians when it comes to tankers and pipelines."
"The most disappointing part of today's announcement is that the provincial government is still leaving the final decision to the National Energy Board's environmental assessment," said Biggs. "Rather, the province should exert the right to a real joint review process with full provincial participation as well as the power to veto projects not in the province's interests."
"British Columbians have been very clear that they don't want these pipelines" said Biggs.
Tanker Free BC, the Wilderness Committee and the Point Grey Foreshore Protection Society are holding a Town Hall Tuesday evening in the Vancouver neighborhood that B.C. Premier Clark represents to discuss the potential impacts of pipeline proposed by U.S. company Kinder Morgan.
Kinder Morgan's proposed pipeline expansion would bring between 300 and 400 oil tankers a year through the Burrard Inlet and into Vancouver Harbour. A new report, written for the Wilderness Committee by Vancouver author and environmentalist Rex Weyler, addresses the potential threats to Vancouver's "ecological jewel," Stanley Park, which borders Burrard Inlet, in case of an oil tanker accident.
The shorelines and waters surrounding Stanley Park are classified as an Important Bird Area of Canada. "Naturalists have documented over 230 bird species in Stanley Park forests, wetlands, seashore, and cultivated parks. These birds migrate from three continents, breed, or spend the winter in and around Stanley Park," writes Weyler.
Stanley Park contains one of only three salmon streams remaining in the City of Vancouver. Five species of salmon feed there, while whales, seals and sea lions feed on the salmon.
"If a spill were to occur," writes Weyler, "the thick, heavy, toxic bitumen crude oil would sink and smother the marine substrate. Benzenes and other toxins would poison the foundations of the food chain. The toxic polycyclic aromatic hydrocarbons would dissolve in the water and poison all life forms in the intertidal, marine substrate and in open water."
The Wilderness Committee is demanding that the export of diluted bitumen via pipeline and tanker be banned from Burrard Inlet.
Ben West, campaigner with the Wilderness Committee, said, "As we travel to the communities on the front lines of this proposed development, we're hoping to educate and empower people to build this grassroots effort from the ground up."
"There are two types of power – money and people," said West. "We're never going to have the money that these big oil companies do, but together we can stop them from turning our coast into an export hub for dirty tar sands oil."
"Everywhere in the world oil companies go, they promise state of the art technology to prevent oil spills, but we all know that they continue to have major oil spills," said Biggs. "In fact, the new so-called state of the art Keystone pipeline in the United States has had spills all over the place, including a six story geyser of oil in North Dakota and a spill into the Yellowstone River."
In the United States today, the National Wildlife Federation, NWF, released a report critical of Enbridge Energy's plans to expand its pipeline capacity in Michigan and elsewhere in North America in view of the company's massive oil spill in Marshall, Michigan two years ago.
Several reports by U.S. federal regulators have found that a fault in the breached section of Enbridge's pipeline was documented in company records years ahead of the actual spill, but nothing was done to repair it. The spill dumped at least 800,000 gallons of tar sands oil into a creek that flows into the Kalamazoo River.
As demonstrators prepare a national remembrance of the Kalamazoo River tar sands spill, the National Wildlife Federation report blames Enbridge as "the world's biggest transporter of Canadian tar sands oil, the planet's dirtiest oil."
A cleanup that has cost more than $800 million to date continues, although most of the polluted portions of the river were reopened to recreation this year.
The U.S. Pipeline and Hazardous Materials Safety Administration has proposed a $3.7 million fine against Enbridge for its handling of the Kalamazoo River spill. (See ENS story: Enbridge Fined $3.7 Million for Kalamazoo River Oil Spill)
In addition to the Northern Gateway pipeline proposed for western Canada, Enbridge has just announced a multi-billion dollar plan to expand its tar sands pipeline network in the United States, which the NWF says "has serious ramifications for American energy policy."
Environmental groups and pipeline safety advocates have raised concerns about the corrosiveness and toxicity of tar sands oil, while Enbridge says there is no difference between tar sands oil and other forms of crude. The U.S. National Academy of Sciences is studying the impact of tar sands oil on pipelines.
Back in British Columbia, Chief Phillip is aware of Enbridge's oil spills on both sides of the border.
"Despite the U.S.' scathing condemnation of Enbridge's incompetent response to the ravaging oil spill in Kalamazoo, Michigan, the worst spill in U.S. history, the Canadian and B.C. Governments are somehow still welcoming Enbridge's proposed Northern Gateway Pipeline with open arms," he said today. "Due to the nature of heavy oil spills, there is no conventional clean-up remedy available, and oil sinks."
Criticizing Canada's Conservative Government for cutting back funding for environmental assessments and research, Chief Phillip warned, "Due to massive cutbacks, there are limited funding resources to immediately respond to spills."
Paraphrasing former President Bill Clinton's famous campaign slogan, "It's the economy, stupid," the chief said, "Quite frankly, both Premier Clark and Enbridge are completely missing the boat. It's not about the money, it's about the environment, stupid."

Copyright Environment News Service (ENS) 2012. All rights reserved.