Australia, New Zealand Join Forces for Marine Observation
CANBERRA, Australia, December 5, 2011 (ENS) – New Zealand and Australia today agreed to collaborate on marine observations, research and data management for the first time, although they are friendly neighbors.
The agreement recognizes that both countries have a shared interest in the Tasman Sea, Pacific Ocean and the Southern Ocean.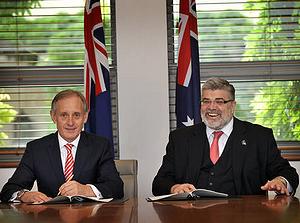 Signing the formal marine observation documents at Parliament House, from left, Major General Martyn Dunne and Senator Kim Carr (Photo courtesy Office of the Senator)
Signed at Parliament House in Canberra this morning by Senator Kim Carr, Minister of Innovation, Industry, Science and Research, and the New Zealand High Commissioner, Major General Martyn Dunne, the pact is the culmination of months of talks.
At the same time the formal agreement is being signed in Canberra, a joint Australia-New Zealand marine observation symposium is being held in Hobart, Tasmania to develop collaborative research opportunities for inclusion in a future bilateral work programme.
Speaking from Hobart, Tim Moltmann, director of the Australian government Integrated Marine Observing System, said the agreement to cooperate more on marine research and observation would have huge benefits for both countries.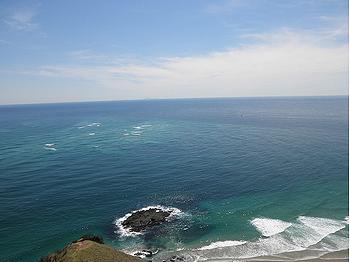 Cape Reinga, where the Tasman Sea meets the Pacific Ocean, is at the northern end of New Zealand's North Island. (Photo by Ruth Gould)
"Australia is now taking a much more national, collaborative approach to marine observing and data management," said Moltmann. "This is paying big dividends for marine and climate science in our own country and it just makes good sense to reach out to our near neighbors."
"We're absolutely delighted that a very senior group of science leaders from New Zealand has been willing to travel to Hobart with the aim of figuring out how we do this together, on a bigger, regional scale," he said. "So many of the problems we are studying are common across our countries and, in the ocean, we're all connected."
Leader of the New Zealand delegation is Dr. Charlotte Severne, chief scientist for oceans, with NIWA, the National Institute of Water and Atmospheric Research, a Crown Research Institute established in 1992.
She said, "This strategic initiative will provide us with a working platform for our common areas of interest such as the Tasman Sea, Pacific Ocean and the Southern Ocean. Additionally, it will assist our countries to better understand and monitor natural variability and changes in the marine environment in the Asia-Pacific region."
Dr. Severne said New Zealand's ability to make marine observations, manage databases and undertake economic, environmental and climate change research will be greatly enhanced under the agreement.
Copyright Environment News Service (ENS) 2011. All rights reserved.