San Diego Ablaze: Fire Crews Battle 14 Fires … Army Corps: Proposed Copper Mine Could Damage U.S. Waters … Titanium Firm Fined $13.75 Million for PCB Pollution … Parasitic Wasp a Warrior in Citrus Greening Fight … Massachusetts Court Affirms Conservation Group's Tax Exempt Land … Americans Celebrate Endangered Species Day
San Diego Ablaze: Fire Crews Battle 14 Fires
SAN DIEGO, California, May 16, 2014 (ENS) – Wildfires raging across parts of San Diego County have forced evacuations at military facilities, while the Defense Department assisted civilian emergency responders in battling the flames.
The Tomahawk Fire is the largest of the San Diego County fires. It started May 14 around 9:45 an on the Marine Corps Base Camp Pendleton, forcing closures and evacuations at portions of Camp Pendleton and Naval Weapons Station Fallbrook.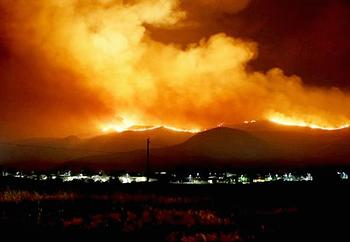 Pentagon spokesman Col. Steve Warren told reporters Friday that the fire has burned 6,300 acres at Pendleton, and 356 families were forced to move to shelters on the other side of the base. More than 380 military and civilian firefighters are trying to put out the flames at Pendleton, he said.
This morning, the Tomahawk Fire on Camp Pendleton is at 6,300 acres and is 23 percent contained. The Las Pulgas Fire on Camp Pendleton is at 8,000 acres and is just five percent contained.
The Tomahawk Fire is one of 14 fires blazing across the county. At 1:25 pm on May 14, the County of San Diego declared a local emergency.
Later that evening, Governor Jerry Brown and the state of California declared a state of emergency for the county and affected areas.
At least nine of the fires originated from the Bernardo Fire, which was ignited on May 13 just south of Del Norte High School. Fanned by strong Santa Ana winds driving it to the south, the Bernardo Fire has forced evacuation of several schools, but not Del Norte, and at least 20,000 homes.
San Diego County emergency management officials report Friday that the Bernardo Fire in San Diego and Rancho Santa Fe is at 1,548 acres and is 90 percent contained.
A flare-up of the Cocos Fire in the San Diego suburb of San Marcos led to more than 18,000 new evacuation notices on Thursday. This fire has scorched 3,018 acres and only 10 percent of the fire had been contained as of Friday morning, according to San Diego County officials.
Five smaller fires were declared 100 percent contained and other evacuation orders were lifted Friday morning in other parts of San Diego County.
Multiple school districts, California State University at San Marcos and Palomar College have been forced to cancel classes and close schools. CSUSM and Palomar also postponed or cancelled their commencement exercises.
The San Diego Unified School District closed all its schools citywide on May 15, but reopened most of them on May 16.
Copyright Environment News Service (ENS) 2014. All rights reserved.
Army Corps: Proposed Copper Mine Could Damage U.S. Waters
TUCSON, Arizona, May 16, 2014 (ENS) – The U.S. Army Corps of Engineers has concluded that a mitigation plan the Rosemont Copper Company submitted as a requirement for an essential Clean Water Act permit is not adequate.
In a letter to the company this week, the Corps explained that it will end more than a year's worth of weekly meetings with the company to develop an adequate mitigation plan and move toward a final decision on Rosemont's permit application.
The Rosemont Copper Mine is proposed by Augusta Resource Corporation, a publicly-traded metals company based in Vancouver, Canada. Rosemont hosts a large copper/molybdenum reserve, and the company estimates it would produce 243 million pounds of copper per year, which would make it the third largest copper mine in the United States. The project is located in Pima County, Arizona, in an undeveloped area 30 miles southeast of Tucson.
Rosemont's failure to mitigate the damage the proposed open-pit mine would do to federal waters increases the probability the Corps will not issue the company the Section 404 Clean Water Act permit it needs to build the mine.
Dated May 13, the letter from Army Corps Los Angeles District Engineer Col. Kimberly Colloton to Rosemont Copper CEO Rod Pace states that the company's final mitigation plan "would not fully compensate for the unavoidable adverse impacts" of the proposed mine and that the "shortfall in compensation" stems from "limited" environmental benefits and "the limited amount of restoration and enhancement of actual waters of the United States."
It stops short of saying that the agency will deny the permit. Instead Col. Colloton states that the Corps is offering this determination "to assist the U.S. Forest Service in their decision making process" for the proposed project.
The Forest Service is in the final stages of its analysis of the mine, as it considers hundreds of formal objections from a broad array of concerned citizens, agencies and organizations that oppose the Service's draft decision to allow the mine to proceed.
"This determination puts the tremendously damaging, highly controversial Rosemont Mine project on hospice alert," said Randy Serraglio, a conservation advocate with the Center for Biological Diversity. "It's very difficult to imagine a scenario in which this project could proceed. The grave threat it poses to southern Arizona's dwindling water resources is simply too great."
"This is just the latest blow to this troubled project," Serraglio said. "Other permits the company needs are mired in appeals and litigation, and with each new development in this saga it becomes clearer that there's no way to construct this mine without hurting the people and wildlife of southern Arizona."
There is currently an endangered jaguar living on U.S. Forest Service land in the Santa Rita Mountains outside Tucson in the footprint of the proposed Rosemont Copper Mine.
A rule finalized by the U.S. Fish and Wildlife Service in early March designating critical habitat for the rare big cats makes it illegal for any federal agency to fund or authorize activities, such as mining, that would harm jaguar habitat.
Copyright Environment News Service (ENS) 2014. All rights reserved.
Titanium Firm Fined $13.75 Million for PCB Pollution
LAS VEGAS, Nevada, May 16, 2014 (ENS) – Titanium Metals Corporation, TIMET, one of the world's largest producers of titanium parts for jet engines, has agreed to pay a record $13.75 million civil penalty and perform an extensive investigation and cleanup of contamination stemming from the unauthorized manufacture and disposal of  polychlorinated biphenyls, PCBs, in Henderson, Nevada.
The penalty is the largest ever imposed for violations of the Toxic Substances Control Act (TSCA) at a single facility, the Department of Justice and the U.S. Environmental Protection Agency (EPA) announced Wednesday.
TIMET will pay an additional $250,000 for violations related to illegal disposal of hazardous process wastewater.
In addition, TIMET estimates that it will spend at least $1 million to complete the work required by the settlement.
PCBs are human-made organic chemicals that were widely used in paints, construction materials, plastics, and electrical equipment prior to 1979, when they were banned banned in the United States, except for specific uses authorized by regulation.
When released into the environment, PCBs can persist for decades. Exposure to PCBs has been shown to cause cancer, and adverse health effects on the immune system, reproductive system, nervous system, and endocrine system.
EPA expects that the settlement will result in the removal of 84,000 pounds of PCB-contaminated waste from the environment annually, and will prevent the improper disposal of 56 million pounds of hazardous waste each year.
"This settlement holds TIMET fully accountable for the period of its unauthorized manufacture and handling of harmful PCBs at the Henderson facility," said Robert Dreher, acting assistant attorney general for the Justice Department's Environment and Natural Resources Division. "It will also result in substantial environmental cleanup and protection for the benefit of residents of the area, now and in the future."
"This record penalty reflects EPA's commitment to protect communities by reducing pollution from the mineral sector," said Cynthia Giles, assistant administrator for EPA's Office of Enforcement and Compliance Assurance.
TIMET processes titanium from rutile ore at its 108-acre manufacturing facility at the Black Mountain Industrial (BMI) Complex in Henderson. This process generates hazardous waste and PCBs.
In the complaint, the government alleged that EPA inspections conducted in 2005, 2006 and 2008 revealed that TIMET had been unlawfully manufacturing PCBs as a by-product of its titanium manufacturing process, without an exclusion from the TSCA ban.
The 2008 EPA inspection showed that the company had disposed of PCB-contaminated waste in a solid waste landfill and a trench at the plant. On several occasions during 2005 and 2007, the company had unlawfully disposed of acidic, corrosive hazardous process wastewater into an unpermitted surface impoundment at the facility.
Since 2007, the company has been working with EPA to bring the facility into compliance. TIMET was purchased by Precision Castparts Corporation in 2012. Both companies have worked with EPA to achieve compliance and to clean up the operations.
The company has already spent $6 million on investigation, site cleanup and compliance measures that include sampling; draining and relining of a surface impoundment; analyzing the extent of PCB contamination in its solid waste landfill; removing PCB waste from that landfill; and decontaminating processing equipment.
The settlement requires TIMET to electronically submit monitoring data biannually to EPA for three years showing that it is properly managing any PCBs it generates.
The Nevada Division of Environmental Protection will make public TIMET's EPA-approved work plans and completed work reports through a dedicated website.
Copyright Environment News Service (ENS) 2014. All rights reserved.
Parasitic Wasp a Warrior in Citrus Greening Fight
WASHINGTON, DC, May 16, 2014 (ENS) – A parasitic wasp shows promise in the fight against a tiny Asian insect that is devastating citrus trees in Florida, Texas and California, the citrus-growing centers of the country.
Agriculture Secretary Tom Vilsack Tuesday announced more than $1.5 million in funding to expand bio-control efforts to fight Huanglongbing, HLB, also known as citrus greening.
Bio-control efforts center on the use of the parasitic wasp, Tamarixia radiata, a natural enemy of the Asian citrus psyllid, the pest that spreads citrus greening.
Florida, Texas and California have developed biocontrol expansion plans that factor in regional elements in order to quickly bolster wasp production and release.
This will expand the ability to control the Asian citrus psyllid on a larger scale, especially in organic orchards and in urban areas where citrus trees grow in yards.
The Asian citrus psyllid, a tiny brown insect that showed up in Florida in 1998, is spreading the HLB tree disease. The disease causes a citrus tree to produce bitter, hard, inedible fruit and eventually kills the tree.
Although HLB is not harmful to humans, there is no cure for citrus trees, and infected trees will die.
"Citrus greening poses a significant threat to the citrus industry and the thousands of jobs that depend on it. It could also further drive up fruit and juice prices if we don't act," said Secretary Vilsack. "USDA is committed to fighting and beating this destructive disease."
The funds announced today have enabled USDA to sign cooperative agreements with the Florida Department of Agriculture and Consumers Services, the Texas Citrus Pest and Disease Management Corporation, and in California with the Citrus Research Board and California Department of Food and Agriculture, to coordinate the fight against citrus greening.
California agriculture officials are on the lookout for the Asian citrus psyllid. Survey methods include visual inspections of citrus trees by state and county field inspectors, "sweep netting" for insects, and the placement of yellow panel "sticky traps" in host trees and shrubs in citrus nurseries, commercial citrus-producing areas and residential properties throughout the state.
Sticky traps also are placed at California fruit packing houses, specialty markets, retail stores and airports that receive such produce from areas known to be infested with ACP.
The University of Florida Extension Service says the use of insecticides to control psyllids is a major component of greening management strategies that slows the rate of HLB spread and reduces severity of the disease once established.
But elimination of HLB from an area "has never been successful and would not be possible with vector control alone," the university warns.
Since 2009 researchers have been releasing the Tamarixia radiata wasp, and with the latest infusion of funding will have more wasps to work with.
Copyright Environment News Service (ENS) 2014. All rights reserved.
Massachusetts Court Affirms Conservation Group's Tax Exempt Land
By Martin Laine
BOSTON, Massachusetts, May 16, 2014 (ENS) – In a case that was closely watched by many nonprofit conservation organizations, the Supreme Judicial Court Thursday affirmed a nonprofit organization could claim a property tax exemption for land it designates as conservation land, even if it does nothing more than allow public access.
At issue was whether merely granting access was sufficient for an exemption, or whether an organization should do more, such as holding educational programs, to qualify. The case was closely watched by several organizations in the commonwealth, including the Massachusetts Audubon Society, the Trustees of Reservations, the Nature Conservancy, and many local land trusts.
Nonprofit conservation organizations own some 1.2 miilion acres of land in Massachusetts.
The dispute began when the small western Massachusetts town of Hawley sent a $173 property tax bill to the New England Forestry Foundation for a 120-acre parcel of land they own there.
A nonprofit that promotes the sustainable management and conservation of forests, the foundation bought the land, known as the Stetson-Phelps Memorial Forest, in 1999, and opened it to the public. They claimed – and received – an exemption from local property taxes, until last year.
The town's Board Assessors decided that simply allowing the public onto the property was insufficient to qualify for the tax-exempt status. They noted that there were no signs leading to the parcel, no programs were held there, and it wasn't even listed on the organization's website.
Rosemary Crowley, a lawyer for the board, told the "Boston Globe" newspaper in January that the foundation was "carving out its own piece of tax-free private land."
"They should freely invite people to freely use the land, to hold public programs on the land, and have it more than just sit there," said David Martel, a lawyer also representing the board.
In a written response on the foundation's website, Douglas Hallward-Dreimeier notes that the public derives benefits other than access, including "improving air and water quality; protecting sensitive habitats; providing habitat for a wide variety of wildlife … and enhancing the scenic beauty of our cities and towns."
The Supreme Judicial Court decision overturns an Appellate Tax Board ruling last year in favor of the town.
Copyright Environment News Service (ENS) 2014. All rights reserved.
Americans Celebrate Endangered Species Day
WASHINGTON, DC, May 16, 2014 (ENS) – Today, on Endangered Species Day, federal officials, conservationists and schoolchildren across the country are celebrating the recovery of plants and animals protected by the Endangered Species Act, including the island night lizard, a songbird called the Inyo California towhee, two West Coast fish species and two California plants.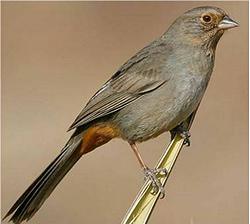 "Endangered Species Day offers us an opportunity to recognize the uncertain future faced by many of our nation's most iconic species and to work together to preserve our priceless natural heritage," said U.S. Fish and Wildlife Service Director Dan Ashe. "For over 40 years, the Endangered Species Act has played an integral role in wildlife conservation and has ensured that future generations can continue to enjoy the species that surround us today."
"As Americans, we can be incredibly proud of our promise to keep species from going extinct," said Leda Huta, executive director of the Endangered Species Coalition, primary sponsor of Endangered Species Day. "The Endangered Species Act has been more than 99 percent successful at preventing extinction. That is quite a track record, and Endangered Species Day is a chance for all of us to join in celebrating this incredible success."
"The Endangered Species Act has been 99 percent successful at saving species from extinction and is putting hundreds on the path to recovery," said Lori Ann Burd, endangered species campaign director for the Center for Biological Diversity. "But Congress needs to appropriate considerably more funding if the Act is to save all the species under its protection."
The entire endangered species budget for the U.S. Fish and Wildlife Service is roughly $180 million per year, less than the cost of a single F-35C fighter jet. Yet the law is under constant threat from industry-funded Tea Party Republicans," said Burd. "Just last month the House Natural Resources Committee approved four bills designed to weaken the Act, including provisions that would divert funding from protecting species and discourage citizens from helping enforce the Act.
A national poll commissioned by the Center found that two out of three Americans want the Endangered Species Act strengthened or left alone, but not weakened.
"The American people want to see endangered species saved, and they support a strong Endangered Species Act, polling has repeatedly proved that," said Burd. "We all love and value the animals and plants that share this planet with us."
The Endangered Species Act has prevented hundreds of listed species from going extinct, federal officials say. Co-administered by the U.S. Fish and Wildlife Service and National Oceanic and Atmospheric Administration, the purpose of the Act is to conserve imperiled species and the ecosystems upon which they depend.
National wildlife refuges, parks, botanical gardens, schools, libraries, museums, community groups and conservation organizations hold tours, exhibits, restoration projects, classroom discussions, field trips and other activities on Endangered Species Day and throughout the month.
This year's events include the Endangered Species Day festival at the U.S. Botanic Garden in Washington, DC, habitat restoration projects in California, New Mexico, Oregon, Colorado, and Wisconsin, and special programs at more than 100 zoos and aquariums.
Association of Zoos and Aquariums President and CEO Jim Maddy said, "AZA is proud to be a partner in Endangered Species Day as it is more important than ever for us to work together to help raise awareness about the ever-increasing threats that endangered species are facing in their natural ranges."
"Each year, AZA-accredited zoos and aquariums collectively contribute $160 million to directly support 2,650 field conservation projects in more than 130 countries. AZA is also dedicated to engaging the 182 million people who visit AZA-accredited zoos and aquariums each year to help save species on Endangered Species Day and every day."
Started in 2006 by the United States Senate, Endangered Species Day is a celebration of rare plants and wildlife and wild places, with an emphasis on success stories of species recovery and actions people can take to protect disappearing wildlife and open spaces.
Copyright Environment News Service (ENS) 2014. All rights reserved.
Environment News Service (ENS) © 2014 All Rights Reserved.