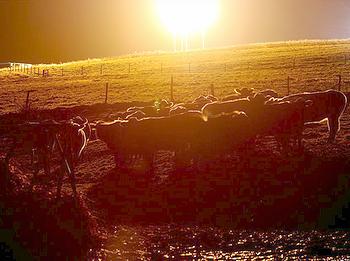 Cutting Methane Emissions, BP Whiting Refinery Spill, Exxon Valdez Lawsuit, Hanford Workers Sick, Fracking-Conservation Balance, Ford Workers Charge EVs for Free
Obama's New Strategy to Cut Methane Emissions … BP Whiting Refinery Spills Oil Into Lake Michigan … Exxon Valdez Lawsuit Unresolved 25 Years After Spill … Hanford Workers Sickened by Chemical Vapors … Western Officials Seek Fracking-Conservation Balance … Ford Offers Free EV Charging to Company Workers
Obama's New Strategy to Cut Methane Emissions
WASHINGTON, DC, March 28, 2014 (ENS) – The Obama Administration today issued a strategy to reduce methane emissions from landfills, coal mining, and agriculture, and oil and gas systems as part of the President's Climate Action Plan, announced last June.
The main component of natural gas, methane is a greenhouse gas that is 21 times more potent than carbon dioxide.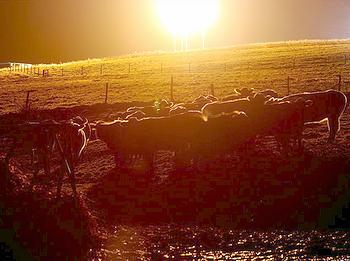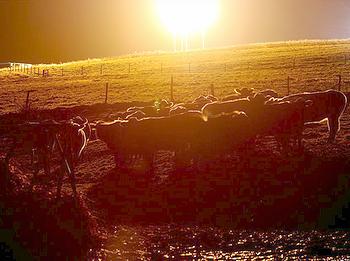 The strategy commits to new steps to cut methane emissions and outlines the administration's efforts to improve the measurement of these emissions.
It relies on what the White House calls "cost-effective voluntary actions and common-sense standards."
In the summer of 2014, the U.S. EPA will propose updated standards to reduce methane from new landfills and take public comment on whether to update standards for existing landfills.
In April 2014, the Bureau of Land Management will begin the rulemaking process to implement a program for the capture and sale, or disposal of waste mine methane on lands leased by the federal government.
In June, in partnership with the dairy industry, three federal agencies will jointly release a "Biogas Roadmap" outlining voluntary strategies to accelerate adoption of methane digesters and other cost-effective technologies to reduce U.S. dairy sector greenhouse gas emissions by 25 percent by 2020. The U.S. Department of Agriculture, the Department of Energy and the EPA are collaborating on this effort.
Three actions will affect the oil and gas industry.
This year, the BLM will propose updated standards to reduce venting and flaring from oil and gas production on public lands.
This spring, EPA will assess sources of methane and other emissions from the oil and gas sector. EPA will solicit input from independent experts through a series of technical white papers, and in the fall of 2014, the agency will determine how best to pursue methane reductions from these sources. If EPA decides to develop additional regulations, it will complete those regulations by the end of 2016.
As part of the Quadrennial Energy Review, and through DOE-convened roundtables, the administration will identify "downstream" methane reduction opportunities. Through the Natural Gas STAR program, EPA will work with the industry to expand voluntary efforts to reduce methane emissions.
Taking action to curb methane waste and pollution is important because emissions of methane make up nearly nine percent of all the greenhouse gases emitted as a result of human activity in the United States.
Since 1990, methane pollution in the United States has decreased by 11 percent, even as activities that can produce methane have increased. However, methane pollution is projected to increase to a level equivalent to over 620 million tons of carbon dioxide pollution in 2030 absent additional action to reduce emissions.
Copyright Environment News Service (ENS) 2014. All rights reserved.
BP Whiting Refinery Spills Oil Into Lake Michigan
WHITING, Indiana, March 28, 2014 (ENS) – The U.S. Coast Guard and the Environmental Protection Agency are still managing cleanup operations following a crude oil discharge Monday night from the BP Whiting Refinery, located on the southwestern shore of Lake Michigan and the Indiana Harbor Ship Canal.
Personnel from Coast Guard Marine Safety Unit Chicago and the EPA responded Monday night and found an area of about 5,000 square feet covered in crude oil.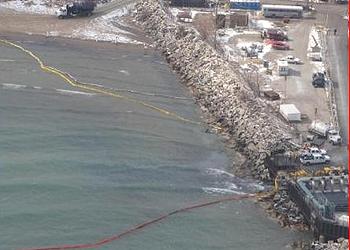 BP established an incident command post and deployed about 1,000 feet of boom, along with six vacuum trucks for containment and recovery operations in a cove adjacent to the refinery, the sixth largest in the United States.
Tuesday morning, Coast Guard pollution responders found some of the oil had made landfall along the shoreline of the cove. They found tarballs less than one centimeter in diameter, averaging 20 tarballs every 10 feet of shoreline.
During the past two days, response and cleanup crews contracted by BP worked to clean up and remove oil in the water and along the shoreline. Cleanup crews placed more than 3,000 feet of boom on the water after the initial discharge in order to contain the oil.
Today, BP updated the estimated amount of oil spilled to 15 to 39 barrels, which is equivalent to 630 to 1,638 gallons. That estimate is based on the amount of oil that has been recovered by the vacuum trucks, from the booms, or by hand on shore.
An assessment of Thursday's cleanup operations found small amounts of oil on the beach and along the east shoreline of the cove. A BP cleanup crew repositioned the boom to prevent the oil from spreading outside of the cove and will remove the remaining traces of oil.
A shoreline cleanup and assessment technique team, comprised of members of the Coast Guard, EPA and BP, proceeded further northwest along the rocky wall of the cove this afternoon to determine the full extent of the oiling along the shore. These efforts are ongoing.
A team is scheduled to conduct a comprehensive survey on Friday along the path of discharge in search of potentially submerged oil.
Air monitoring around the area has not indicated any air contamination related to the spill.
Caption: Cleanup crews deploy boom along the Lake Michigan shoreline near the BP Whiting Refinery. (Photo by Petty Officer 3rd Class Parker Wood courtesy U.S. Coast Guard)
Copyright Environment News Service (ENS) 2014. All rights reserved.
Exxon Valdez Lawsuit Unresolved 25 Years After Spill
ANCHORAGE, Alaska, March 28, 2014 (ENS) – It was 25 years ago that the tanker Exxon Valdez spilled more than 11 million gallons of crude oil onto the Alaska coast, when it struck Bligh Reef in Prince William Sound, but the damages and compensation from that spill are still being decided in court and in the Alaska legislature.
The issue driving the ongoing debate is how much damage the spill is still causing Alaska's fish, wildlife and environment, according to documents posted by Public Employees for Environmental Responsibility, PEER, a national nonprofit organization.
The court case in what PEER calls "the longest running environmental lawsuit in history" involves part of the original billion dollar settlement with Exxon which called for an added payment of up to $100 million for environmental damages unknown at the time of the 1991 settlement.
In 2006, the U.S. and Alaska governments jointly submitted a demand that the oil company pay $92 million to fund recovery for these injuries. This $92 million government "Reopener" claim has never been collected.
Since then, the governments have asked for more time until environmental studies were completed.
Following their July 2013 status report, U.S. District Judge H. Russel Holland, sitting in Anchorage, wrote "The court is dismayed that so few of the projects that the Governments had expected to be completed by now have been completed."
On March 14, the U.S. Justice Department and Alaska filed another status report claiming progress on ecological studies but indicating no resolution until the fall at the earliest.
The governments told the court, "As the last of these scientific reports nears completion and public release, the Governments are reviewing the information from all of the aforementioned studies, both internally and with each other. They will also be consulting with counsel to discuss how to proceed vis-à-vis their Reopener claim, including contact with Exxon. We propose to file an update with the Court on October 15, 2014."
On March 20, Judge Holland issued an order stating that the court expects the scientific studies will be "completed by June of 2014." The judge directed "that the parties will first endeavor to resolve disagreements, if any, amongst themselves" prior to returning to the court for "further proceedings" in October.
"The Exxon Valdez Reopener provision was a legal commitment by all three parties to the historic 1991 spill settlement – the State of Alaska, the U.S. government, and Exxon – and all parties have betrayed this commitment," said Rick Steiner, a PEER Board Member and retired University of Alaska professor.
Steiner attempted to intervene in 2010 to break the logjam. He says, "Alaska's wildlife and environment are still nowhere near recovered and some populations may never recover, and the government is doing nothing about it."
This week, Alaska's Senate Judiciary Committee took up a measure – Senate Joint Resolution No. 25, introduced by Senator Berta Gardner of Anchorage – calling on the governments "to immediately file a motion in United States District Court to collect the full amount of the demand for payment of" $127,240,982 – the original claim plus 5% interest.
The resolution also directs the Exxon Valdez Oil Spill Trustee Council to tap existing funds to "immediately initiate the subsurface lingering oil restoration work" until the Reopener claim is paid.
The initial spill killed millions of marine mammals, birds, fish, and invertebrates, and 25 years later, only 13 of the 32 monitored populations and habitats are considered fully "recovered" or "very likely recovered."
Other wildlife populations, such as Pacific herring, and the AT1 killer whale pod, are still listed as "not recovering." Thousands of gallons of toxic Exxon Valdez oil remain in beach sediments along Prince William Sound and in a frigid climate have degraded at a far slower rate than anticipated.
"Waiting on the governments in this case has been like waiting for Godot," said PEER Executive Director Jeff Ruch. "One lesson from Exxon Valdez is a broken ecosystem cannot be easily, quickly or possibly ever fixed."
Copyright Environment News Service (ENS) 2014. All rights reserved.
Hanford Workers Sickened by Chemical Vapors
RICHLAND, Washington, March 28, 2014 (ENS) – At least 18 workers at the Hanford Nuclear Reservation in south-central Washington State have reported symptoms related to chemical vapor exposure in Hanford's tank farms over the past two weeks.
In a statement to KING5 News, Jerry Holloway of Hanford contractor Washington River Protection Solutions said that their managers met with employees Thursday in multiple briefings across the project to "discuss recent actions aimed at identifying and mitigating potential sources of vapors at the Hanford tank farms."
Holloway said investigations in several tank farms have identified potential sources of vapor emissions.
"In one farm, field investigations identified a cut in the insulation surrounding a pump pit as one potential source of vapor emissions. The cut was sealed with foam and the area was re-evaluated. Instruments no longer detect elevated levels of potential vapor-causing compounds in the local area," the statement said.
"In another tank farm, investigations identified liquid in old, unused equipment that had been staged for disposal as a potential source of emissions. It has been cordoned off as a Vapor Control Zone. The liquid is being sampled and analyzed."
Evaluations in a third farm where vapors-related symptoms were experienced found no detectable measurement of vapors-causing compounds. Investigations are ongoing to identify other potential sources of vapors in the tank farms.
Employees are encouraged to use additional protective gear, including respiratory devices, when the potential for chemical vapors exists.
Hanford's 56 million gallons of highly radioactive and chemical waste is stored in 177 underground tanks. WRPS is the Department of Energy Office of River Protection prime contractor responsible for safely managing the waste until it is prepared for disposal.
The waste is stored in 149 older single-shell tanks and 28 newer and safer double-shell tanks that are grouped into 18 farms near the center of the 586-square-mile Hanford Site. The tank waste is material left over from years of World War II and post-war production of nuclear weapons.
Holloway pointeed to a joint management/employee Industrial Hygiene Technical Panel that meets regularly to monitor efforts and help resolve chemical vapor issues and concerns.
The nonprofit citizens group Hanford Challenge says workers must be protected from chemical vapor exposure through supplied air and "increased monitoring of the full spectrum of the 2,400 toxic chemicals that have been found in Hanford's tanks."
"Because of contractor turnover and shifts in management, there appears to be significant backsliding on protections for workers from chemical vapor exposure," the Seattle-based group alleges.
"Hanford has a duty to protect the workers at the site," said Hanford Challenge Executive Director Tom Carpenter. "They are doing an important cleanup and yet their lives and health are being sacrificed for expediency. WRPS calls these vapors 'smells' in their press statement – discounting the serious harms that could result from exposure."
Copyright Environment News Service (ENS) 2014. All rights reserved.
Western Officials Seek Fracking-Conservation Balance
WASHINGTON, DC, March 28, 2014 (ENS) – A delegation of western elected officials today implored Secretary of the Interior Sally Jewell to equalize the priority given to recreation, conservation, wildlife habitat and "responsible" livestock grazing with that given to oil and gas exploration and extraction.
A letter addressed to Secretary Jewell, signed by 75 state legislators and county commissioners from seven states, asks the secretary to "restore balance to the use and management of public lands."
The delegation pressing the case for balance with Interior Department officials includes Idaho State Representative Donna Pence, Montana State Representative Bridget Smith, and New Mexico State Representative Nate Cote, all Democrats.
Also part of the delegation is Commissioner John Olivas of Mora County, New Mexico, which last spring became the first county in the United States to ban all corporate oil and gas drilling as a violation of the people's civil and environmental rights.
"During the past six months, several corporations have sued Mora County in federal court, seeking to overturn our law, known as the Mora County Community Bill of Rights, said Olivas in a statement March 20. "Simply put, the corporations suing Mora County are claiming that they have a constitutional right to frack, and that the people of Mora lack a constitutional right to protect their own health, safety, and well-being."
"My constituents and I share a great concern for a balanced use of public land because our economic survival and the quality of our lives hang in this balance," said Rep. Smith of Wolf Point, Montana. "Montana offers much to humanity in way of sheer beauty, recreation and peace of mind. Valuing our natural public lands in this manner is not only sustainable but also more profitable in the long run. Hunting, fishing, hiking and managed grazing as well as the employment opportunities that accompany all of these activities are all part of wise stewardship of public lands."
Throughout three days of meetings on Capitol Hill and with Obama Administration officials, the delegation pressed for three actions relating to public lands;
progress on a Secretarial Order on mitigating impacts from oil and gas development and ensures that conservation and recreation are considered in oil and gas development planning
that remote and backcountry areas of public land important for wildlife habitat conservation and to hunters, anglers and other outdoor recreationists be identified with input from local communities and protected where appropriate
that the Interior Department consider a more fair and equitable royalty rate that ensures greater return to communities impacted by oil and gas exploration.
"It is important to Idaho to consider grazing, recreation, clean energy development, energy transmission, land conservation and wildlife when developing policy on public lands," said Rep. Pence of Gooding, Idaho. "The future of family farms, ranches, and small towns in my district and throughout Idaho are affected by public land policies and I will continue to seek policies supporting all these important rural institutions."
"We need to protect as much of our public land as possible for future generations," said Rep. Cote of Organ, New Mexico. "Once we turn over our lands for development and other uses it is gone forever. We need to more forward intelligently, protecting an often fragile environment for our children's future and the future of our rural communities."
Copyright Environment News Service (ENS) 2014. All rights reserved.
Ford Offers Free EV Charging to Company Workers
DEARBORN, Michigan, March 28, 2014 (ENS) – Good news for Ford employees who drive electric and plug-in hybrid vehicles. This year, Ford plans to install EV charging stations at more than 60 of its offices, product development campuses and manufacturing facilities across the United States and Canada.
Ford is building its charging network with General Electric, maker of GE WattStation™ charging stations, continuing the cooperation that began more than 100 years ago between Henry Ford and Thomas Edison, co-founder of GE.
Installation will begin shortly with facilities in and around Ford headquarters in southeast Michigan and roll out across other facilities throughout 2014.
"Ford's commitment to sustainability extends beyond our fuel-efficient vehicles to include our daily workplace," said Mike Tinskey, Ford director of vehicle electrification and infrastructure.
"We know that a growing electrified vehicle infrastructure is key to making plug-in vehicles a viable option for more consumers. Ford is committed to doing its part to help develop that infrastructure," Tinskey said.
The Ford charging service will be free to employees for the first four hours of charging each day.
By limiting the free charge offering to four hours, Ford is trying to encourage charging station sharing, enabling twice as many employees to charge at work for free.
Ford estimates it will cost about 50 cents to fully charge each vehicle.
With the new charging network, Ford employees commuting from up to 21 miles away in plug-in hybrid vehicles – Fusion Energi and C-MAX Energi – may be able to drive entirely on electric power to and from work.
Fusion Energi and C-MAX Energi have an EPA-estimated mile per gallon ratings 44 city, 41 highway and 43 combined and have an EPA-estimated range of 21 miles electric.
Drivers of the electric-only Focus Electric, which has an EPA-estimated range of 76 miles on a full charge, will have even more gas-free commuting potential.
Ford points out that EV driving ranges vary with conditions such as hot and cold outside temperatures, driving behaviors, vehicle maintenance and lithium-ion battery age.
Ford is also asking employees to use the MyFord® Mobile smartphone app to collect driving and charging information to help the company understand driving patterns and potentially influence future product design.
MyFord Mobile is complimentary for five years from the vehicle sale date as recorded by the dealer. Subscriptions fees apply after five years.
Based on data already gathered from Ford's MyFord Mobile app, Ford Fusion Energi and C-MAX Energi drivers typically make three of their four daily trips in all-electric mode.
By adding another charge opportunity during the day at the workplace, Ford says it might be possible for employees to be able to accomplish all of their workweek trips without using gasoline.
Copyright Environment News Service (ENS) 2014. All rights reserved.
© 2014, News Editor. All rights reserved.