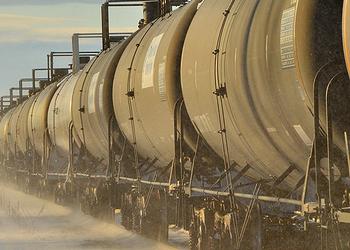 Oil Train Rule Cracks Down on Transport of Flammable Materials … Federal Agencies Cut Greenhouse Gases, Increase Renewables … EPA Does 'Little' to Curb Methane Emissions … Groups Will Appeal Longmont Fracking Ban Decision … Minnesota Vikings New Stadium Would Kill Birds … New Jersey Utility Gives Away Free EV Charging Stations
Oil Train Rule Cracks Down on Transport of Flammable Materials
WASHINGTON, DC, July 25, 2014 (ENS) – Following a host of oil train derailments over the past year, the U.S. Department of Transportation has proposed regulatory changes to improve the safe transportation of large quantities of crude oil and ethanol by rail, a growing practice across North America as pipelines fill up.
The proposed rules cover enhanced tank car standards, a classification and testing program for mined gases and liquids and new operational requirements for high-hazard flammable trains that include braking controls and speed restrictions.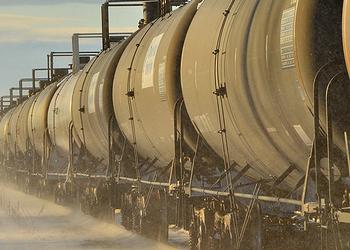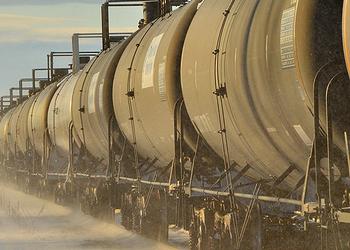 Within two years, the agency proposes the phase out of the use of older DOT 111 tank cars for the shipment of packing group I flammable liquids, including most Bakken crude oil, unless the tank cars are retrofitted to comply with new tank car design standards.
High-hazard flammable trains would be restricted to 40 miles per hour in all areas, particularly in areas inhabited by more than 100,000 people.
High-hazard flammable trains would be defined as trains carrying 20 or more tank carloads of flammable liquids, including crude oil and ethanol.
The agency is also seeking more information on expanding comprehensive oil spill response planning requirements for shipments of flammable materials.
The rule proposes that carriers be required to perform a routing analysis for high-hazard flammable trains that would consider 27 safety and security factors and select a route based on findings of the route analysis.
"Safety is our top priority, which is why I've worked aggressively to improve the safe transport of crude oil and other hazardous materials since my first week in office," said Transportation Secretary Anthony Foxx, who took office on July 2, 2013.
"While we have made unprecedented progress through voluntary agreements and emergency orders, today's proposal represents our most significant progress yet in developing and enforcing new rules to ensure that all flammable liquids, including Bakken crude and ethanol, are transported safely," he said.
The agency also proposes to codify Foxx's May 2014 emergency order that requires trains containing one million gallons of Bakken crude oil to notify State Emergency Response Commissions or other appropriate state delegated entities about the operation of these trains through their States.
Released on Wednesday, the proposed rules are based on a proposal published by the Pipeline and Hazardous Materials Safety Administration, PHMSA, last September, and reflects feedback from more than 152,000 commenters.
In addition, the Department of Transportation's Pipeline and Hazardous Materials Safety Administration released a report summarizing the analysis of Bakken crude oil data gathered by PHMSA and the Federal Railway Administration between August 2013 and May 2014.
The data show that crude oil from the Bakken region in North Dakota tends to be more volatile and flammable than other crude oils. The data were initially gathered to verify that crude oil was being properly classified in accordance with federal regulations, and evolved to include more robust testing to better understand the characteristics of the product.
The safety risk presented by transporting Bakken crude oil by rail is magnified both by an increasing volume of Bakken being shipped throughout the United States and the large distances over which the product is shipped, the agencies said.
In 2008, just 9,500 rail-carloads of crude oil moved through the United States, while in 2013 there were 415,000 rail-carloads shipped. On average Bakken crude oil shipments travel over 1,000 miles from point of origin to refineries on the coasts.
The American Petroleum Institute rejected the Department of Transportation's assessment of Bakken crude oil, calling it "speculation." API President and CEO Jack Gerard said, "Multiple studies have shown that Bakken crude is similar to other crudes."
Copyright Environment News Service (ENS) 2014. All rights reserved.
Federal Agencies Cut Greenhouse Gases, Increase Renewables
WASHINGTON, DC, July 25, 2014 (ENS) – The federal government, the largest energy consumer in the U.S. economy, announced today that it has reduced its greenhouse gas emissions by 17 percent since 2008, the equivalent of permanently taking 1.8 million cars off the road, and that nine percent of federal government electricity is now from renewable sources.
The reductions are part of the Obama Administration's initiative to reduce energy use, pollution and waste and save money in federal operations.
Based on these FY 2013 benchmarks, the agencies will update their annual Sustainability Plans to continue to improve their performance.
The updates show progress toward energy and sustainability goals set by the President Barack Obama in 2009. A majority of federal agencies have made progress in deploying renewable energy and reducing greenhouse gas emissions.
For example, yesterday the Secretary of the Navy Ray Mabus announced renewable energy projects at the Joint Base Pearl Harbor Hickam in Pearl Harbor, Hawaii, the Marine Corps Base Hawaii in Kaneohe, Hawaii, and Camp Smith in Aiea, Hawaii.
The projects are expected to generate an estimated average savings of $1.6 million for taxpayers during its first year of operation; avoid the burning of 54,000 barrels of imported oil, and reduce CO2 emission by 20,000 tons; equivalent to annual energy use of over 5,000 average homes on the island of Oahu.
"The President firmly believes that the federal government should lead by example in improving energy efficiency and cutting harmful carbon pollution," said Mike Boots, acting chair of the White House Council on Environmental Quality. "With today's annual updates on sustainability and energy, it's clear that Federal agencies are making significant headway in meeting and exceeding our goals, all while saving taxpayer money, and identifying strategies to make additional progress."
"An energy efficient government is good for the environment, good for the taxpayer, and ultimately, in the best interest of the American people," said Beth Cobert, Deputy Director for Management of the Office of Management and Budget. "The Federal government is maintaining its commitment to making further progress through our Cross Agency Priority goal on climate change which focuses on actions that we are taking to increase our use of renewable energy as well as reducing emissions."
Copyright Environment News Service (ENS) 2014. All rights reserved.
EPA Does 'Little' to Curb Methane Emissions
WASHINGTON, DC, July 25, 2014 (ENS) – The U.S. Environmental Protection Agency has placed "little focus and attention on reducing methane emissions from pipelines in the natural gas distribution sector," finds a new report from the agency's Office of Inspector General issued today.
Methane is a potent greenhouse gas with a global warming potential 25 times that of carbon dioxide. In June 2013, President Obama issued the Climate Action Plan, which states that "curbing emissions of methane is critical to our overall effort to address global climate change."
In 2012, the EPA reported that methane leaks from pipelines in the natural gas distribution sector accounted for more than 13 million metric tons of carbon dioxide equivalent emissions.
These leaks are comprised of natural gas product, which is almost 100 percent methane, and account for more than 10 percent of total methane emissions from natural gas systems.
"Methane emissions impact climate change through leaks in natural gas distribution pipelines, and also have economic impacts," said the OIG's report. "We estimate that more than $192 million in natural gas was lost in 2011 due to such leaks, a cost that is borne by consumers."
The EPA does not currently regulate methane emissions from the distribution sector and has not partnered with the federal Pipeline and Hazardous Materials Safety Administration, which regulates pipeline safety, to control methane leaks.
The EPA has a voluntary program to address methane leaks, Natural Gas STAR, but its efforts through this program have resulted in limited reductions of methane emissions from distribution pipelines. "This is due largely to financial and policy barriers, including disincentives for distribution companies to repair nonhazardous leaks," finds the report.
The OIG's report states, "The agency needs to address additional issues to better assess progress from the voluntary program and determine if future regulations are warranted."
"The EPA needs to set goals and track its progress in reducing emissions from distribution pipelines through its voluntary program.
Also, the EPA needs to evaluate data from ongoing external studies to determine their usefulness for validating or updating its distribution pipeline emission factors, the OIG's report advises. "The emission factors that the EPA uses are based on a 1996 study, which has a high level of uncertainty." Two non-EPA groups are conducting studies that may be useful to the EPA. However, said the OIG's report, the EPA's involvement in the design or protocols of these studies has been limited.
Copyright Environment News Service (ENS) 2014. All rights reserved.
Groups Will Appeal Longmont Fracking Ban Decision
BOULDER, Colorado, July 25, 2014 (ENS) – A Colorado state court Thursday invalidated a local ban on hydraulic fracturing, or fracking, in Longmont, Colorado.
But Judge Dolores Mallard left the door open for the City of Longmont and environmental groups to file an appeal to overturn a state policy that places the interests of the oil and gas industry over the health and safety of local citizens.
Finally, the Court indicated that it would leave the Longmont fracking ban in place until the City and the intervening organizations have had a chance to decide whether to file an appeal.
The city's ban violated state law, according to Judge Mallard, sitting in Boulder. She granted the industry and the state summary judgment in their challenge to Longmont's democratically enacted 2012 fracking ban.
The judge determined that her hands were tied by a series of decades-old state court rulings, stating that "[w]hether public policy should be changed in that manner is a question for the legislature or a different court."
"While we respectfully disagree with the Court's final decision, she was correct that we were asking this Court, in part, to place protection from the health, safety, and environmental risks from fracking over the development of mineral resources," said Kaye Fissinger, president of Our Health, Our Future, Our Longmont.
"It's tragic that the judge views the current law in Colorado is one in which fracking is more important than public health; reversing that backwards priority is a long-term battle that we're determined to continue," Fissinger said.
Judge Mallard determined that Longmont's ban conflicted with the state's interests in oil and gas development, ignoring the fact that the state legislature requires oil and gas development to be done in a way that is protective of public health and the environment.
"This decision means two things," said Bruce Baizel, Earthworks Energy Program Director. "The judge has invited us to seek the change we need either through the higher courts or the legislature. We fully intend to pursue the former on appeal while the latter underscores the need for the citizens of Colorado to get out and support the Environmental Bill of Rights ballot measure this Fall."
Copyright Environment News Service (ENS) 2014. All rights reserved.
Minnesota Vikings New Stadium Would Kill Birds
MINNEAPOLIS, Minnesota, July 25, 2014 (ENS) – A new football stadium being built for the Minnesota Vikings could kill thousands of migratory birds unless the Vikings and the stadium's builders make a modest investment to make the stadium more bird friendly, according to the nonprofit Audubon Society.
Current plans call for a type of glass that birds are less likely to see, thus inviting deadly collisions. The cost to switch to safer glass, about $1 million, amounts to a less-than-one-tenth of one percent of the estimated billion dollar project.
The bird advocacy group has mounted a campaign to get the Vikings to commit to safer glass and prevent needless bird fatalities at the planned 65,000 seat stadium.
The new stadium's exterior is almost 40 percent glass, a total of nearly 200,000 square feet of glass. David Yarnold, president and CEO of the National Audubon Society
points out that "the stadium is located less than a mile from the Mississippi River, along which tens of millions of birds fly every year between their breeding and wintering grounds."
The Minnesota Sports Facilities Authority said Thursday that the new stadium design and budget were completed prior to conversations with the Audubon Society and before changes in state guidelines related to bird-safe glass.
"One of the design goals was to create a building that was more connected and integrated with the community than the Metrodome had been," said Michele Kelm-Helgen. "The ability to see in and out of the stadium was what led us to the design that included the ETFE roof and operable doors on the downtown facing wall."
We have met several times with the Audubon Society and looked at all options for design and operational solutions to minimize bird collisions, she said.
"We have agreed to the Audubon Society's operational approaches, including the 'Lights Out' guidelines. We have also taken into consideration the lighting design for the stadium, and where we are able, we will follow the Audubon's suggestions," said Kelm-Helgen.
However, she said, "We were able to adopt operational guidelines used by other downtown office and residential buildings, we were unable to change the design and do not have the budget to include the $1.1 million needed for bird safe glass."
Audubon Minnesota plans to keep up public pressure as long as necessary to get the Vikings and the Minnesota Sports Facilities Authority to reverse course.
Copyright Environment News Service (ENS) 2014. All rights reserved.
New Jersey Utility Gives Away Free EV Charging Stations
NEWARK, New Jersey, July 24, 2014 (ENS) – New Jersey's oldest and largest gas and electric utility is investing to support electric car charging at work.
On Tuesday, Public Service Electric and Gas Company (PSE&G) announced it would give away free charging stations to encourage New Jersey businesses to provide their employees with electric car charging.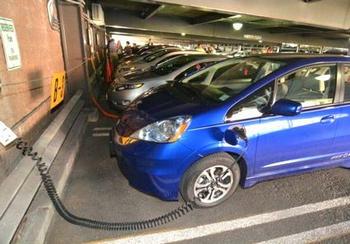 "Our company believes there is a strong future in electric cars here in New Jersey, and workplace charging is a critical part of that future," said Ralph LaRossa, PSE&G president and chief operating officer.
"We want to be a partner with New Jersey businesses and New Jersey electric car drivers," said LaRossa. "Electric cars not only benefit the environment, but are cheaper to own and operate than conventional cars."
Workplace charging stations would foster greater adoption of electric cars, which would help to improve the state's air quality, help companies achieve sustainability targets, reduce costs for employees and help America become more energy independent, LaRossa said.
PSE&G will provide smart charging equipment for approximately 150 cars for free. Participating workplaces will need to install the units and pay for the electricity.
Charging stations will be given out on a first come, first serve basis to companies that secure a commitment from a minimum of five employees that they will use an electric car for their commute.
The incentive is available only to companies located in PSE&G's electric service territory. The utility serves nearly three-quarters of the state's population of 8.9 million people.
PSE&G will own the charging systems and collect usage data to better understand the impact of workplace charging on electric demand and the electric delivery system. The Hydra data collection system will be provided by Liberty Access Technologies.
"Electric vehicle charging is usually a matter of hours, not minutes, so charging your EV while you are at work is an ideal solution," said Chris Outwater, president of Liberty Access Technologies.
"At work charging will make EV ownership possible for many more people," said Outwater. "It is especially important for apartment dwellers who cannot easily charge while at home."
PSE&G also released data on the first year of operations of its own employee electric car incentive program.
The 13 employees in the program are estimated to have driven 120,000 miles on electric commuting to and from work in the first 12 months of the program.
Employees in the PSE&G workforce program bought or leased electric and hybrid cars including the Chevy Volt, Nissan Leaf, Honda Fit, Ford C-MAX Energia, Toyota Prius plug-in and Tesla. The participants are estimated to have saved 5,300 gallons of gas and avoided spending nearly $19,000 on gas just on their commute.
It is estimated that the program helped avoid 50 to 60 tons of the greenhouse gas carbon dioxide being released into the air as well as reduced  particulate matter, sulfur and nitrogen oxide emissions in communities through the state.
Copyright Environment News Service (ENS) 2014. All rights reserved.