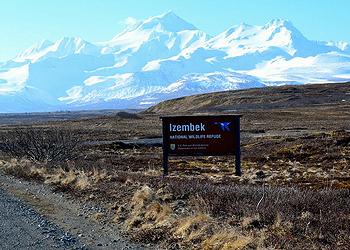 No Izembek Refuge Road, BP Engineer Guilty, Bee-Killing Pesticide, New York Ivory Hearing, Ogllala Aquifer Losing Water, Heat Kills Desert Tortoises
Secretary Jewell Rejects Road Across Alaska's Izembek Wildlife Refuge … Former BP Engineer Guilty: Obstruction of Justice … Bee Industry Seeks EPA Rethink of Bee-Killing Pesticide … New York Lawmakers to Hold Ivory Trade Hearing … No Halt to Ogllala Aquifer Unsustainable Water Loss … Heat Kills Sonoran Desert Tortoises
Secretary Jewell Rejects Road Across Alaska's Izembek Wildlife Refuge
WASHINGTON, DC, December 23, 2013 (ENS) – Secretary of the Interior Sally Jewell today issued a decision supporting the U.S. Fish and Wildlife Service's rejection of a proposed land exchange with the State of Alaska. The decision will prevent construction of a road through the Izembek National Wildlife Refuge.
The nearly four-year analysis on the effects of the proposed land exchange, including the impact a road would have on Izembek's ecology and congressionally-designated wilderness status helped inform the secretary's decision.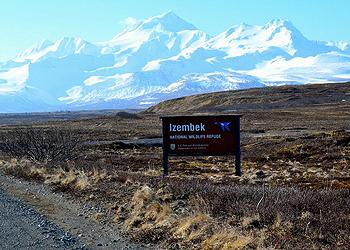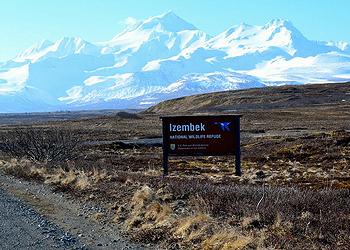 In addition, Jewell made a personal visit to the refuge and the King Cove and Cold Bay communities and reviewed a report from the Assistant Secretary for Indian Affairs regarding the medical evacuation benefits of the proposed road.
To complete the assessment, the Service conducted a public process that included over 130 meetings with stakeholders, government-to-government consultations, and numerous trips to King Cove by Service and Department of the Interior officials.
"We've undertaken a robust and transparent public process to review the matter from all sides, and I have personally visited the refuge and met with the King Cove and Cold Bay communities to gain a better understanding of their concerns," said Jewell. "After careful consideration, I support the Service's conclusion that building a road through the refuge would cause irreversible damage not only to the refuge itself, but to the wildlife that depend on it."
"Izembek is an extraordinary place – internationally recognized as vital to a rich diversity of species – and we owe it to future generations to think about long-term solutions that do not insert a road through the middle of this refuge and designated wilderness. I understand the need for reliable methods of medical transport from King Cove, but I have concluded that other methods of transport remain that could be improved to meet community needs."
Alaska Governor Sean Parnell today expressed "outrage" at Jewell's decision. Calling it "a matter of life or death for Alaskans," Governor Parnell has been a strong advocate for the construction of a 13-foot-wide emergency medical evacuation road connecting King Cove and Cold Bay.
"Today's decision is unconscionable," the governor said. "This is another irrational decision by the federal government that denies Alaskans access – in this case access to emergency treatment. As governor, I will continue to fight for the residents of King Cove who deserve much better."
Given the serious concerns raised by King Cove residents, Jewell repeated her department's commitment to help identify and evaluate options that would improve access to affordable transportation and health care for them.
She said that nothing in her decision precludes the State of Alaska, the Aleutians East Borough, or the communities of King Cove and Cold Bay from implementing transportation improvements outside of the refuge, including enhancements to the dock at Cold Bay.
The Izembek National Wildlife Refuge, established in 1960, serves as habitat for shorebirds and waterfowl, including 98 percent of the world's population of Pacific black brant, as well as grizzly bear, caribou and salmon. These species are important subsistence resources for Native Alaskans.
A road would have permanently bisected the isthmus, where most of the refuge's 315,000 acres of congressionally-designated wilderness are located.
In 1980, Congress designated this area as wilderness, the most protective category of public lands, recognizing the need to protect Izembek as a place where natural processes prevail with few signs of human presence.
At the core of the protected areas are internationally significant eelgrass beds in Izembek and Kinzarof lagoons, and adjacent wetlands and uplands of the narrow isthmus. Emperor geese, Steller's eiders, and hundreds of thousands of other federally-protected waterfowl and shorebirds depend on these wetlands and eelgrass beds.
While the proposed land exchange would bring many more acres of land into the Refuge System, the analysis indicates that the increased acreage could not compensate for the unique values of existing refuge lands, nor the effects that the proposed road would have on wildlife, habitat, subsistence resources, and wilderness values of the refuge.
Since at least the 1980s, King Cove residents have expressed interest in a road to improve access to Cold Bay and its airport for personal, medical and commercial purposes.
The late Alaska Senator Ted Stevens spearheaded an effort in 1997 that led Congress to provide $37.5 million in federal funding as an alternative to such a road. The funds upgraded the King Cove medical clinic, improved the King Cove airstrip, and linked King Cove and Cold Bay via an unpaved road from King Cove to a hovercraft and terminal.
In November 2010, the Aleutians East Borough suspended hovercraft services between King Cove and Cold Bay. When it was in operation from 2007 to 2010, the hovercraft successfully completed every requested medical evacuation.
The Borough has indicated that if the proposed road was not constructed, it would develop an alternative transportation link between King Cove and Cold Bay such as an aluminum landing craft/passenger ferry that could be more technically and financially viable than a hovercraft.
The Service issued the final Environmental Impact Statement for public review on February 6, 2013. Click here for a copy of the Record of Decision, final EIS and report of the Assistant Secretary for Indian Affairs to the Secretary.
Copyright Environment News Service (ENS) 2013. All rights reserved.
Former BP Engineer Guilty: Obstruction of Justice
NEW ORLEANS, Louisiana, December 23, 2013 (ENS) – Kurt Mix, a former engineer for oil giant BP, was convicted Wednesday of intentionally destroying evidence requested by federal criminal authorities investigating the April 20, 2010, Deepwater Horizon explosion, fire and massive oil spill.
Mix, 52, of Katy, Texas, was convicted by a federal jury in the Eastern District of Louisiana of one count of obstruction of justice and was acquitted on a second count of obstruction of justice. He faces a maximum penalty of 20 years in prison when he is sentenced on March 26, 2014.
"A jury in New Orleans found that Kurt Mix purposefully obstructed the efforts of law enforcement during the investigation of the largest environmental disaster in U.S. history," said Acting Assistant Attorney General Mythili Raman, who supervises the Deepwater Horizon Task Force. "This prosecution shows the commitment of the Justice Department to hold accountable those who attempt to interfere with the administration of justice."
On April 20, 2010, the Deepwater Horizon rig experienced an uncontrolled blowout and related explosions while closing BP's Macondo well about 40 miles southeast of the Mississippi Delta. The catastrophe killed 11 men on board and resulted in the largest environmental disaster in U.S. history.
Mix was a drilling and completions project engineer for BP. Following the blowout, Mix worked on internal BP efforts to estimate the amount of oil leaking from the well and was involved in various efforts to stop the leak.
Those efforts included Top Kill, the failed BP effort to pump heavy mud into the blown-out wellhead to try to stop the oil flow.
BP sent numerous notices to Mix requiring him to retain all information concerning Macondo, including his text messages.
On October 4, 2010, after Mix learned that his electronic files were to be collected by a vendor working for BP's lawyers, Mix deleted on his iPhone a text string containing more than 300 text messages with his BP supervisor.
The deleted messages included a text sent on the evening of May 26, 2010, at the end of the first day of Top Kill. In the text, Mix stated, among other things, "Too much flowrate – over 15,000."
Before Top Kill commenced, Mix and other engineers had concluded internally that Top Kill was unlikely to succeed if the flow rate was greater than 15,000 barrels of oil per day, or BOPD. At the time, BP's public estimate of the flow rate was 5,000 BOPD, three times lower than the minimum flow rate indicated in Mix's text.
By the time Mix deleted these texts, he had received numerous legal hold notices requiring him to preserve such data and had been put on notice of the Department of Justice's criminal investigation of the Deepwater Horizon disaster.
Copyright Environment News Service (ENS) 2013. All rights reserved.
Bee Industry Seeks EPA Rethink of Bee-Killing Pesticide
WASHINGTON, DC, December 23, 2013 (ENS) – National beekeeping organizations have filed their opening brief in an appeal challenging the U.S. Environmental Protection Agency's approval of the pesticide sulfoxaflor, shown to be "highly toxic" to honey bees and other insect pollinators.
Sulfoxaflor is the first of a newly assigned sub-class of pesticides in the neonicotinoid class of pesticides and is considered by the EPA to be "highly toxic."
The case was filed as the beekeeping industry across the country struggles for survival and faces the costly effects of pesticides upon their businesses.
The Pollinator Stewardship Council, National Honey Bee Advisory Board, American Honey Producers Association, the American Beekeeping Federation, and beekeepers Bret Adee, Jeff Anderson and Thomas R. Smith are being represented in this case by the public interest law organization Earthjustice.
"This case is really quite simple: bees are getting wiped out, and yet the EPA rubber stamped another bee-killing pesticide," said Earthjustice attorney Greg Loarie. "EPA failed the beekeeping industry and all of us who rely on a sustainable food supply by refusing to consider threats to pollinators from this new pesticide."
The groups claim that the EPA violated the Federal Insecticide, Fungicide, and Rodenticide Act, or FIFRA, by granting the pesticide full registration for most crops, dismissing the input from their risk assessors that the field tests supplied by the manufacturer Dow Chemical were insufficient to adequately determine pollinator safety.
The agency is required by FIFRA to determine that a pesticide does not pose an unreasonable risk to the environment or to economic interests.
The appellant groups claim the EPA also failed to accurately measure sulfoxaflor's costs and benefits by ignoring the harm the pesticide causes to the beekeeping industry and to the crops that require bees for pollination.
The groups also contend that the EPA's labeling is inadequate to mitigate the risk sulfoxaflor poses to bees.
"Native and managed pollinators are a national resource providing an irreplaceable service in the production of high quality fruits and vegetables for our families," said Rick Smith, a beekeeper and farmer. "Pesticide application is a stewardship responsibility farmers take seriously. The EPA neglected to provide mandatory label instructions which would protect pollinators and allow farmers to proudly live up to that stewardship responsibility."
In May, the EPA approved the use of sulfoxaflor on barley, bulb vegetables, canola, citrus, cotton, fruiting vegetables, gouds, leafy vegetables, low-growing berries, okra, ornamentals, pistachio, pome fruits, root and tuber vegetables, small vine climbing fruit, soybeans, stone fruit, succulent, edible podded and dry beans, tree nuts, triticale, turfgrass, watercress and wheat.
The pesticide provides growers with a new pest management tool for use on piercing and sucking insects. "Occupational worker and food safety data confirm these uses are safe when sulfoxaflor is used in accordance with the labeling terms and restrictions," the EPA said.
The EPA performed its data evaluation and assessments in collaboration with its counterpart agencies in Canada and Australia. Scientists from the three authorities reviewed over 400 studies and peer reviewed each other's work.
"One area of focus in the review involved pollinator health, and the final label includes robust terms for protecting pollinators," the EPA stated in May.
Sulfoxaflor has been used under an emergency clearance on cotton in Arkansas, Mississippi, Tennessee and Louisiana to control the tarnished plant bug, an insect that has developed resistance to alternative registered pesticides.
Sulfoxaflor belongs to its own new insecticide subclass in terms of its mode of action, so it is expected to be used by producers faced with pests that have developed resistance to other alternatives.
Many scientists across the globe have linked this class of pesticides to widespread and massive bee colony losses. In April, the European Commission announced it will restrict the use of three neonicotinoid insecticides harmful to bees – clothianidin, imidacloprid and thiametoxam – imposing the world's first continental ban on the popular chemicals.
Copyright Environment News Service (ENS) 2013. All rights reserved.
New York Lawmakers to Hold Ivory Trade Hearing
NEW YORK, New York, December 23, 2013 (ENS) – New York State legislators will hold a public hearing on ways to improve the effectiveness of the state's laws and regulations protecting elephants and restricting the sales of ivory. New York is the largest market for elephant ivory in the United States.
In 2012, the New York State Department of Environmental Conservation, in conjunction with the U.S. Fish and Wildlife Service, seized more than $2 million worth of elephant ivory in New York City.
The New York State Assembly Standing Committee on Environmental Conservation will hold the hearing on Thursday, January 16 at 11 a.m. at the Assembly Hearing Room, 250 Broadway, Room 1923, 19th Floor, in Manhattan.
Despite the existing legal protections, New York has become one of the leading destinations in the United States for illegal ivory. In 2012, the New York State Department of Environmental Conservation, in conjunction with the U.S. Fish and Wildlife Service, seized more than $2 million worth of elephant ivory in New York City.
Assemblyman Robert Sweeney, who chairs the New York State Assembly Standing Committee on Environmental Conservation, said, "Elephants are a social, smart and peaceful animal whose existence has special protections under the law. Poachers have been illegally killing African elephants for years, bringing them to the brink of extinction."
"It's disturbing that New York has become one of the main points of entry for the illegal ivory trade. Not only does this illegal market cause further destruction to an endangered species, but some of the proceeds of the trade go to fund terrorism," said Sweeney. "I have called this hearing to learn how New York State can help put a stop to these reprehensible actions."
The Wildlife Conservation Society, which operates New York's zoos and aquariums, estimates that 96 elephants are killed each day in Africa. That rate of killing translates into one elephant death every 15 minutes and a 76 percent population decline since 2002.
John Calvelli, WCS executive vice president for public affairs, said, "The New York seizure is evidence of a disturbing fact. There is a direct link between the illegal ivory trade in New York State and the slaughter of elephants in Africa. We are extremely grateful that the New York State Assembly Standing Committee on Environmental Conservation, under the leadership of Chairman Sweeney, is taking the illegal ivory trade in New York so seriously."
Elephants are killed primarily for their ivory tusks which are used predominantly in carved art and jewelry. Ivory sales are regulated by a complex web of international, federal and state laws and treaties.
In New York, ivory sales are regulated under Environmental Conservation Law §11-0535 which is based in part on the inclusion of elephants on the federal endangered species list in the 1970s.
In September, the Wildlife Conservation Society launched its 96 Elephants campaign to amplify and support the Clinton Global Initiative commitment to save Africa's elephants by stopping the killing, stopping the trafficking, and stopping the demand.
The WCS campaign focuses on: securing effective U.S. moratorium laws; bolstering elephant protection with additional funding; and educating the public about the link between ivory consumption and the elephant poaching crisis.
Copyright Environment News Service (ENS) 2013. All rights reserved.
No Halt to Ogllala Aquifer Unsustainable Water Loss
LANSING, Michigan, December 23, 2013 (ENS) – Parts of the Ogallala Aquifer, one of the largest bodies of water in the United States, are at risk of drying up if the giant underground pool continues to be drained at its current rate, finds newly published research by Michigan State University scientists.
The body of water, also known as the High Plains Aquifer, spans from Texas to South Dakota and drives much of the region's economy. Despite the widespread, rapid decline of the water table, the number of irrigated acres across the region continues to increase.
"Already, there are regions in Texas and Kansas where farmers can't pump enough water to meet the demands of their crops," said Bruno Basso, co-author and MSU ecosystem scientist. "If current withdrawal rates continue, such depletion will expand across extensive portions of the central and southern areas served by the aquifer during the next few decades."
Published in the current issue of "Earth's Future," a journal of the American Geophysical Union, the National Science Foundation-funded study proposes alternatives that will halt and possibly reverse the unsustainable water drawdown from the aquifer.
Basso, David Hyndman and Anthony Kendall, MSU colleagues and co-authors, say federal crop insurance could be changed to allow substantial water reductions, especially crops categorized as fully irrigated. This approach could save large amounts of water, and it could be adopted regionally.
The Ogallala Aquifer is the main source of water for all uses in the Western third of Kansas. Counties located above the Ogallala Aquifer account for roughly two-thirds of the state's agricultural economic value.
An example of this sustainable model has been proposed by Kansas Governor Sam Brownback, who is very much aware of the Ogllala Aquifer crisis.
At the Governor's Economic Summit on the Future of the Ogallala Aquifer held in July 2011, Governor Brownback said, "Without Ogallala water, agriculture and all of its related businesses could not be sustained, manufacturing could not continue, recreational opportunities would diminish and the towns in the area would cease to exist."
The Michigan State scientists say another sustainable approach would be to adopt wholesale precision agriculture strategies. These would allow farmers to identify which areas in fields need more water and fertilizer.
New precision agriculture strategies combine GPS technologies with site-specific management to apply optimal amounts of water and nutrients, which will increase farmer's profitability and reduce environmental impact.
"When you have a cut in your hand and need disinfectant, you don't dive into a pool of medicine, you apply it only where you need it and in the quantity that is strictly necessary; we can do the same in agricultural now," said Basso, who participates in MSU's Global Water Initiative.
Also, policies should address the issue in terms of crop yield – more crop per drop of water. Selecting crops with higher density could increase yield and decrease groundwater evaporation. Upgrades in irrigation systems could reduce water loss from 30 percent to almost zero. Careful water management could stop excess water from flooding fields and leaching valuable nutrients from the soil.
"Simply put, the current water management strategies of the High Plains Aquifer are unsustainable," said Basso. "For the region to maintain this water source, there has to be a complete paradigm shift."
Copyright Environment News Service (ENS) 2013. All rights reserved.
Heat Kills Sonoran Desert Tortoises
JOSHUA TREE NATIONAL PARK, California, December 23, 2013 (ENS) – Even tortoises that have inhabited the dry Sonoran desert for centuries are at risk from global warming finds a study by U.S. Geological Survey scientists.
The newly published research links drought conditions to declines in the protected Agassiz's desert tortoise population in part of the Sonoran Desert.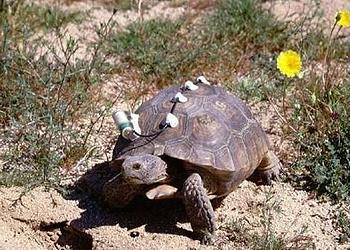 "If drought duration increases under a warming climate scenario, our results suggest there could be wider and more significant impacts on Agassiz's desert tortoise populations in the lower elevation areas of the Sonoran Desert in California," said USGS scientist Jeff Lovich.
"This information should be useful to resource managers as they address drought effects on tortoises," Lovich said.
The new report on the survival of the Agassiz's desert tortoise is one of only a few long-term published studies to examine desert tortoise populations and their response to climate change.
Results support earlier predictions that parts of the Sonoran Desert area may become unsuitable for continued tortoise survival, based on previously published climate models projecting warmer and drier conditions in the future.
Scientists surveyed a population of threatened Agassiz's desert tortoises from 1978 to 2012 on a square-mile study plot in the Sonoran Desert of Joshua Tree National Park, California.
This long-term study includes about 1.4 tortoise generations, which is important when studying species with long life spans.
Desert tortoise survival rates were found to be dependent on climate events, particularly the duration of droughts. Results show that after three years of drought, the tortoise population evaluated in this study decreased.
Estimated adult population size declined greatly from 1996-2012, a time of persistent drought in the area.
The postures and positions of a majority of dead tortoises found in 2012 were consistent with death by dehydration and starvation. Dry conditions also result in decreased tortoise reproduction at the study site.
Lovich said that some live and many dead tortoises found in 2012 showed signs of predation or scavenging by mammalian carnivores such as coyotes. During periods of drought when germination of annual food plants fails or is weak, small mammal populations that feed on these plants decline and carnivores appear to shift their diet to tortoises.
The Agassiz's desert tortoise is protected under the U.S. Endangered Species Act as threatened in portions of Arizona, California, Nevada and Utah where populations appear to be declining rangewide, with few possible exceptions.
This study was funded by the Bureau of Land Management with support from the Sonoran Desert Rapid Ecological Assessment program to better understand the role of climate and tortoise ecology in the region.
The full report is published in the current issue of the journal "Biological Conservation."
Copyright Environment News Service (ENS) 2013. All rights reserved.