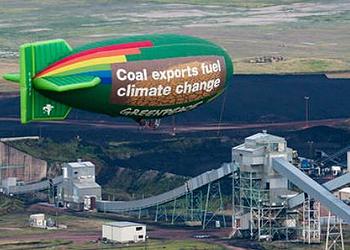 Oregon Rejects Coal Export Terminal … Weather Gives California Firefighters, Evacuees a Break … Malibu Parents, Teachers Plan to Sue Over Toxic Classrooms … USDA Invests New Funds to Improve Lake Erie Water … U.S. New Energy Capacity All Renewables in July … Whales Suffer Military Noise in Hawaiian Waters
Oregon Rejects Coal Export Terminal
SALEM, Oregon, August 19, 2014 (ENS) – The Oregon Department of State Lands Monday rejected the removal-fill permit for the Coyote Island Terminal at the Port of Morrow on the Columbia River in Boardman.
The proposal from the Australia-based Ambre Energy was to move coal from its mine in Decker, Montana by rail to the Port of Morrow. From there it would be barged down the Columbia River to Clatskanie, and from there shipped to China.
"As many people know, this permit application has taken hundreds of staff hours to review," said Mary Abrams, Department of State Lands director.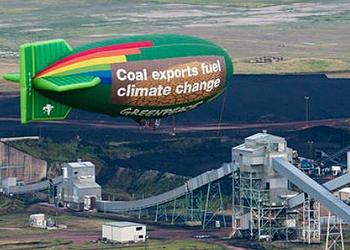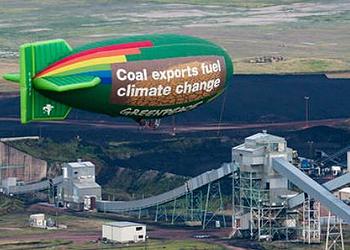 "From reading more than 20,000 public comments to carefully analyzing technical documents and plans, this application has been scrutinized for months. We believe our decision is the right one, considering our regulatory parameters laid out in Oregon law, and the wealth of information we have received from the applicant and the public."
Critics of the proposal said a coal export terminal would result in coal dust and diesel emissions that would likely exceed National Ambient Air Quality Standards and worsen pollution in the Columbia River Gorge National Scenic Area, where air quality is now poor. The proposal would result in doubling barge traffic on the Columbia River, harming salmon, river recreation and navigation, warned the nonprofit Columbia Riverkeeper.
Environmental groups said they objected to Oregon subsidies for "dirty coal export, climate pollution, and dangerous oil trains along the Columbia River and through Portland, Scappoose, St. Helens, and Rainier. "

The Department of State Lands, DSL, regulates filling and removing material from waters of the state which include wetlands, rivers and streams. The State Land Board consists of Governor John Kitzhaber, Secretary of State Kate Brown and State Treasurer Ted Wheeler.
The Coyote Island Terminal removal-fill permit application proposes 572 cubic yards of permanent fill in the form of pilings in the Columbia River on submerged land owned by the Port of Morrow, the second biggest port in the state of Oregon.
In the department's decision to deny the permit, Director Abrams stressed that the decision was reached after extensive deliberation, research and legal advice.
"We used data provided by a wide array of parties, and weighed this information against what Oregon law says we must take into consideration in making removal-fill permit decisions," she said. "We fully believe that our conclusion to deny the Coyote Island Terminal permit is the right one."
Among the industrial activities already at the Port of Morrow site are a Cargill grain shipping facility, a cellulosic ethanol plant and a biogas plant under construction.
The Oregon Department of Environmental Quality had issued air quality, water quality and construction stormwater permits for Ambre's proposed Coyote Island Terminal back in February.
Ambre Energy may appeal the decision, a spokeswoman told reporters, a process that would include a hearing before an administrative law judge through the contested case process.
The DSL decision rejection comes as China is moving away from coal. Earlier this month, China's capital city of Beijing announced it will ban coal sales and the burning of coal in its six main districts by the end of 2020 to cut air pollution.
Coyote Island Terminal is the fourth Northwest shipment terminal project to be rejected. Two proposals are still under consideration – both in Washington State – the Gateway Pacific Terminal at Cherry Point north of Bellingham, and the Millennium Terminal at Longview on the Columbia River.
Copyright Environment News Service (ENS) 2014. All rights reserved.
Weather Gives California Firefighters, Evacuees a Break
YOSEMITE NATIONAL PARK, California, August 19, 2014 (ENS) – A wildfire that forced at least 1,000 people from their homes and hotels in the Sierra Nevada foothills near Yosemite National Park on Monday evening did not spread Tuesday as fire officials had feared.
Erica Stuart, a spokeswoman for the Madera County Sheriff's Office, said about 1,000 people were asked to evacuate and 500 more were told to prepare to flee.
Aggressive firefighting, in addition to lower temperatures, a rise in humidity and less wind have provided an opportunity to increase containment lines. Firefighters from throughout the central valley and the state have been deployed to defend homes in the area.
Tonight evacuees are being allowed to return to their homes in some areas of Madera County.
The Junction Fire charred about 613 acres and burned down eight structures. The flames were threatening about 500 homes around Oakhurst, a community of several thousand about 16 miles from a Yosemite entrance, said fire and law enforcement officials.
More firefighters were brought in to battle the blaze that began Sunday, fueled by gusty winds and dry brush.
Yosemite National Park covers nearly 1,200 square miles in the Sierra Nevada mountains of California. The park has not been affected by this latest fire, but just 11 days ago firefighters finally succeeded in controlling a wildfire inside the park that burned for nearly two weeks.
The cause of the El Portal blaze that burned 4,689 acres of parkland and U.S. Forest Service land is still under investigation.
Also Monday, a wildfire in Kern County some 50 miles northeast of Bakersfield, California was threatening buildings and forcing evacuations.
The fire in Wofford Heights near Lake Isabella has grown to about slightly more than 800 acres, the U.S. Forest Service said.
Fire season continues, and forest recreationists are encouraged to use caution. The fire weather forecast for the short term calls for some rain but the eight to 10 day forecast is for above normal temperatures and below normal precipitation.
The Western Watershed Enhancement Partnership, formed last year by the Obama Administration, enables the Department of the Interior and the Department of Agriculture to partner with local water users to identify and mitigate risks of wildfire to water supplies for drinking, irrigation and hydroelectric facilities. Teamwork is critical because many watersheds originate on USDA forest lands across the West.
Flows of sediment, debris and ash into streams and rivers after wildfires can damage water quality. Millions of dollars are often required to repair damage to habitat, reservoirs and facilities.
Copyright Environment News Service (ENS) 2014. All rights reserved.
Malibu Parents, Teachers Plan to Sue Over Toxic Classrooms
MALIBU, California, August 19, 2014 (ENS) – Students and teachers are subjected to high levels of chemical contaminants in Malibu public schools, according to a notice of intent to sue filed today by lawyers representing teachers and parents.
The teachers are represented by Public Employees for Environmental Responsibility, PEER, and the Vititoe Law Group represents Malibu Unites, a nonprofit group led by concerned parents.
Filed the day that classes resume, the notice provides 60 days for the Santa Monica-Malibu Unified School District and U.S. Environmental Protection Agency to remove toxic materials from Malibu Middle and High Schools and Juan Cabrillo Elementary School or face a federal lawsuit.
The threatened lawsuit concerns polychlorinated biphenyls, PCBs, found inside classrooms and in campus soils.
During the 2011 summer school session, the district removed from the Middle School Quad 48 truckloads of soil which, unknown to parents and teachers, was contaminated with PCBs and pesticides.
In the following two years, four teachers, including one who has since left the school, were diagnosed with thyroid cancer. There are at least 10 known cases of thyroid disease among teachers and at least four students struggling with autoimmune health issues.
In addition, alumni students have been diagnosed with thyroid cancer.
Last fall, although no comprehensive soil testing was performed, at the parents' insistence some of the school rooms were tested. These tests revealed that PCBs in four of 10 tested middle school classrooms exceeded the federal regulatory limit under the Toxic Substances Control Act (TSCA) of 50 parts per million PCBs.
The three teachers with thyroid cancer all taught in classrooms with illegal levels of PCB or with dust levels considered "PCB Contaminated."
The district refused to administer any further caulk testing. But this past July, Malibu Unites received laboratory results from the same lab used by the District of additional school soil and caulk samples.
On July 17, Malibu Unites and PEER reported to both the district and EPA high levels of PCBs in window and door caulking of several rooms in the schools. Three dirt samples from classrooms in Malibu High's Building E had PCBs more than 11 times EPA's residential screening limits.
Despite these test results, the district still refuses to do more caulk testing, even turning down the offer of Malibu parent and supermodel Cindy Crawford to personally pay for the tests.
The EPA has concurred in the district's plan not to test any more caulk, to re-occupy classrooms with illegal levels of PCBs as long as air and dust samples come in below EPA's "health guidelines" after cleaning, to remove the caulk only in the four windows found to violate the Toxic Substance Control Act, and only after another entire school year. The complainants worry that the EPA is "totally ignoring the far more severely contaminated caulk found in independent testing."
"This notice is a demand that responsible officials follow the laws designed to protect our children," said Jennifer deNicola, a Malibu parent and president of Malibu Unites.
"We are frustrated that the district, and even EPA itself, both continue to disregard the law by conducting classes in rooms that are contaminated," deNicola said.
"A lawsuit should not be necessary to ameliorate the illegal and unhealthy conditions in an American school," said PEER Senior Counsel Paula Dinerstein, whose group is advocating on behalf of teachers and staff concerned about the effect contamination on campus is having on their health. "We invite both the District and EPA to sit down with us to resolve these disturbing issues or we will see them in court."
Copyright Environment News Service (ENS) 2014. All rights reserved.
USDA Invests New Funds to Improve Lake Erie Water
WASHINGTON, DC, August 19, 2014 (ENS) – Agriculture Secretary Tom Vilsack today sent $2 million in conservation funds to Ohio to implement conservation techniques that will help avert algae blooms like the one in Lake Erie that disrupted water service to Toledo earlier this month.
Some 500,000 Toledo residents were without potable water the first weekend in August due to contamination of the water supply with toxic microsystin, an algae-induced toxin that fouled Lake Erie.
Vilsack said the U.S. Department of Agriculture is partnering with the National Fish and Wildlife Foundation to expand "boots-on-the-ground" capacity in the area and will be contributing an additional $1 million in technical assistance that will be "leveraged" by the Foundation and other public and private entities.
"The voluntary conservation efforts supported by this new funding will help improve water quality in Lake Erie," Vilsack said. "Many farmers have consistently stepped up to the plate on efforts to protect our water and we want to provide support and incentives for continued action."
Algal blooms form under conditions that include warm water, lack of agitation, rainfall and nutrient runoff from farms, lawns, and other sources.
Members of the scientific community believe that global warming is contributing to algae blooms, not just in U.S. waterways but elsewhere, Vilsack said.
The U.S. Environmental Protection Agency and the USDA are working together to help producers reduce runoff by planting cover crops, controlling drainage and constructing systems like anaerobic digesters to reduce the amount of untreated effluent entering ditches, streams, rivers and lakes.
The Ohio Natural Resources Conservation Service, an agency within the USDA, is accepting applications from farmers this week only for funding to help with the planting of cover crops on vulnerable soils in the fall to reduce soil and nutrient loss from farm fields next year.
The funding will be allocated to the Western Lake Erie Basin to help accelerate water quality conservation activities to benefit Lake Erie.
Last week, NRCS leaders met with more than 100 farmers, agricultural groups and fertilizer dealers in Ohio to talk about the expertise USDA can offer and to spread the word about the best conservation practices for the watershed.
"Farmers understand how recent events may impact them and are motivated to work with us to reduce phosphorus run-off, starting now with the planting of additional cover crops," said NRCS chief Jason Weller. "We created this opportunity for farmers who want to get cover on their fields quickly, and we will continue to create complete nutrient management plans for long-term water quality and sustainability practices."
Along with ongoing conservation efforts that have contributed $46 million since 2009, in May the Great Lakes Basin was designated by Vilsack as a critical conservation area in the new 2014 Farm Bill Regional Conservation Partnership Program. That new program will invest $1.2 billion in innovative conservation efforts through partnerships with non-federal entities, who are expected to match the federal investment for a total of $2.4 billion in conservation resources.
Copyright Environment News Service (ENS) 2014. All rights reserved.
U.S. New Energy Capacity All Renewables in July
WASHINGTON, DC, August 19, 2014 (ENS) – All new U.S. electrical generating capacity put into service in July came from renewable energy sources – according to the latest "Energy Infrastructure Update" report from the Federal Energy Regulatory Commission's Office of Energy Projects, released today.
The new electricity is being generated by 379 megawatts (MW) of wind power, 21 MW of solar power, and five MW of hydropower.
"This is not the first time in recent years that all new electrical generating capacity for a given month has come from renewable energy sources," noted Ken Bossong, executive director of the SUN DAY Campaign for a sustainable energy future. "And it is likely to become an ever more frequent occurrence in the months and years ahead."
For the first seven months of 2014, renewables have accounted for more than half (53.8 percent) of the 4,758 MW of new U.S. electrical capacity that has come on line – with solar (25.8 percent) and wind (25.1 percent) each accounting for more than a quarter of the total.
In addition, biomass provided 1.8 percent, geothermal 0.7 percent, and hydropower 0.4 percent of new power generation.
As for the rest of new power generation installed sicne January 1, natural gas accounted for 45.9 percent while a small fraction (0.3 percent) came from oil and "other" combined.
There has been no new electrical generating capacity from either coal or nuclear thus far in 2014.
Renewable energy sources now account for 16.3 percent of total installed operating generating capacity in the United States.
Water accounts for 8.57 percent, wind for 5.26 percent, biomass for 1.37 percent, solar for 0.75 percent, and geothermal steam for 0.33 percent.
Bossong explains that generating capacity is not the same as actual electricity generation. Actual net electrical generation from renewable energy sources in the United States now totals about 14 percent of total U.S. electrical production, according to the most recent data from the U.S. Energy Information Administration.
Copyright Environment News Service (ENS) 2014. All rights reserved.
Whales Suffer Military Noise in Hawaiian Waters
HONOLULU, Hawaii, August 19, 2014 (ENS) – During recent Navy training exercises, three whales were reported in distress off popular beaches in Hawaii. Two of these otherwise healthy whales subsequently washed ashore and died.
On July 25, the body of a 16-foot sub-adult pilot whale was pulled from the water at Waioli Beach Park on the North Shore of Kauai.
Theb beach on Hanalei Bay was crowded with people who watched as the whale was removed by a crew from the state Department of Land and Natural Resources.
NOAA Fisheries Service, Pacific Islands Region spokesperson Wende Goo said the death is being investigated.
Marine biologist Terry Lilley of the nearby town of Hanalei said the death could be a result of the military's RIMPAC exercises going on in Hawaiian waters. Lilley said the military had a permit to injure or kill whales and dolphins during the multinational maritime exercise.
The world's largest international maritime exercise, with ships from 22 nations, Rim of the Pacific, RIMPAC, 2014 concluded August 1.
Navy spokesman Lt. Cmdr. Nick Sherrouse said there is no indication that the loss of this animal was caused by naval activities and it would be premature to speculate.
"The Navy cares about the ocean environment, and we are fully cooperating with the National Marine Fisheries Service on the investigation," Sherrouse told reporters.
Earthjustice staff attorney David Henkin today said the public interest environmental law firm is "waging an emergency battle" to force the Navy to avoid needless harm to endangered whales and other species.
"Unless we fight back, deadly and reckless Navy exercises, including surface-to-air gunnery, missiles, underwater explosions, and mid-frequency sonar, will needlessly kill and injure marine life from Hawaiʻi to California over the next five years," said Henkin in an emailed solicitation for funding to support Earthjustice's efforts to protect whales in Pacific waters.
Mid-frequency sonar can be deadly, he said, disrupting whale migration, breeding, nursing, breathing, and feeding, and in some cases causing internal hemorrhaging and ruptured eardrums.
"Imagine someone taking an air horn and blasting it directly into your ear. Now turn the volume up twice as high. That's the sound level that endangered whales and other marine mammals could experience during this training," said Henkin.
The Earthjustice team is going through hundreds of thousands of pages of documents to build a case to force the Navy to protect the marine mammals.
The Navy and the National Marine Fisheries Service estimate that training and testing activities that are occurring right now in waters from Southern California to Hawaii will result in more than 9.6 million instances of harm to whales, dolphins, and other marine mammals, and cause thousands of animals to suffer permanent hearing loss, lung injuries, or death.
These exercises threaten endangered species already struggling to survive, including humpback whales, sperm whales, blue whales, fin whales, sei whales, insular false killer whales, Hawaiian monk seals, and five species of threatened and endangered sea turtles.
Military training is important to our national security, but it can and should be conducted in a manner that prevents harm to endangered wildlife, said Henkin.
Calling the Navy's current plan "reckless," Henkin says Earthjustice is asking the Navy to conduct training in a responsible manner and restrict activities in areas critical to marine mammals at greatest risk of permanent injury and death.
Copyright Environment News Service (ENS) 2014. All rights reserved.
Environment News Service (ENS) © 2014 All Rights Reserved.