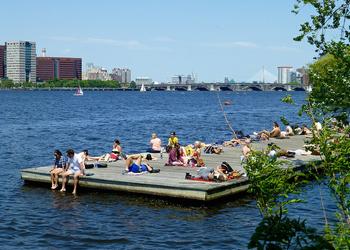 On 20th Anniversary of Cleanup, EPA Gives Charles River a B+
BOSTON, Massachusetts, May 29, 2015 (ENS) – The U.S. EPA today gave the Charles River a grade of "B+" for water quality during 2014, the 20th year the agency has issued a Report Card for the river that flows through Boston.
The grade of "B+" for the lower Charles River is based on bacterial contamination found in analyzed samples collected by the Charles River Watershed Association, CRWA, over the past year at 10 monitoring sites from the Watertown Dam to Boston Harbor. The association has been collecting data at these sampling sites since 1995.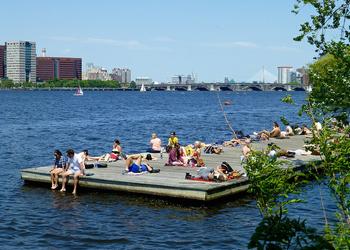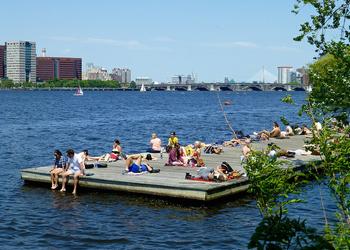 In 2014, the lower Charles met state bacterial water quality standards for boating 91 percent of the time and swimming 65 percent of the time, a slight drop from the water quality ratings in 2013.
The water quality in the lower Charles River has improved from the launch of EPA's Charles River Initiative in 1995, when the river received a D for meeting boating standards only 39 percent of the time and swimming standards just 19 percent of the time.
"CRWA has been working to restore this once forgotten river for the past 50 years. It is wonderful to mark the improvements in water quality that have occurred over this time. While there is still work to be done until the Charles can consistently be awarded an A grade, we can get there through scientific research and strong collaborations," said CRWA head Bob Zimmerman.
This year, EPA launched a water quality monitoring buoy in front of the Museum of Science in the Charles River Lower Basin. This buoy measures water quality in near real time. The data is being streamed live on EPA's Charles River website.
Next winter, the Museum of Science in Boston will open its Charles River Exhibit, where visitors can learn about the interplay between an urban environment and the River. The exhibit will feature some of EPA's live water quality data. Visitors will be able to access it in the museum and at home.
"While we still have work to do, this year's report is a testament to the progress we have made through coordinated efforts with our federal, state and local partners," said Boston Mayor Marty Walsh. "I thank the Museum of Science for their partnership in educating our residents on the environmental impacts on this important watershed."
People can now monitor phosphorus levels in the Charles River from their own computers. Stormwater containing phosphorus, and the algae it produces, is the major pollution problem remaining, says the EPA, pointing to the heavy load of phosphorus that enters the river from fertilizer and runoff from roads and rooftops.
"This year's B+ Grade marks two decades of water quality improvement efforts on the Charles River, said EPA Regional Administrator Curt Spalding. "I am so excited to say that EPA taking the science one step further by providing live water quality data to the public."
>>> … <<< … >>> … <<< … >>> … <<< … >>> … <<<
California Groups Seek Pesticide Spray Risk Disclosure
SACRAMENTO, California, May 29. 2015 (ENS) – Eleven groups and the city of Berkeley have filed a lawsuit and preliminary injuction to force the California Department of Food and Agriculture to publicly disclose and analyze any pesticide spraying it conducts that poses risks to people, wildlife and the environment.
The groups filed the motion last week as CDFA began spraying residential neighborhoods in Sacramento with three pesticides – carbaryl, cyfluthrin and imidacloprid – that the groups say are linked to cancer, birth defects, miscarriages and are toxic to bees.
The spraying, aimed at killing Japanese beetles, has been conducted numerous times in same area since the 1980s. The Japanese beetle targets lawn turf and ornamentals and some agricultural crops including grapes, cherries, peaches, plums and apples.
The state agency has refused to use alternative non-toxic treatments for the beetle recommended by the U.S. Department of Food and Agriculture, claiming that the ongoing use of hazardous pesticides is necessary to "eradicate" the insect. The USDA recommends releasing predator insects and worms, and using products made from the milky spore fungus, traps and neem oil.
"The public has a right to know when dangerous pesticides that threaten our wildlife and water supplies are being sprayed and we need full transparency and disclosure from our public agencies about the true risks of these pesticides," said Jonathan Evans, Environmental Health legal director at the Center for Biological Diversity.
"Clearly, the agency is not eradicating this beetle, which has continued to reappear in these same locations for decades despite repeated state spraying. Moreover, under the state's plan, communities have no say about the treatments forced on them by the state – in this case creating a chronic exposure for residents of these neighborhoods. It's time for the state to take a more progressive, non-toxic approach to pest management," said Nan Wishner of the California Environmental Health Initiative, one of the plaintiff groups.
Under the agency's Statewide Plant Pest Programmatic Environmental Impact Report, the California Department of Food and Agriculture can make decisions behind closed doors to to spray pesticides on schools, organic farms and residential yards, including aerial spraying over homes in rural areas, all without full notice and disclosure to the public of potential harms.
The agency approved the program despite tens of thousands of public comment letters calling for a less toxic approach that would protect the vitality and resilience of the state's food system and the economic interests of organic farmers.
The groups claim that the agency's failure to make public its analysis of local health and environmental impacts conflicts with the California Environmental Quality Act, which requires disclosure of the impacts of any activity that can harm human and environmental health. The injunction seeks a court order requiring the agency to comply with this law.
>>> … <<< … >>> … <<< … >>> … <<< … >>> … <<<
'Miracle' Cure Was Super Toxic: Seller Convicted
SPOKANE, Washington, May 29, 2015 (ENS) – A federal jury Wednesday found a Spokane man guilty of selling an industrial chemical used as a pesticide and for hydraulic fracking and wastewater treatment as a miracle cure for diseases and illnesses, including cancer, AIDS, malaria, hepatitis, lyme disease, asthma and the common cold.
Louis Daniel Smith, 45, was convicted following a seven-day trial of conspiracy, smuggling, selling misbranded drugs and defrauding the United States.
Evidence at trial showed that Smith operated a business called Project GreenLife, or PGL, from 2007 to 2011. PGL sold a product called "Miracle Mineral Supplement," or MMS, over the Internet.
MMS is a mixture of sodium chlorite and water. Sodium chlorite cannot be sold for human consumption and suppliers of the chemical include a warning sheet stating that it can cause potentially fatal side effects if swallowed.
The government presented evidence that Smith instructed consumers to combine MMS with citric acid to create chlorine dioxide, add water and drink the resulting mixture to cure numerous illnesses.
Chlorine dioxide is a potent agent used to bleach textiles, among other industrial applications, but it causes respiratory and eye irritation, nausea, diarrhea and dehydration.
The instructions for use that Smith provided with his product said nausea, diarrhea and vomiting were all signs that the miracle cure was working. The instructions stated that despite a risk of brain damage, the product might still be appropriate for pregnant women or infants who were seriously ill.
According to the evidence presented at trial, Smith created phony "water purification" and "wastewater treatment" businesses in order to obtain sodium chlorite and ship his MMS without being detected by the U.S. Food and Drug Administration or U.S. Customs. The U.S. government presented evidence that Smith hid evidence from FDA inspectors and destroyed evidence while law enforcement agents were executing search warrants on his residence and business.
Before trial, three of Smith's alleged co-conspirators, Chris Olson, Tammy Olson and Karis DeLong, Smith's wife, pleaded guilty to introducing misbranded drugs into interstate commerce.
In all, the jury convicted Smith of one count of conspiracy to commit multiple crimes, three counts of introducing misbranded drugs into interstate commerce with intent to defraud or mislead and one count of fraudulently smuggling merchandise into the United States. He faces a statutory maximum of 34 years in prison at his September 9 sentencing.
Copyright Environment News Service (ENS) 2015. All rights reserved.
Environment News Service (ENS) © 2015 All Rights Reserved.