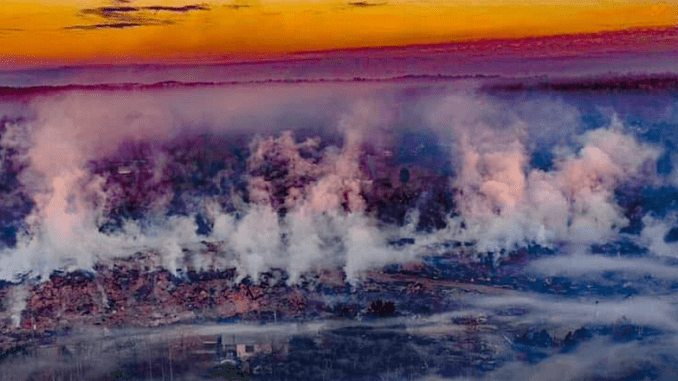 MOODY, Alabama, January 25, 2023 ENS) – People living near a huge landfill fire in Moody that has been smoldering for more than two months want more environmental protection in Alabama, and they are heading to the state capitol next week to give lawmakers a piece of their minds.
Organizers want Governor Kay Ivey, a Republican, to hold the Alabama Department of Environmental Management, ADEM, accountable, even if that means restructuring the agency. They are also calling for greater regulation of all landfills in the state.
Governor Ivey declared a State of Emergency January 18 and called on the U.S. Environmental Protection Agency to help extinguish the blaze at the Environment Landfill Inc. in St. Clair County about 15 miles northeast of Birmingham.
"By authorizing the EPA to respond to this fire, we are ensuring it will be addressed in the fastest and safest way possible," Ivey said in a statement. "It is imperative that this situation be solved and solved right for the sake of the folks in Moody and all people affected by this fire."
The U.S. Environmental Protection Agency estimates it will cost about $2.8 million to put out the landfill fire that has spread underground since November 25.
The EPA this week approved a budget increase for the project that increases how much the agency can pay a contractor to extinguish the fire by $900,000. The funding will come from EPA's regional fund for emergency responses.
EPA Region 4 Administrator Daniel Blackman said, "EPA's first priority is to ensure the wellbeing of the residents. The community wants to see action and are understandably concerned about the landfill fire's impact on their health, safety and quality of life."
"Immediately following ADEM's request, EPA mobilized to gather critical data. Based on the results of that data, it was clear that further action was necessary. Today, we are putting boots on the ground to address the fire so that all impacted can breathe a sigh of relief," said Blackman on Thursday.
For weeks, many nearby residents have complained that the landfill fire is impacting their daily lives, and some families have fled the area. They say the smoke and ash in the air are causing breathing issues and other health problems.
The Environmental Landfill, Inc. is designated as a green waste landfill, only legally allowed to accept green waste materials such as fallen trees and yard waste.
Yet in the past, ADEM inspectors have found many other materials at the site such as discarded appliances and scrap tires.
Michele Self lives in the Trussville neighborhood, about a mile and a half from the landfill fire. She is one of the organizers of the Rally for Environmental Protection in Alabama February 2 at the state capitol.
"The state of Alabama is lacking in environmental protection, and this is a rally to make people aware of what's been going on in our area. We don't want this to happen in any other part of the state. We don't want anyone else to go through what we've been going through," Self said.
Rally organizers want to see new ADEM leadership and say the actions of the state agency must reflect its mission statement, which assures all residents of the state a safe, healthful and productive environment.
The fire at Moody Landfill has been burning since late November 2022. Residents near the fire have filed multiple complaints with the state and St. Clair County agencies as well as with the National Response Center about the smoke and its potential health hazards.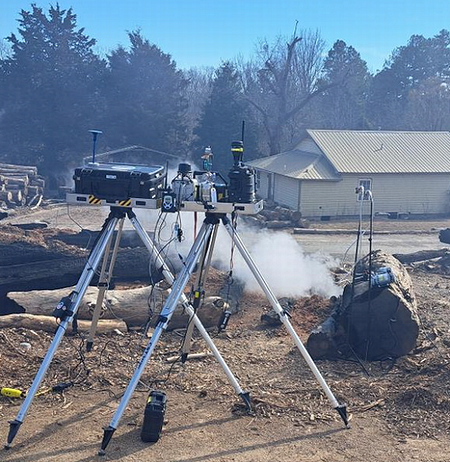 On January 6, the EPA mobilized to the landfill site with equipment and personnel to conduct air monitoring and collect air samples at four stations in and around the site. They took three rounds of eight-hour samples for a total of 24 hours of monitoring and sampling to measure particulate concentrations and chemical constituents in the fire's emissions.
Sampling and monitoring were completed on January 7, and EPA personnel left the site to await lab results. Now, the EPA has received and reviewed the data on volatile organic compounds, VOCs, semivolatile organic compounds, and at the request of ADEM, asbestos.
Cancer-causing chemicals were identified in the air samples that exceed Removal Management Levels. These chemical-specific concentrations help define areas, contaminants, or conditions where a cleanup or removal action may be needed.
Based on the sampling results, site specific considerations, and ADEM's request, EPA has deployed two federal on-scene coordinators to the site to oversee and coordinate EPA activities.
Today, an EPA Environmental Response Team and EPA technical assistance contractors are at the site to provide air monitoring support, and EPA cleanup/response contractors have been activated to implement fire control operations.
EPA Region 4 is working with the federal Agency for Toxic Substances Disease Registry, ATSDR, to gather additional data to evaluate the potential effects of the smoke from the fire.
If nearby residents are concerned and wish to reduce potential exposure to landfill fire smoke, the EPA recommends:
– If you have respiratory problems such as asthma, COPD, or emphysema, stay indoors when you see or smell smoke.
– Reduce outdoor activities and do them more slowly, when you see or smell smoke.
– Close doors and windows to keep smoke from getting inside.
– Talk to your health care provider if you have respiratory conditions such as asthma, COPD, or emphysema, and you think your condition may get worse when you breathe smoke.
The on-scene coordinator reports that construction equipment is being used to re-grade the site and install a cover layer of dirt. Air samples are taken daily and air monitoring results are posted daily here.
Monitoring will be automatic going forward. EPA said it has contracted an unmanned aerial vehicle flyover of the site periodically beginning January 27, 2023.
Information will be provided to the public as it becomes available.
The Rally for Environmental Protection in Alabama is slated for Thursday, February 2 from 2-4 p.m. in Montgomery. More details here.
Featured image: Fire engulfs the Environment Landfill Inc. near the town of Moody in St. Clair County, Alabama. January 20, 2023 (Photo courtesy Michele Self via Facebook)
© 2023, News Editor. All rights reserved.