Aid Dropped to Damaged Russian Fishing Vessel in Antarctic
CHRISTCHURCH, New Zealand, December 21, 2011 (ENS) – A Royal New Zealand Airforce plane successfully dropped a load of pumps, patches and other equipment on the ice near the stricken Russian fishing vessel Sparta in the Ross Sea Wednesday afternoon.
Rescue Coordination Centre New Zealand search and rescue mission coordinator John Dickson said the aircraft left Christchurch today at 9.00 am and arrived at the Sparta's position at about 4.00 pm.
Dickson said the 55 meter (180 foot) vessel is now back on an even keel after listing 13 degrees over the weekend, and the crew only needs to resume pumping occasionally to keep ahead of the water ingress.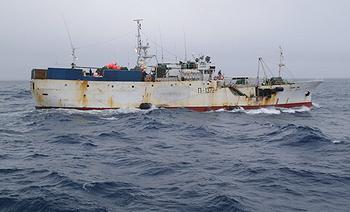 The Russian fishing vessel Sparta (Photo courtesy Sedna Industries Inc.)
RCCNZ is continuing to monitor the situation, including the weather conditions and the progress of various nearby vessels that have been asked to assist. All vessels in the area are hemmed in by heavy ice.
"Currently the Norwegian vessel Seljavaer is heading away from the Sparta as it attempts to navigate a way around the heavy ice, while the Sparta's sister ship, the Chiyo Maru no. 3, is approximately still 100 nautical miles away. But it is not ice strengthened and its approach is being slowed as it navigates the ice pack," Dickson said.
"The ice-strengthened polar research vessel Araon is en route and estimated to arrive in the area on December 26, said Dickson."
RCCNZ launched the rescue mission after the Sparta issued a distress call around 3 am on December 16 from a position next to the Antarctic ice shelf, in the Ross Sea, about 2,000 nautical miles (3,704 kilometres) southeast of New Zealand.
The 48 meter vessel, with 32 crew on board, has a 30 centimeter hole in the side which is 1.5 meters below the water line.
Dickson said weather in the area remains "reasonably good, with occasional snow showers and cloud," but it is forecast to worsen on Thursday.
Sparta's crew will now recover the equipment and focus on making more permanent repairs to the hole in the side of the ship.
The crew of the C-130 will spend the night at the U.S. McMurdo base to rest and refuel the aircraft before heading back to New Zealand.
Homeported in Sovetskaya Gavan on Russia's Pacific coast, Sparta is registered to Petropavlovsk-Kamchatsky and is operated by the Russian company Antiy. The 23-year-old longliner is carrying around 180 tonnes of marine gas oil.
On November 29, the Australia-based Commission for the Conservation of Antarctic Marine Living Resources licensed the Sparta to fish for Ross Sea toothfish, which is in demand by high-end restaurants around the world.
Copyright Environment News Service (ENS) 2011. All rights reserved.
© 2011 – 2012, Jim Crabtree. All rights reserved.