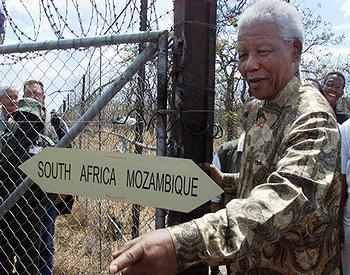 JOHANNESBURG, South Africa, December 6, 2013 (ENS) – Nelson Rolihlahla Mandela, one of the world's most honored statesmen and conservationists, died at his home near Johannesburg on December 5 at the age of 95.
Born in Transkei, South Africa on July 18, 1918, Mandela became an attorney and led the struggle to replace South Africa's apartheid regime of racial segregation with a multi-racial democracy.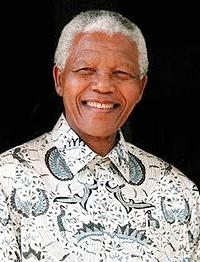 Imprisoned for 27 years, Mandela emerged on on February 11, 1990.
In 1993, Mandela shared the Nobel Peace Prize with F.W. de Klerk, the white South African president who released him from jail. The Nobel Prize jury awarded them the prize "for their work for the peaceful termination of the apartheid regime, and for laying the foundations for a new democratic South Africa."
Mandela became South Africa's first black president, serving from 1994 to 1999.
He is mourned across the world, in part for his conservation legacy.
In Washington, DC,  Patrick Bergin, PhD, CEO of the African Wildlife Foundation says that few people know that Mandela's vision for South Africa included many programs that helped conserve the nation's land and wildlife.
"Though we are deeply saddened by Nelson Mandela's passing, he leaves behind an iconic legacy – one that is an inspiration to conservationists everywhere," said Bergin.
In 1995, Mandela supported the establishment of Open Africa, a pan-African project that works to create travel routes to promote responsible tourism and contribute to rural economies.
Bergin said, "AWF will continue to celebrate Mandela's life by helping to train the future conservation leaders of Africa, and by continuing the vital conservation work that he began. We thank Nelson Mandela for his unwavering devotion to Africa's people, its landscapes, and its precious wildlife."
World Wildlife Fund President and CEO Carter Roberts said in Washington, "The world has lost an iconic hero today – a historic beacon of justice and civil rights, and an inspiration to millions of people. President Mandela was a fierce proponent of conserving biodiversity, for the benefit of people and the planet. He believed in the power of conservation to empower people while also protecting wildlife and habitats. And he was a proponent of reaching across international borders to conserve large landscapes and magnificent species like elephants and rhinos. We extend our sympathies to his family, to the people of South Africa and to our colleagues at WWF South Africa."
In 1997, Mandela co-founded Peace Parks Foundation, an organization that works to establish protected areas that preserve animal migration patterns and share wildlife resources. Co-founders were the late Prince Bernhard of the Netherlands and the late Dr. Anton Rupert.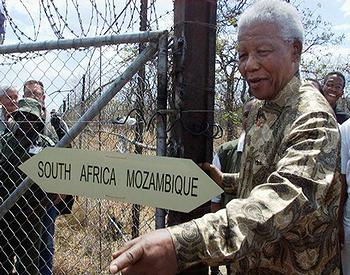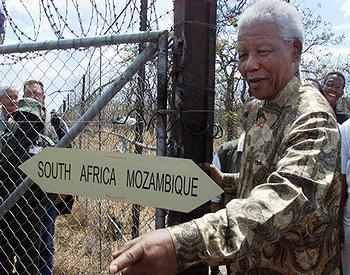 Peace Parks Foundation successfully implemented the Futi Corridor, which allows elephants in Mozambique to roam freely along the Futi River, from Maputo Special Reserve to the South African border.
Mandela has been quoted expressing his passion for the Peace Parks Foundation. He said, "If we do not do something to prevent it, Africa's animals, and the places in which they live, will be lost to our world, and her children, forever. Before it is too late, we need your help to lay the foundation that will preserve this precious legacy long after we are gone."
Peace Parks Foundation issued a statement today saying that it "deeply regrets the passing of its founding patron, Dr. Nelson Mandela. The thoughts and prayers of Peace Parks Foundation staff are with Madiba's family."
Mandela actively supported the foundation's work. On October 4, 2001 he opened the gate between Mozambique and South Africa to allow the truck transporting the first elephants translocated from South Africa's Kruger National Park to Mozambique's Limpopo National Park to cross the border into the Great Limpopo Transfrontier Park.
About Peace Parks Foundation he said, "I know of no political movement, no philosophy, and no ideology which does not agree with the peace parks concept as we see it going into fruition today. It is a concept that can be embraced by all. In a world beset by conflict and division, peace is one of the cornerstones of the future. Peace parks are building blocks in this process, not only in our region, but potentially the entire world."
Former President Mandela is survived by his wife Graça, three daughters and 18 grandchildren.
Calling Mandela an, "outstanding son of our country and the father of our young nation," South African President Jacob Zuma announced that the former president will be accorded a state funeral. He will be laid to rest on December 15, in Qunu in the Eastern Cape province.
Starting a national week of mourning, Zuma declared Sunday, December 8 as a national day of prayer and reflection, saying,  "We call upon all our people to gather in halls, churches, mosques, temples, synagogues and in their homes for prayer services and meditation, reflecting on the life of Madiba and his contribution to our country and the world."
The official memorial service will be held on December 10 at FNB Stadium in Johannesburg.
"From the 11th to the 13th of December, the remains of our beloved Madiba will lie in state at the seat of government, the Union Buildings in Pretoria, where he served as the first President of this young democracy," said Zuma. During these days, official memorial services will be held in all provinces and regions.
Premier Senzo Mchunu, leader of the province of KwaZulu-Natal, paid tribute, saying, "We rejoice in the knowledge that Madiba has achieved what he sought to achieve those many years ago when he started the Long Walk to Freedom. His people are free. In his words, "May the Sun never set on so glorious a human achievement."
Copyright Environment News Service (ENS) 2013. All rights reserved.