12-Year-Old Takes on 'Big Plastic' With Popular Petition
CHICAGO, Illinois, July 11, 2012 (ENS) – People are still signing Abby Goldberg's petition asking the governor of Illinois to veto a bill on his desk that would make it illegal for Illinois cities and towns to enact plastic bag bans.
When the 12-year-old Grayslake, Illinois student presented Governor Pat Quinn with her petition on July 3 it had 150,000 signatures. Today, eight days later, there are 157,819 signatures on the petition at change.org. People are signing up at the rate of nearly 1,000 per day.
"After seeing the devastation that millions of plastic bags have caused the environment and ocean life, I made my school project this year to be getting a local ban on single-use plastic shopping bags in my home town Grayslake, IL," writes Goldberg in the introduction to her petition.
"My friends and I were making great progress, until the oil and chemical industry pulled a dirty trick to kill my campaign; these lobbyists used the politicians that they bought to pass a bill that would make it illegal for towns across Illinois to create plastic bag bans!" she writes.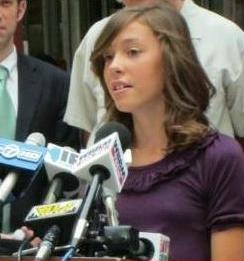 Abby Goldberg speaks to the media after delivering 150,000 signatures to Illinois Governor Pat Quinn, July 3, 2012 (Photo courtesy Chicago Recycling Coalition)
"Even worse, they're trying to make it look like a green environmental bill, by putting in a few ridiculously-low requirements for so-called 'recycling' of plastic bags, and are bragging they're going to make it 'a model bill for all states!'" writes Goldberg. The bill, the Plastic Bag & Film Recycling Act, SB 3442, requires the recycling of plastic bags. It passed the Illinois House and Senate June 1. Governor Quinn has 60 days from that date to either veto the bill or sign it into law.
The bill is backed by the American Progressive Bag Alliance, which represents the plastic bag manufacturing and recycling industry. The Alliance argues that recycling used plastic bags provides business opportunities for for Illinois consumers and the environment without added costs.
"Businesses will benefit from being able to sell used plastic bags, sacks and wraps to recyclers so that they can be turned into new products – like backyard decking, plumbing pipes, playground equipment, and even new plastic bags," the Alliance wrote in a May 1 open letter to the lawmakers in Springfield.
"S.B. 3442 provides an easier means for more consumers to recycle their used plastic bags, sacks and wraps by requiring bag manufacturers to supply more recycling bin locations and setting minimum recycling rate requirements," the Alliance wrote. "By setting a statewide standard for recycling, Illinois will avoid having a patchwork of local laws that burden consumers and businesses."
Plastic bags are 100 percent recyclable and are re-used by nine out of ten Americans, the Alliance argues. "They are made primarily from clean natural gas, and plastic bag manufacturing and recycling supports more than 30,000 manufacturing jobs across the nation – with 3,000 workers in Illinois alone."
"…we hope this legislation becomes a model bill for legislatures across the nation," the Alliance wrote.
But the 12-year-old has set her sights on the defeat of S.B. 3442. Her petition is called "Gov. Quinn: Don't Let Big Plastic Bully Me!" Goldberg wrote that she is "especially angry" that the American Progressive Bag Alliance has said that SB 3442 could be "a model bill" for all states.
"That means that they could push their corporate interests all over America, preventing kids like me and towns like mine from taking action to stop pollution," Goldberg wrote.
"Well, the corporations may be afraid of me, but I'm not afraid of them. I know that if thousands of people sign my petition, Governor Quinn will see that the public doesn't want these big corporations telling our towns what we can and cannot do," wrote Goldberg. "And when we win, that veto will be a signal to Big Plastic that they had better not expect to take their bill to other states without a fight."
Goldberg has some powerful backers on her side too. With her at Governor Quinn's office to deliver the petition were Champaign, Illinois Mayor Don Gerard, whose City Council supported charging a fee for bags; Chicago Alderman Joe Moreno, the sponsor of a Chicago bag ban ordinance; Chicago Recycling Coalition President Mike Nowak and Environment Illinois's Max Muller; along with Sierra Club Illinois Director Jack Darin, and Jared Teutsch of the Alliance for the Great Lakes.
Governor Quinn has not said whether he will veto S.B. 3442 or not.
Goldberg is hopeful. "I had no idea it was going to get that many signatures," she told the "Chicago Tribune" on Sunday. "It's so amazing."
Copyright Environment News Service (ENS) 2012. All rights reserved.